Synthetix Quarterly Report — Q1 2023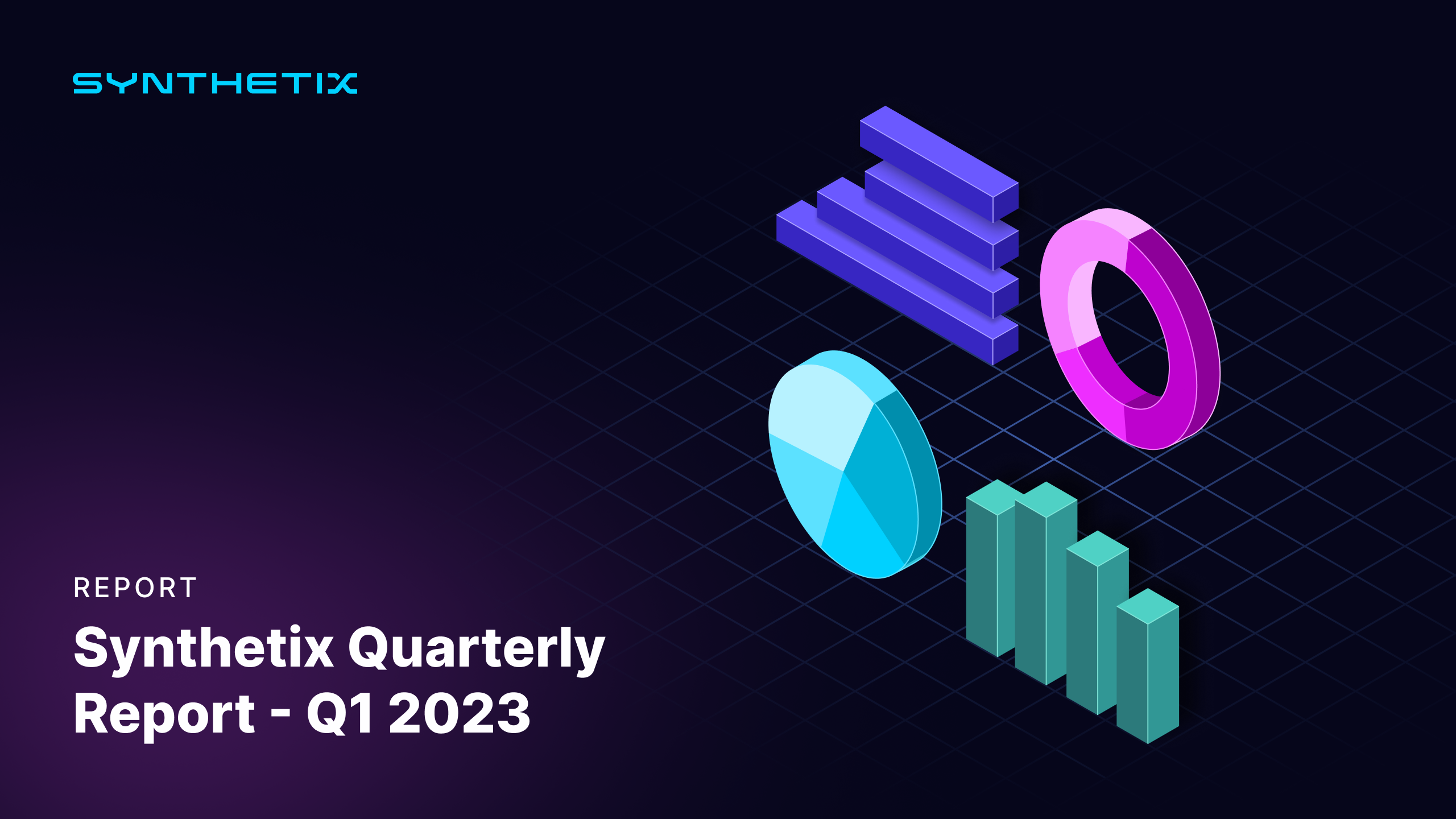 Quarterly Report for Synthetix, Quarter 1 of 2023: January — March.
Q1 Highlights
⭐ Spartan Council/CCs: Perps V2 Updates & Synthetix V3
⭐ Grants Council: Perps V2 Support & Stats Page Improvements
⭐ Ambassador Council: YouTube Channel & Integrations
We're back again with another exciting quarterly report for the community — and there were quite a few major events in the first quarter of what is shaping up to be an exciting 2023! As always, let's begin with the highlights of the quarter.
Perps V2 was officially deployed at the very end of Q4 last year, but at launch, the risk parameters were conservative enough to give the CCs the opportunity to review live performance data and tweak the product accordingly. Quite a few improvements were made over the course of the quarter ranging from bug fixes to major quality-of-life fixes — some of which were proposed by the community and other integrators.
We also saw the much-anticipated Synthetix V3 mainnet rollout begin early in the quarter! V3 represents a complete redesign of the core Synthetix architecture and will lay the groundwork for a variety of on-chain financial products via an innovative liquidity-as-a-service model. At ETHDenver, the CCs were able to deploy some of the initial V3 core contracts and they even began to reimagine what some of the main Synthetix product offerings would look like under the new framework (such as Perps).
Next up for our highlights, the Grants Council (GC) plays a fundamental role in the Synthetix ecosystem. There is never a shortage of community members willing to put their skills to use for the good of the protocol, and the Grants Council seeks out these community members and funds work that benefits the protocol. It's a function that requires a bit of agility as they constantly pivot to meet today's protocol needs and put themselves in position to capture some value from industry trends.
Once the training wheels came off Perps V2, the Grants Council immediately got to work funding and building out tools to support the product and make it more accessible. They also oversaw major improvements to the hero stats page. At launch, it was a bit clunky and quite difficult to use, but the UX has improved considerably and the page now offers a clean snapshot of important protocol data. Reliable stats improve protocol credibility and can be an important tool in the process of seeking and onboarding new integrators.
The Ambassadors also had an exciting quarter as they continued to be the voice of Synthetix in the broader DeFi ecosystem. This is always most clear in the Spartan Space events that they host, as well as the integrations they are able to facilitate either through those events or through building relationships in the industry. This quarter, the Ambassadors hosted 4 spartan spaces and have facilitated a number of integrations, currently in various stages of completion, with Mux protocol, Nested, and Unidex. They also put a lot of work towards building out the Ambassador YouTube Channel this epoch where they plan to post all of their Spartan Space recordings as well as host educational calls with CCs.
Challenges
This quarter, the US banking system came under quite a bit of interest rate pressure. As rates started to normalize away from zero, some banks found themselves underwater on what was previously used to quantify risk free return — US treasuries. In the mayhem, 3 major crypto banking partners either failed or closed and there was a brief concern that Circle would not be able to recover a substantial portion of the cash backing USDC, which it had in deposit at Silicon Valley Bank.
As a result, there was a short-lived depeg on USDC. But to prevent further bank runs, the US Treasury quickly announced that all depositors would be made whole and the USDC price quickly recovered. This did create some temporary chaos in DeFi as USDC represents a critical link in the fiat onramp chain. It also happened against the backdrop of broader regulatory and liquidity tightening across financial markets. The sUSD peg, however, remained strong throughout this turmoil.
A protocol-level challenge this quarter, that will likely extend through to the launch of V3, is the proposed tokenomics and collateral base. There have been ongoing discussions in the Discord about using collateral other than SNX to back the liquidity of the system and there are two sides to this debate. We actually recently published a separate blog on this topic that reviews the in-depth discussion that happened in the spartan-council channel of the Discord. The argument for using other collateral was that it will allow the products to scale beyond the market cap of the SNX token, and the argument against was that current SNX holders may lose significant value on their investment if other collateral is allowed.
In other DAO challenges, we should take a minute to briefly discuss the Grants Council's NFT project. The project initially took off in mid-to-late 2021 and work began almost immediately. As a reminder, they are doing things a little different as the proceeds from the sold NFTs will go to a GC fund that is meant to supplement their budget from the Treasury Council. This project unfortunately has experienced several delays and setbacks: the artists being upended in Ukraine, the marketplace it was originally intended to launch on never being released, etc. It does look like we may see the project delivered later this year, but some are concerned that much of the interest in NFTs is behind us for now. The Council, however, has continued to solve one problem after the other on this project, which is admirable, and we look forward to seeing the final product.
Protocol Stats
Overview of Synthetix Q1 Stats: January 2023 — March 2023
Spartan Council
Q1 2023 Spartan Councilors: Adam, Cavalier, dsacks, Jackson, KALEB, SeliniCapital (representing Jordi), TerraBellus, William87
Along with their contribution to the achievement of major Synthetix milestones this epoch, let's take a minute to review everything else that the Spartan Council was able to achieve in just the last 3 months.
At the end of last year, the beta for Perps V2 was released. It was immediately functional but did not support the wide range of assets available in V1, and was launched with very restrictive open interest caps. This was, of course, in the interest of protocol safety and security and gave the CCs the opportunity to live test the performance. By the end of January, the CCs were able to make all of the necessary corrections on the updates that were all approved in SIP-297 (which went out on the Mintaka release).
Next, February was a very busy month and began with a bit of spring cleaning. SIP-293, which went out on the Sadr release, deprecated a number of low volume spot synths including AAVE, LINK, DOT, ADA, MATIC, UNI, AVAX and SOL. A few days later, the Eltanin release went out which carried over the remaining perps offering from V1 to V2, as defined in SIP-295, and added ATOM, AXS, FLOW, FTM, NEAR, AUD/USD and GBP/USD perps markets, per SIP-2000.
Towards the middle of the month, SIP-255, to burn fees rather than distribute them to stakers, went out on the Schedar release. The value that those fees generate, however, is still distributed to stakers. But rather than being distributed as an sUSD claim, the fees reduce the total debt of the protocol, which is passed to stakers based on the proportion of the debt they back.
The biggest story of the month, and perhaps even the quarter, was the launch of V3. CCs have been working tirelessly to get the core system on mainnet and through governance, and it was finally deployed just before ETHDenver in February. There's still quite a bit of work to be done, but at this point, most of the major SIPs describing V3 function have made it through governance and most of them have gone through audit as well. The CCs are working on processing the audit feedback as we speak and have said they expect the spot market implementation to be up as early as the end of April. There is currently still no utility in the core system, but anybody in the community who is interested in building out tooling and dashboards can start doing so now!
Lastly, we closed out the quarter with a SIP that might have otherwise not even been newsworthy if not to bring attention to how quickly the CCs and Spartan Council were able to add ARB to the list of Perps offerings. Not too long ago, even if the feed was already available, adding a new synth would have taken a minimum of 2–4 weeks between the risk study, governance approval and eventual implementation. ARB was added over a weekend. In fact, the only delay was that the presentation had to be done twice because not enough Spartan Council members were available for the first presentation. Props to that agility and efficiency!
Grants Council
Q1 2023 Grants Councilors: ALEXANDER, Ana, CT, JVK, synthquest
And moving on to our Q1 review for the Grants Council, let's take a look at what they worked on this epoch:
Starting off strong, the Grants Council put out this very useful tool for Synthetix Perps. With this Funding Rate Information Bot, you can now get detailed Market Size, Rates, Velocity, Open Interest L & S, etc. to help with your advanced trades. All you have to do is go to the "funding-bot" channel in the Synthetix Discord, and type out these commands:
-Type "/funding" for market of choice: ETH, BTC, etc.
-Type "/markets" for top five markets
And, as a matter of fact, the Council has already put out a version 2 of this bot! There are now more commands:
So shout out to all the arbitrage traders! Head on over to try out this bot and get an edge on other traders.
And speaking of Perps, it's worth noting that the Grants Council has worked very hard this quarter to support Perps V2. With their aforementioned information bot, as well as well-received Twitter and Discord engagement, they have been successful at helping to raise awareness, while also increasing the utility and fun of the product.
Like we mentioned earlier, the stats page was not great when it first launched. The GC sought to make it better and did so through several UX improvements and many hours of working with CCs. It is now working much better than it was, and will continue to get better and better throughout V3!
The Grants Council has also continued to maintain their support in hosting and maintenance for various Synthetix bots.
300 Lieutenant Stipend Sponsorship
Lastly, the Council continues to sponsor the stipend for the 300 Lieutenant, milkywave, who leads the 300 group and administers tasks to help grow and publicize the protocol. Right now there's an open task to send in questions you have for this epoch's Spartan Council Election Panel that SNXweave is hosting, so be sure to get yours in!
What's next for the Grants Council?
I know we've been talking about this one for a while…and it certainly is a long time coming. Ever since taking on this extremely extensive and detail-oriented project, the Grants Council has unfortunately experienced many setbacks with the people and DAO they were working with. However, they are now in the thick of it with the final details, and are hoping to launch during this upcoming quarter.
Preparing budget/goals for supporting Synthetix V3 launch
Lastly, the Council has been discussing and rearranging their budget to be able to support the remaining V3 launch. Since they plan to supplement their funding once the NFT project goes live, they will have even more to work with in this regard.
Ambassador Council
Q1 2023 Ambassador Councilors: GUNBOATs, Kevin, mastermojo, Matt, MoneyManDoug
The Ambassadors started off strong with this first quarter of 2023, logging in several implemented SIPs, protocol integrations, and more. Here's everything they accomplished over the last few months:
✅ Spartan Spaces
1. Synthetix V3 explainer (88 listeners, Length: 1 hour)
Guests: Afif, Noah, and db
The Ambassadors sat down with the SNX Core Contributors who have been developing Synthetix V3, a revolutionary liquidity provisioning system, to dive deep into the system's design and long-term goals. V3 aims to accomplish what Synthetix set out to do many years ago by transforming the protocol into a permissionless derivatives platform.
2. Threshold (55 listeners, Length: 45 minutes)
Guest: MacLane Wilkison
MacLane Wilkison from Threshold joined to discuss the protocol's newly released tBTC V2. In this call, listeners learned how Threshold is helping to decentralize BTC on Ethereum, the role of optimistic minting, users within the system (guardians/minters), and the roadmap for further decentralization.
3. Illuvium (92 listeners, Length: 1 hour)
Guest: Kieran Warwick
The SNX Ambassadors hosted Kieran Warwick from Illuvium to discuss the current state of web 3 gaming, Illuvium's three upcoming games, and governance within Illuvium.
4. Polynomial (42 listeners)
Guests: Gautham and Abhishek
During the call, the Ambassadors and their guests covered topics such as the features of Polynomial Perps (which is built on Synthetix Perps), upcoming features, the benefits of building on top of Synthetix, and the pivot from Earn to Perps.
✅ Proposals
1. SIP-2000: Add ATOM, AXS, FLOW, FTM, NEAR, AUD/USD and GBP/USD to Perps V2 (author: Matt)
This proposal added several markets to Perps V2, which was an essential step in ensuring that traders continue to have access to a large number of markets in Perps V2. These were chosen because they are all supported by Pyth Network and Chainlink already, and did not require any additional waiting period.
2. SIP-298: Adding APT, LDO, ADA, GMX, FIL, LTC, BCH, SHIB, and CRV to Synthetix Perps V2 (author: Matt)
Along with SIP-2000, this SIP added nine more markets to Perps V2.
3. SIP-295: Adding Perps V1 perps markets to Synthetix Perps V2 (author: Matt)
Similar to SIPs 2000 and 298, this proposal added several additional markets to Perps V2, all of which were already available for trading in Perps V1.
4. SIP-294: Redirect inflation from Curve sUSD pool reward to Curve synth incentives (author: Matt)
Lastly, this proposed increasing the 6,000 SNX inflation emission entry (which is directly sent to Curve's sUSD pool), to 10,000 SNX per week and redirect the inflation to the vault.
In doing so, this SIP aimed to incentivize sETH, sBTC, and sUSD Curve pools to promote Atomic Swap adoption.
The Treasury Council now has the discretion to decide which curve synth pools to allocate this 10,000 SNX per week, and they are mandated to spend the entire 10,000 SNX every week
✅ Governance
Voting Activity can be followed using these links:
1. Optimism Citizen House badgeholder votes
Matt and Mojo participated in the first ever Optimism Citizen House badgeholder votes
Click here for the article from Optimism relating to the breakdown of funds and how much each project received
Cannon and Synpress both received funds!
2. Optimism Grants
Matt and Doug participated in the first ever Optimism Grants
Cycle 10 roundup can be found here
3. Influenced Optimism Delegates
The Ambassadors reached out to Ecosystem partners and encouraged them to apply as Optimism Delegates
Vote results here
Because of this helpful and diligent influence, the following partners are now in Optimism Governance and have awarded 250,000 OP delegations: Lyra, Kwenta, Thales, Polynomial, and dHEDGE
4. LEAP proposal (Lyra)
Gunboats and Mojo created a LEAP for Lyra to integrate Synthetix Perps V2
LEAP-52 has passed and is awaiting audit
5. KIP proposal (Kwenta)
Mojo created a KIP for Kwenta to agree to the terms laid out in LEAP-43, and host Lyra Options for 6 months
Optimism Governance Forum Activity:
The Synthetix Ambassadors have a major voice in Optimism Governance. Their respective Optimism Governance Forum Activities can be found using these links:
✅ Integrations
The integrations that the Ambassadors have initiated this quarter have been focused on integrating Synthetix Perps.
Integrations outside of the Synthetix ecosystem:
1. Mux Protocol (in progress)
2. Nested (in progress)
3. Unidex
✅ COPY Updates
What's next for the Ambassadors?
Pursue further growth strategies for Perps V2, Atomic Swaps, Synthetix V3 and formal BD relations
Explore opportunities to scale synth supply (Example: Beefy Strategy)
Increased presence in Optimism governance
Expansion of influence in DeFi & DeFi Governance
Continue to grow YouTube channel
Best Memes from Q1
The quarter of course wasn't without humor, so here are our favorite memes from the epoch: