SNXweave Weekly Recap 98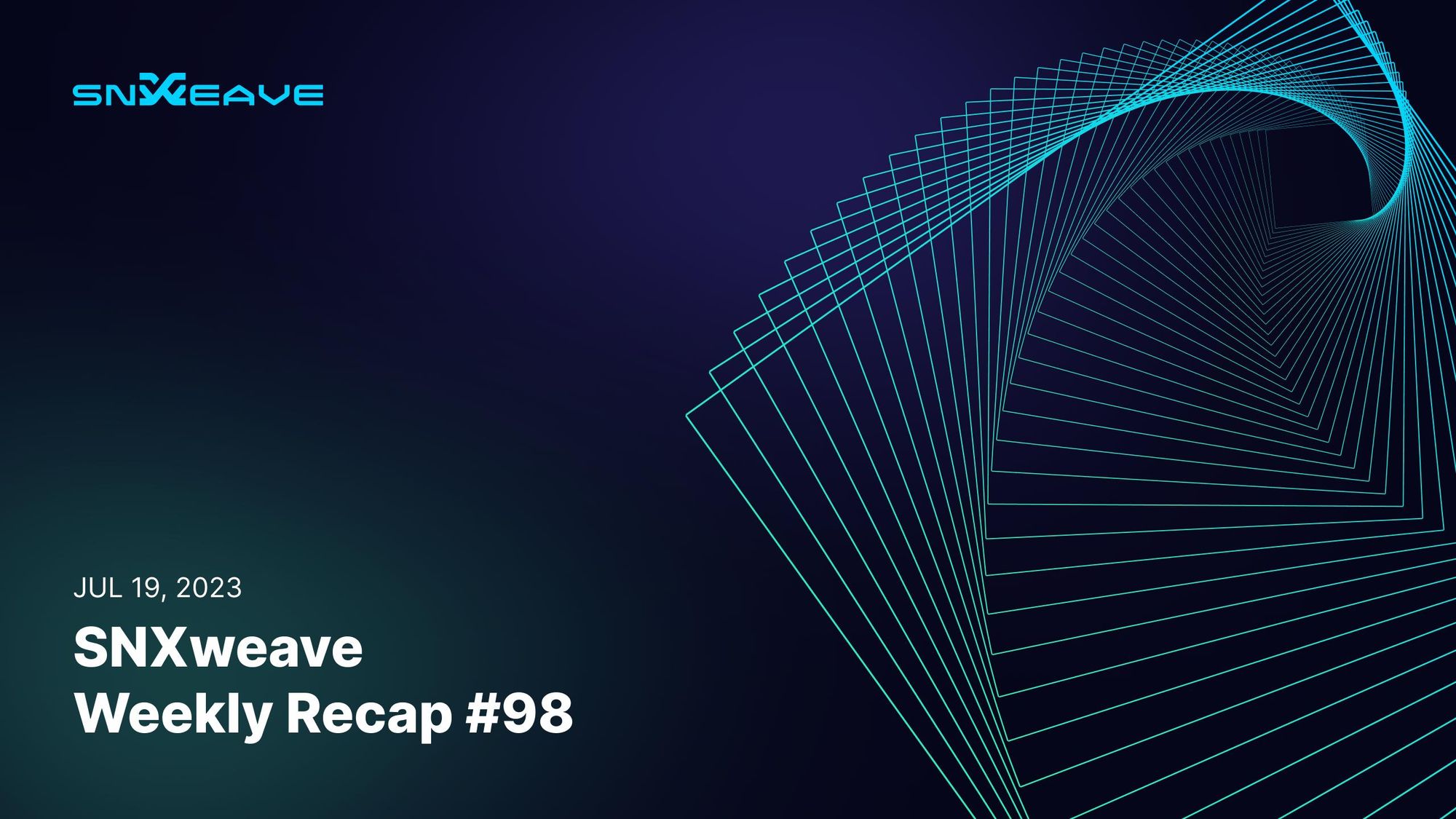 July 19, 2023
The following post contains a recap of news, projects, and important updates from the Spartan Council and Core Contributors, as well as the Grants Council and Ambassador Council from last week.
Spartan Council and SIP updates
Present at the July 12, 2023 Spartan Council Weekly Project Sync:
Spartan Council: Adam, Burt Rock, Cavalier, Danijel, ml_sudo
Core Contributors: Afif, KALEB, noah, Peiman, troy
FIRST, in case you missed it, we just published the Quarterly Report for Q2 at Synthetix so be sure to check that out!
Next, in exciting news, Synthetix has integrated Chainlink's Cross-Chain Interoperability Protocol (CCIP) into V3. This milestone integration marks one of the first-in-production uses of Chainlink's CCIP and will enable highly efficient, secure, and reliable cross-chain transfers of sUSD through the Synthetix Teleporter (only sUSD minted on the Synthetix V3 architecture can be sent via Teleporter).
Initially, this integration will enable V3 sUSD to move between Ethereum and Optimism, but it has been configured to allow transfers to any EVM-compatible chain if approved by the Spartan Council. Synthetix is also exploring the usage of CCIP for additional use cases, including cross-chain synthetic perpetual futures, cross-chain staking pools, and more.
As for a work in progress update, work is continuing on Perps V3. Kwenta and Polynomial are also preparing for the upcoming testnet competition — they are working on setting up front ends, and Synthetix is using an in-house prototype to test the system. Auditors are also building out test cases and have begun reviewing the code.
Lastly for V3, the audit for the governance safe module is complete and progress on the election module has been made, SIP-328 is back from audit, and much of the team is at ETHCC this week in Paris so we should be seeing a nice boost in productivity from the in-person collaboration.
For Perps V2, ETC and COMP feeds should be available this week and the ETH/BTC ratio feed should be available next week. Both have made it through governance and are clear to proceed.
In other discussion, Kaleb brought up an issue with the MAV price feeds. Oracle providers have indicated that the diversity of data sources is below where they prefer it to be, and the feed would not meet the minimum safety criteria. Based on this new information, some council members have changed their votes on this SIP (it was originally 6–2 in favor, but has now been rejected with 6 votes against).
The Spartan Council also discussed alternative collateral, as Cav brought up some Discord conversations about possible use of alternative collateral. He wanted to get a temperature check from the council on where everyone stands on the existing proposal and if there were any updates required. Cyberduck mentioned that he's putting a proposal together and is looking for ways to accept other collateral while also maximizing yield for SNX.
Cav suggested an ETH loan mechanic (similar to V2 ETH loans) that would build out protocol liquidity without diverting any fee sharing away from SNX LPs. Duck is concerned that since it hasn't worked in the past, it may not be a viable option now either. Adam suggested setting up another dedicated call for this discussion with the community, and he also flagged the common community concern with adding additional collateral (value moving away from SNX token holders). Duck responded saying if additional collateral allows the protocol to scale, rewards for SNX LPs may be less in terms of protocol share and might even increase in absolute terms.
ML_sudo asked if any modeling has been done to support this, and volunteered to collaborate with Duck on that front. Burt also brought up the fact that many in the community think things have functioned perfectly well without outside collateral. Part of correcting this is a comms issue, and it may be beneficial to explain some of the issues that have come up with that restriction to the community (in addition to a good proposal).
Next up, there were a few SIP presentations last week so let's briefly review them:
SIP-2026: Add YFI and MKR to Perps V2
Presented by GUNBOATs, this SIP proposes the addition of YFI and MKR perps markets
There was general support from the Spartan Council on this SIP
SIP-2027: Add RPL to Perps V2
Also presented by GUNBOATs, this SIP proposes the addition of an RPL perp market
There was some consensus from council members to wait for feedback on the oracle feed before deciding how to proceed here
SIP-2009: Adding ETH/BTC ratio to Synthetix Perps V2
Burt presented this SIP, which proposes offering ETH/BTC as a tradeable market, denominated in USD. For example, an ETH/BTC ratio of 0.0700 would correspond to ETH/BTC perp priced at $0.0700
This pair is very common on centralized exchanges, which makes the execution of this SIP a bit easier than creating a custom ratio setup
An oracle feed is on the way from both Pyth and Chainlink
If the feed isn't frontrun, this will be the first DEX offering of this trading product
There was also general support from the Spartan Council for this SIP
Grants Council
Present at the July 13, 2023 Grants Council meeting:
Grants Team: ALEXANDER, CT, JVK, synthquest
In Grants Council updates, the team received a new grant application that they have been reviewing. After discussing the application, which requested a massive grant to cover the entire development on V3, CT asked that the team clearly define their funding policy. This will be drafted by Synthquest and Alexander, to then be reviewed by everyone.
The Council has also been working on ENS resolving and searching, fixing "search for account" vs Kwenta/Polynomial smart account, working on a couple of Dune pages (Protocol PnL and Perps V2 Open Interest), as well as coordinating with the Dev who says the NFT smart contract is ready to go live.
---
Subscribe to our YOUTUBE
Follow us on Twitter! @snx_weave
---
SIP/SCCP status tracker:
SIP-328: Debt Distribution View Functions, Status: approved
SIP-2025: Add MAV to Perps V2, Status: rejected
SIP-2026: Add YFI and MKR to Perps V2, Status: draft
SIP-2027: Add RPL to Perps V2, Status: draft
SIP-2009: Adding ETH/BTC ratio to Synthetix Perps V2, Status: draft