Synthetix Quarterly Report — Q2 2023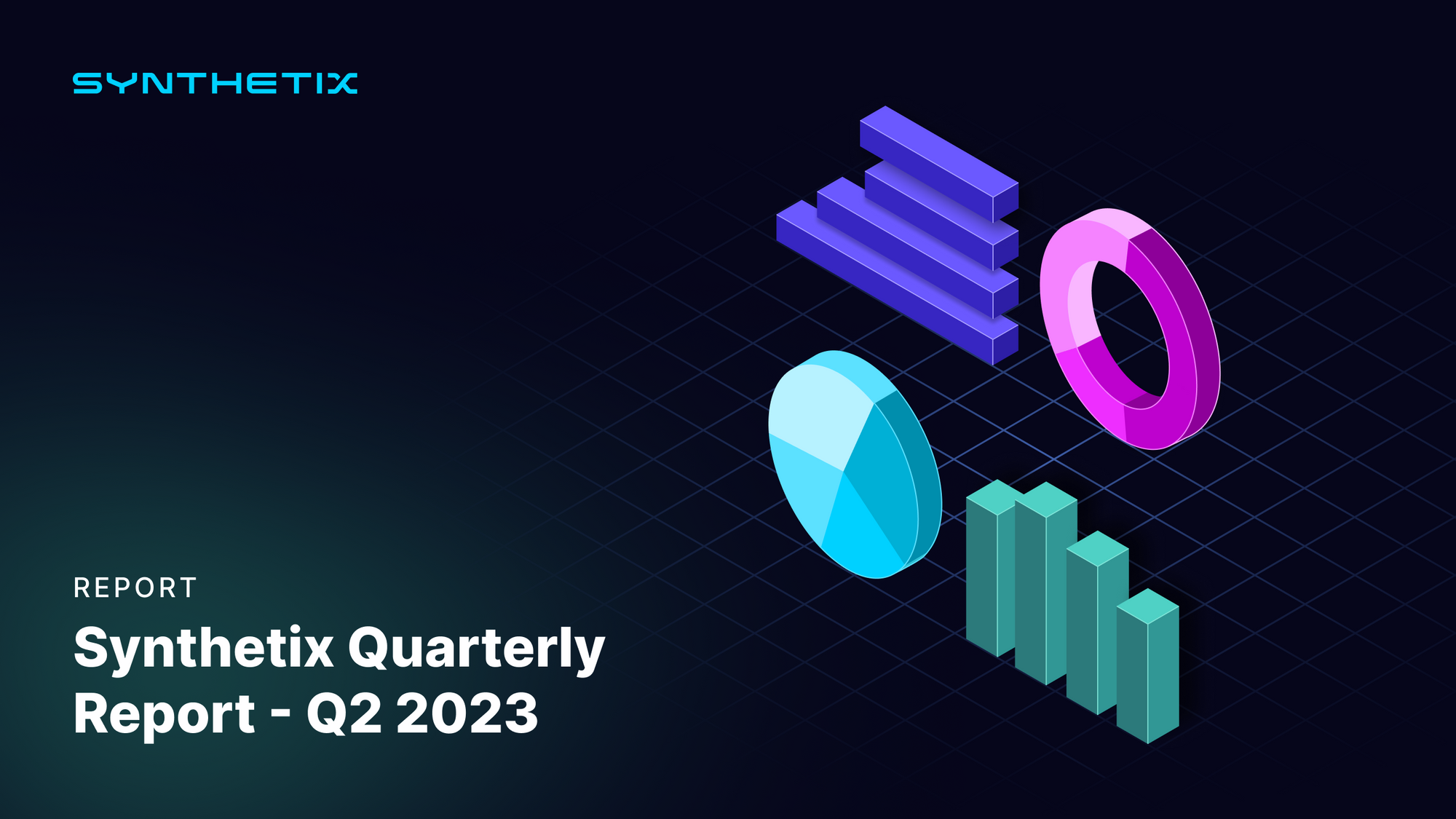 Quarterly Report for Synthetix, Quarter 2 of 2023: April — June.
Q2 Highlights
⭐ Spartan Council/CCs: V3 Audit & $10B Volume Milestone
⭐ Grants Council: Funding Rate Bot & Stats Bot
⭐ Ambassador Council: OP Governance Participation & Integrations
We are only halfway through 2023 and the Core Contributors (CCs) have already made massive strides towards Synthetix V3 deployment! Let's briefly review the major events of Quarter 2, beginning with the highlights!
The CCs have been working diligently on getting V3 released. In Q1, we saw much of the core system make its way through audit and eventual deployment, and in Q2, the framework for the 'legacy market' is now also through audit and on mainnet! While this does mean that V3 is currently able to accept collateral, the incentives to deploy capital to V3 are not quite there yet. The main Synthetix attraction right now is Perps, which will be getting a refresh to take full advantage of the V3 system. Perps V3 is near code frozen, and we will likely see a testnet competition by the end of July. So stay tuned!
Speaking of Perps, Perps V2 hit a major milestone this last quarter, surpassing $15 billion in total volume since it launched at the end of last year. Some of this volume was driven by OP trading rewards that launched in April, effectively paying users to try out the product. The release of Perps V2, however, also came at a critical inflection point in the wider crypto sphere where users began to seriously search for alternatives to centralized offerings.
The Grants Council also stayed busy this epoch doing what they do best — filling the gaps by funding value-add projects outside the scope of CC duties. In Q2, they funded the development for several Discord bots, most notably 2 new bots that provide actionable Perps data for users. The first was a funding rate bot that, with simple Discord commands, pulls data on specified perps markets including: price, funding rate and velocity, open interest, and arbitrage opportunities. The second bot is for overall market stats including fees generated, volume, open interest, and gas prices.
The Ambassador Council also continued their hard work this quarter as promoters of the Synthetix brand within DeFi, while also taking on an active role in governance outside of Synthetix (most notably as members of the first ever Optimism Citizens' House!). In addition, the Ambassadors continue to make progress on pushing as many possible Perps integrations as possible, including four this past quarter (Mux, Nested, Unidex, and OPX). Integrations will continue to be their focus into Q3, especially as the V3 rollout begins to take shape.
Challenges
While Q2 was generally without drama, there were a couple challenges that are worth reviewing.
As smooth as V3 development has been so far, there have inevitably been some growing pains. The most notable one is the discussion on the collateral that will back the debt. In V2, the only allowed collateral is SNX, which is considered to be a main value proposition for the token. There have been concerns raised, citing the use of endogenous collateral, that SNX may not be able to meet the future scaling demands of the protocol. Some have suggested allowing ETH as collateral, but the tricky part has been trying to achieve a balance between creating the optimal conditions for scaling, while also considering the position of current SNX holders. The exact way this will be resolved is still up in the air, and any tokenomics proposal would have to make it through governance, but there was an interesting discussion on the topic in April and you can find a summary of it on our blog here.
There was also quite a bit of back and forth on the proposed synth prefixes in V3. As the outline of V3 began to take shape, CCs explained that it would be nearly impossible to use the existing synth contracts for both V2 and V3 because it would require a risky, forced migration procedure. This meant that the protocol was going to have to part with recognized tickers (such as sUSD) on major price data hubs. Recently, however, Millie presented a SIP that proposes adopting a new ticker ID for the old synths to allow for the long-held identifiers to continue with the latest version of the protocol. This was well received by the Spartan Council, who signaled that they would vote in favor of this proposal.
You may have (hopefully have) noticed that the Optimism Bedrock release happened at the beginning of June! This upgrade brought major optimizations that have already lowered fees considerably, while also reducing deposit times and improving Ethereum equivalence. There was, however, some necessary downtime during the upgrade, which always breaks continuity for users. During the week leading up to the upgrade, users were only able to close positions. Fortunately, the upgrade went smoothly and the ongoing OP trading incentive program brought traders back quickly.
Lastly for our Q2 challenges, there were a couple of governance debates regarding which council has the authority to take specific actions. This first happened when a SIP was drafted detailing the terms of the OP trading incentive program. Some Spartan Council members felt a decision on their part would be merely symbolic given the OP was technically under the control of the Treasury Council, who could unilaterally decide how to distribute it. This issue came up again when the Treasury Council proposed the addition of a pool in V3 that would essentially act as a risk-free staking product.
Protocol Stats
Overview of Synthetix Q2 Stats: April 2023 — June 2023
Spartan Council
Q2 2023 Spartan Councilors: Adam, Burt Rock, Cavalier, cyberduck, Danijel, dsacks, Jackson, ml_sudo
Along with their contribution to the achievement of major Synthetix milestones this epoch, let's take a minute to review everything else the Spartan Council was able to achieve in just the last 3 months.
This quarter has been marked by a relentless effort to get V3 through audit and on Mainnet, and although there were no official releases until the end of April, five V3 SIPs (SIPs 317–321) made it through governance and were implemented by the end of the month. SIP-317 was the spot market implementation and represented the first opportunity to test trading functionality in V3, and the rest of the April V3 SIPs were core system upgrades and improvements.
SIP-2004 and SIP-2005 went out on the Caph release at the end of the month, bringing some major UX improvements to Perps V2. These SIPs addressed community and integrator feedback on how to improve user trading experience.
The OP trading incentive program also went live in April, allocating over 5 million OP tokens to promote the use of Perps V2. This OP was awarded to the Synthetix Treasury as part of Optimism's first round of community grants last year.
We got some big news at the end of April as well — Synthetix introduced an IPFS node to bring more resilience to major protocol frontends! Centralized web hosting was one of the last remaining censorship attack vectors and anyone in the community can support this effort by running an IPFS Node (no uptime requirements!).
This was also the first year of the 4-month electoral epoch and in May, we had some governance turnover at the beginning of the month. There had been some Gnosis safe voting issues in the new V3 governance module, but those were resolved for this election. The new Spartan Council didn't miss a beat, and within the first week they had voted to approve the addition of 9 new Perps markets via SIP-2014 and SIP-2015 that went out of the Larawag release at the end of the month.
Then at the beginning of June, Optimism deployed their bedrock upgrade! The purpose of the upgrade was to improve transaction efficiency and lower fees, but it did come with some downtime (as we mentioned previously). Optimism has said publicly that this is likely to be the last upgrade requiring downtime, and that the immediately observed reduction in fees should be permanent.
To wrap up the quarter, SIP-2021 went out on the Merak release. This SIP added a stETH/USD Perps market — the first of its kind on any centralized or decentralized exchange — showcasing one of the biggest advantages of synthetic derivatives.
Grants Council
Q2 2023 Grants Councilors: ALEXANDER, CT, JVK, sunny, synthquest
As we mentioned before, the Grants Council had a successful quarter supporting the protocol with various projects and initiatives. So let's recap them!
The Grants Council facilitated their very first trading competition at the end of April/beginning of May — the GCTC01! This coincided with Synthetix Perps coming out of beta and the OP incentives, and was a bit of a trial run for possible trading competitions in the future. There was an NFT that had to be minted in order to be eligible for prizes, then 2 weeks were given for the competition to take place. The Council announced that they would give out an IOU NFT along with 250 SNX, 200 SNX, and 150 SNX to first, second, and third place winners (based on ROI), respectively. They also awarded 100 SNX to fourth place and 50 SNX to fifth, as well as a few superlative winners:
Congrats to those who won, and cheers to everyone who participated! Here's to more trading competitions from the Grants Council in the future.
Yup, you guessed it. We can't talk about the Grants Council and not bring up all the amazing bots they helped bring to the Synthetix Discord this quarter! This includes version 2 of the Funding Rate Bot — V2 now gives some amazing stats for arbing for all the arbetoooooors out there.
All of these bots have been incredibly useful for monitoring important Synthetix stats, funding rates, markets, etc, so shout out to Ethboi for assisting the GC in developing these! Be sure to check them out in Discord, and let the team know your thoughts and feedback in the grants-council channel.
Public Goods Grant: eth.limo
We ❤️public goods, and the Grants Council supplied a 2,000 SNX public goods grant to eth.limo in June. As detailed in ALEXANDER's announcement in grants-announcements, a core principal of the Synthetix Grants Council is nurturing and supporting public goods. So to demonstrate their support for a decentralized, open, and free internet, the GC has donated to eth.limo, a vital piece of decentralized infrastructure. Eth.limo plays a crucial role by providing universal access to SNX content and actively advancing developments related to ENS & IPFS.
Eth.limo functions as a privacy-preserving ENS gateway, allowing seamless resolution of Ethereum Name Service records and associated IPFS/IPNS/Skynet content (Web 3.0). It enables users and dApp developers to effortlessly access and host static sites utilizing IPFS/IPNS/Skynet & ENS.
However, the increasing centralization of core internet infrastructure poses several risks to the principles of a decentralized, open, and free internet. These risks include single points of failure (such as Cloudflare and CDNs), unreliable Eth.link service, the concentration of ENS gateway infrastructure under a single entity (Cloudflare), censorship, the lack of non-commercial infrastructure, opaque terms of service agreements and moderation policies, the proliferation of proprietary browser extensions relying on centralized services (like Unstoppable domains), the erosion of the "commons" and "public space," and the nascent adoption of Web3. Additionally, most browsers currently lack native support for accessing ENS/IPFS/IPNS/Skynet.
It's important to address these challenges and promote the development of a decentralized and open internet infrastructure to ensure a more resilient and inclusive online ecosystem.
At the end of May, the Grants team called on all traders and anyone interested in helping them test their new Perps site. This was initially a test deployment, as they were seeking feedback for improvement. The Grants Council has just been trying to resolve an issue with the arbitrage data — they need API keys for the other apps that they would support (since they are not on chain). But other than that, this Perps site is now fully functional!
This was a project that Synthquest led this quarter, to help make the Stats page even better. He met with Flipside (basically a Dune alternative) several times to discuss creating Synthetix-based tables, what they're capable of/what base tables they could decode, what type of data needed, etc. We won't spoil all the fun here since the Grants Council is releasing a writeup on this soon 😉
You guys are probably pretty familiar with this project by now, but if not — the Grants Council has been working VERY hard for a long time to bring these Spartan NFTs to the Synthetix Ecosystem. Launch day is getting so close, we can TASTE it. The team has been working on the last couple of steps this quarter, including the site development and lore writing. We'll be the first ones to shout it from the rooftops when they go live!!
What's next for the Grants Council?
Speaking of upcoming initiatives like the NFT project…the Grants Council has the following items on their ongoing/upcoming list:
Working with Matt to possible fund a grant to utilize Notifi within Synthetix (Notifi powers personalized interactions and cross-chain communications between web3 builders and their users — it is a suite of blockchain tools for notifications, real-time alerts, and growth marketing, designed to deliver a seamless Web3 experience in DeFi, NFTs, Gaming, DAOs, and beyond)
Experimental Synthetix market factory on Overtime Markets planning
Protocol Governance conversion from SIPs to single Doc for easy reading: the first draft is complete, the team is now seeking second draft input outside of the Grants Council
Incentive for The 300 to help test new V3 UI
Research on a community concept Stats Page for V3
Watcher Page improvements research
So many exciting projects to be on the lookout for in Q3! We're looking forward to seeing what the Grants Council does in the coming months.
🚨GC IN NEED!🚨 The Council is also looking for an experienced smart contract developer to build a Synthetix V3 market that taps into the Overtime Markets Sports AMM, thus allowing stakers the optionality to delegate collateral to a newly created Sports market pool. Check out the RFP here for more details if this could apply to you!
Ambassador Council
Q2 2023 Ambassador Councilors: GUNBOATs, Kevin, mastermojo, Matt, Westie
The Ambassadors have closed out the first half of 2023 strong, logging in several SIPs passed, protocol integrations, and more. Here's everything they accomplished over the last few months:
✅ Governance/General
Voting Activity can be followed using these links:
1. General Governance
As far as their Governance participation in general goes, the Ambassadors have been lobbying for Synthetix and the ecosystem's interests across multiple DAOs. The most notable of which is Optimism, but the list continues to: Hop Protocol, Gearbox, Arbitrum, Uniswap, ENS, Lyra, Aave (and Euler prior to them blowing up). This list continues to expand as time goes on, but the majority of their time is spent on Optimism governance as it is closest to Synthetix and supports the wider ecosystem.
Here is a wide overview of the Ambassador's busy few months in Governance (mainly Optimism Governance):
Optimism Governance is full go with 3 intents of proposals to review relating to the new "Missions". Over 40 proposals have been reviewed
Cannon and Synpress received retroactive public goods funding (OP): Cannon received 90.2k OP and Synpress received 91.8k OP
Synpress applied for a Builders grant and received it in the last epoch (OP)
Cannon is now applying for a Builders OP grant (OP)
The AC plans to ensure that the ecosystem is made well aware of any timelines for grants for growth, builders, etc.
Supported Thales on questions related to milestones and supported them on their grant
Lyra signaled interest in a future grant, but this has slowed as of now
Worked directly with Pyth on their OP proposal — they're planning on OP gas subsidies, which could lead to Keeper subsidies depending on the OP grants council thoughts
Westie wrote up a review of the losses related to OP downtime
Various other votes/feedback given to other protocols on governance
2. Partner Support and Onboarding
This has been another central focus of the Ambassador Council this past quarter, and can be broken into two sections:
Current Partner Support
The focus here is on current volume drivers, which includes Kwenta, Polynomial, Lyra, dHEDGE, and so on. The Ambassadors have been checking in with partners to get feedback on their experience with building on Synthetix and if they require any governance support in any way.
This is still very new, but the team likes the way it's working and the fact that it gives ecosystem members another area to seek support if they have any questions, issues, etc.
Future Partners
The Council is in talks with potential perps partners, including Mux, Nested, Unidex, OPX, Mummy Finance, etc.
3. Published Materials
The Ambassadors also assisted in publishing docs this quarter, most notably by drafting a GMX vs. SNX Perps Document and providing feedback on the Synthetix V3 Docs.
4. Optimism Governance Forum Activity:
As previously mentioned, the Synthetix Ambassadors have a major voice in Optimism Governance. Their respective Optimism Governance Forum Activities can be found using these links:
✅ Spartan Spaces
Spartan Spaces continued to serve as important community marketing tools this quarter, with the Ambassadors hosting calls and attending other DAO's calls on behalf of Synthetix.
1. Lyra (Length: 45 minutes)
Guests: Nick & Cody
The Synthetix Ambassadors hosted the Lyra team to discuss their recent Newport Release and integration with Synthetix Perps
2. Kwenta (Length: 50 minutes)
Guests: Burt Rock & Jared
Topics of discussion for this Space included Synthetix Perps, Kwenta's integration, smart margin, and the roadmap for Kwenta & future products.
✅ Proposals
1. SIP-2014: Adding PEPE, SUI, and BLUR to Synthetix Perps V2 (author: Westie)
This SIP proposed offering PEPE, SUI, and BLUR perps markets under Perps V2
2. SIP-2015: Add XRP, DOT, TRX, FLOKI and INJ to Perps V2 (author: GUNBOATs)
This SIP proposed offering XRP, DOT, TRX, FLOKI and INJ futures on Synthetix Perps
3. SIP-2021: Adding steth/usd to Synthetix Perps (authors: Matt, Justin (Lido), Westie, GUNBOATs, Kevin, Mastermojo)
This SIP proposed offering steth/usd futures on Synthetix Perps
✅ Integrations
The Ambassadors' external integrations this quarter have once again been focused with integrating Synthetix Perps.
Integrations outside the Synthetix ecosystem include:
Mux Protocol (in progress)
Nested (in progress)
Unidex
Mummy Finance
OPX
What's next for the Ambassadors?
Pursue further growth strategies for Perps V2, Atomic Swaps, Synthetix V3, and formal BD relations
Explore opportunities to scale synth supply
Increase presence in Optimism governance
Expansion of influence in DeFi & DeFi Governance
Best Memes from Q2
The quarter of COURSE wasn't without humor, so here are our favorite memes from the epoch: