Synthetix Launches Teleporters with Chainlink's CCIP
Synthetix is pleased to announce that the protocol has integrated Chainlink Cross-Chain Interoperability Protocol (CCIP) into Synthetix V3.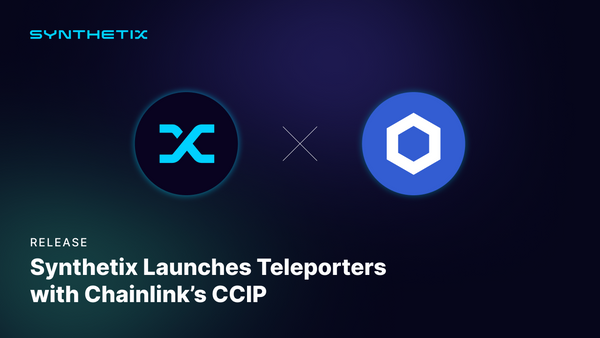 Synthetix is pleased to announce that the protocol has integrated Chainlink Cross-Chain Interoperability Protocol (CCIP) into Synthetix V3. This milestone integration marks one of the first-in-production uses of Chainlink CCIP and will enable highly efficient, secure, and reliable cross-chain transfers of sUSD through the Synthetix Teleporter.
The initial integration of Chainlink CCIP enables V3 sUSD to move between Ethereum and Optimism, but has been configured to allow transfers to any EVM compatible chain if approved by the Synthetix Spartan council. Please note: Only sUSD minted on the Synthetix V3 architecture can be sent via Telporter.
In the future, Synthetix has the ability to expand the cross-chain Synth Teleporter functionality to additional EVM-compatible chains, including Arbitrum and Base. Synthetix is also exploring the usage of Chainlink CCIP for additional use cases, including cross-chain synthetic perpetual futures, cross-chain staking pools, and more.
About Chainlink CCIP and Synthetix Teleporters:
Chainlink CCIP is a secure, reliable, and easy-to-use interoperability protocol that enables developers to build cross-chain applications and services through a simple interface for enabling token transfers and transferring data across blockchains. CCIP enables developers to build cross-chain applications, increase accessibility and scale faster across multiple chains.
Synthetix's unique approach to DeFi was introducing shared collateral across synthetic assets. Now, with the initial integration of Chainlink CCIP, Synthetix is able to create shared collateral across multiple chains. Synthetix Teleporters use CCIP for token transfers which involves a mint/burn mechanism that burns assets on the source network and mints them on the destination network, ensuring that the total supply of sUSD remains constant without needing to secure two versions of the same asset.
Synthetix is acutely aware of custom bridge implementation risks, and that's why the protocol approved SIP 311 and selected Chainlink's cross-chain interoperability solution to enable secure sUSD token transfers. CCIP is backed by the same security infrastructure that helped secure tens of billions of dollars of value in the DeFi ecosystem since its inception. CCIP employs additional layers of protection such as the Active Risk Management (ARM) Network, transfer rate limits, and extensively-audited token pools.
CCIP Benefits
Synthetix Spartan Council, via SIP 311, has decided to use Chainlink CCIP because it offers a variety of benefits, including:
Defense-in-depth security — Chainlink CCIP is powered by Chainlink decentralized oracle networks, which have a proven track record of enabling trillions of dollars in transaction value and securing tens of billions of dollars. CCIP also includes additional layers of protection via the ARM Network and transfer rate limits, as well as reliable transaction execution regardless of network congestion via the Smart Execution feature.
Complete Token Transfer Capabilities — Seamlessly scale dApp userbases by starting to transfer tokens across chains in a fraction of the time it would take to build a custom solution. CCIP Token Pool contracts manage the complexities of token handling mechanisms, with additional security features such as rate limits, and in the future, more advanced ARM Network security. CCIP Token Transfers offer enhanced composability, allowing ecosystem partners to transfer and build new capabilities with supported tokens via a single CCIP interface.
Ease-of-use and scalability — Chainlink CCIP eliminates the need to write custom code when building chain-specific integrations. Instead, developers only need to use a single interface to integrate CCIP with their smart contract on a single blockchain to access all other supported blockchains.
Future-proof — Chainlink CCIP is built to support continuous updates, such as the integration of new blockchains (including non-EVM chains), the introduction of advanced functionalities, and the addition of other defense-in-depth approaches to security.
"Security is critical when dealing with on-chain assets, which is why we leverage Chainlink CCIP for our cross-chain Synths Teleporter," stated Kain Warwick, founder of Synthetix. "As one of the first users of Chainlink Data Feeds, we're thrilled to get first access to CCIP and all the functionality it unlocks for Synthetix."
"We're excited to help enable Synthetix's unique products to be available on more chains in a provably secure way," stated Sergey Nazarov, co-founder of Chainlink. "Chainlink CCIP's battle-hardened security infrastructure can help power cross-chain token transfers and open up new functionality for Synthetix."
Learn more about Chainlink by visiting chain.link or reading the developer documentation at docs.chain.link.
Synthetix & Chainlink Twitter Space on V3 & CCIP
Interested in learning more about Synthetix V3 & Chainlink CCIP?
Join the SNX Ambassadors on Wednesday at 1pm UTC for a live Spartan Space with Chainlink & Synthetix contributors. We'll discuss CCIP, Synth Teleporters, Cross-Chain Synthetix, and the CCIP benefits for V3.
Twitter RSVP - https://twitter.com/i/spaces/1DXxyvvVgzWKM
Discord RSVP - https://discord.gg/synthetix?event=1130241673608306811