SNXweave Weekly Recap 48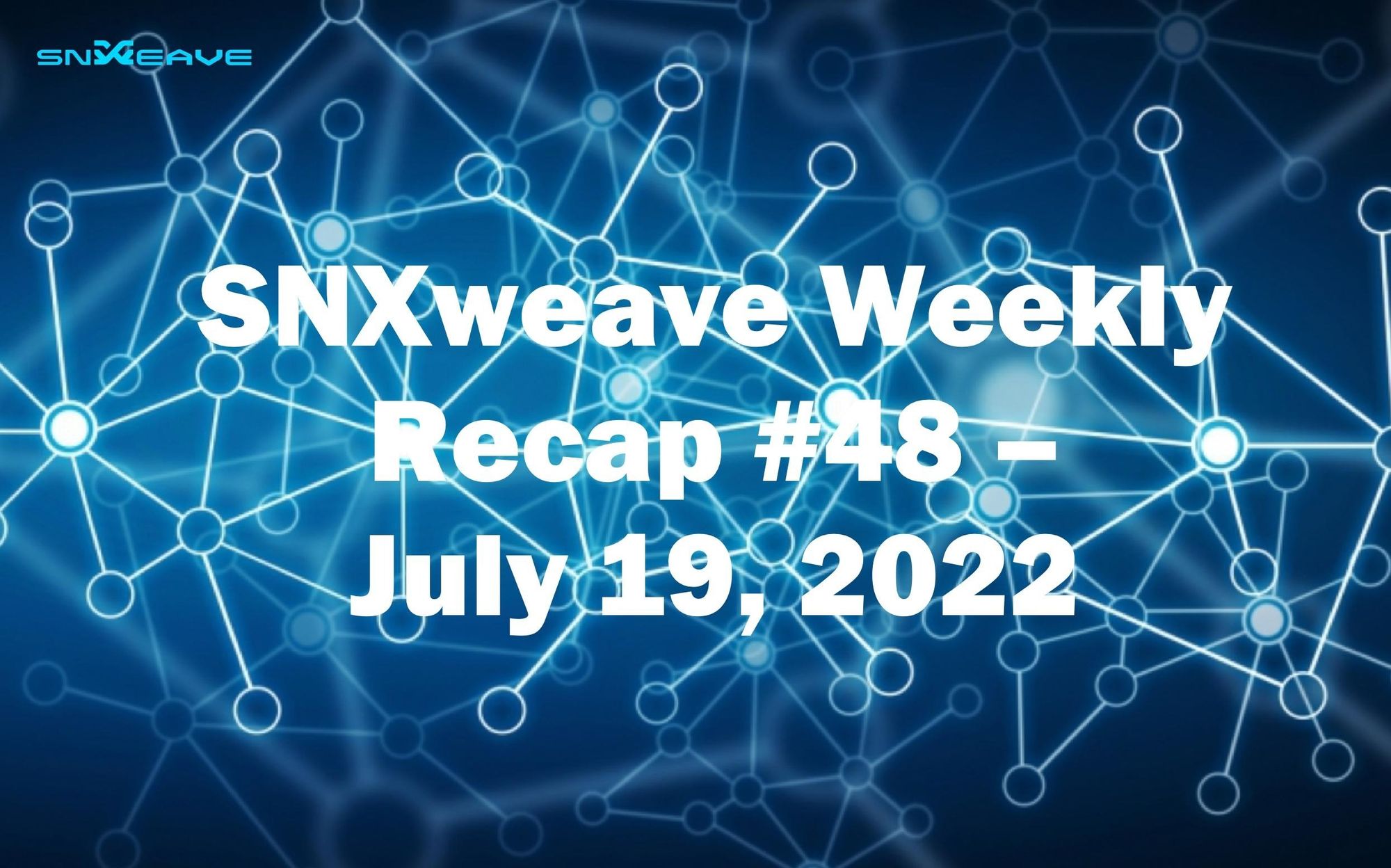 July 19, 2022
The following post contains a recap of news, projects, and important updates from the Spartan Council and Core Contributors, as well as the Grants Council and Ambassador Council from last week.
Spartan Council and SIP updates
Present at the July 12, 2022 Spartan Council Weekly Project Sync:
Spartan Council: Afif, Ale, Burt Rock, ksett, SynthaMan, TerraBellus
Core Contributors: Cavalier, KALEB, noah
Happy EthCC week! It's that time of year again where Ethereum community members and leaders gather from all around the world, and we get to catch the many interesting speakers and events via livestream!
And for the Synthetix CCs who aren't in Paris this week, it's still full speed ahead to close out V2X.
Starting with SIP-252 — this will allow the liquidation of escrowed SNX, and was voted on and approved with 7 votes in favor. The SIP was already sent to audit for review, and is being prepared for release.
The sUSD Optimism Bridge SIP (229) was also examined last week. Ale discussed how the team evaluated the possibility of introducing a rate limiter, but they discovered that it would in fact not be a trivial matter because of the asynchronicity between chains. The ultimate recommendation was for this feature to be its own separate proposal. SIP-229 will also require a supplementary SIP to enable Optimism compatibility with synths.
There were also some security concerns raised, mainly that enabling the bridge would expose sUSD to potential vulnerabilities on 2 networks. This is due to the lack of caps on the amounts allowed to bridge, and the use of a non-standard Optimism bridge contract, which increases surface areas of attack, as the sequencer would be able to infinite mint synths (back to L1). In summary, and based on discussion from last week's Spartan Council call, 3 paths were proposed for this SIP in order to address these security concerns:
1. Activate the synth bridge, as already described.
2. Incorporate a pDAO-only function into the bridge, where only the pDAO address can bridge synths. This would be removed once security concerns are satisfied (will be addressed in a different SIP).
3. Hold off on activating the bridge until the security concerns addressed in the meeting are satisfied.
These changes would have likely taken about 3 weeks for full feasibility and audit, so in the end the Council voted to enable the bridge as is. As of today the SIP was unpaused! While it doesn't have a UI yet, users can reference the blog post that was published to start bridging sUSD to (and from) Optimism immediately.
As for V3 updates, Noah said the CCs have an outline of a plan that would get a version of V3 up where they would be able to swap out the collateral, staking, and liquidity side of the system without interrupting how the markets and assets behave. SIPs 300 through 306 basically describe this process in depth. The plan is to get a presentation for SIP-301 scheduled as soon as possible.
There were also a couple of SIPs presented last week, so let's briefly review them:
SIP-248: Create DOGE-PERP, SIP-249: Create BNB-PERP, SIP-250: Create XMR-PERP
Burt presented these SIPs, explaining that they were broken up into 3 separate ones just in case there were objections to individual asset listings
All were chosen because they are high-cap/high-liquidity markets
Burt said they really want to push the hedging use-case of Kwenta for users who may be holding older spot tokens
Kaleb added that the wide availability of these tokens on different exchanges means there will be better latency in the feeds so the fees can be lower
SIP-258: Trade Directionality In Pricing of Atomic Swaps
Presented by Kaleb, this SIP improves the pricing of atomic swaps by incorporating directionality of the trades into the Uniswap pricing methodology
Kaleb said they noticed that there was a minor issue in some of the fills over the last few weeks
This SIP therefore fixes the bug in the implementation by incorporating the directionality of the trade
Voted on and approved with 7 votes in favor and none against
Grants Council
Present at the July 14, 2022 Grants Council meeting:
Grants Team: ALEXANDER, cyberduck, JVK, Mike
In Grants Council updates, the team is chipping away at their ongoing business. Last week the Council ironed out some of the details of their margin matching initiative, and is hoping to get feedback from Kwenta. The plan is to run a beta test, and possibly run the initiative at the same time as Kwenta's trading incentive program.
Next, the two different versions of the wrapper UI are both looking good, there were just some minor suggestions made last week for UI improvement. These are both almost ready to be reviewed by the CCs before deciding which one to publish.
Duck also gave a quick update on the SIP submission UI initiative. He wrote up the basic specs for this, and the request for proposal (RFP) was actually posted in the grants-announcements channel. Be sure to reach out to the Grants Council if you are able to help create a simple user interface for submitting pull requests of Synthetix SIPs to the Github repo!
Ambassador Council
Present at the July 13, 2022 Ambassador Council meeting:
Ambassadors: mastermojo, Matt, MiLLiE
Lastly, in Ambassador updates, the guys have a bunch of Spartan Spaces lined up for the coming weeks. So be on the lookout for comms related to these!
Mojo has also started a website for the Council, where various Ambassador-related projects, pages, and relevant sites will be linked.
Matt also discussed the Synthetix 2022 Milestones blog that he put out last week. While this is not Ambassador-specific, it is still a very important read! Now that we are past the halfway point of the year, it's good to look back and review, and have a clear picture for the remaining months. So be sure to check it out if you haven't already!
Podcast now also on YOUTUBE
Follow us on Twitter! @snx_weave
SIP/SCCP status tracker:
SIP-252: Liquidation of SNX Escrow, Status: approved
SIP-229: Optimism Bridge for Synths, Status: implemented
SIP-301: Accounts (V3), Status: draft
SIP-248: Create DOGE-PERP, Status: rejected
SIP-249: Create BNB-PERP, Status: approved
SIP-250: Create XMR-PERP, Status: rejected
SIP-258: Trade Directionality In Pricing of Atomic Swaps, Status: approved