Why you should vote for sUSD in the upcoming Compound community vote
Why sUSD should be available for lending on Compound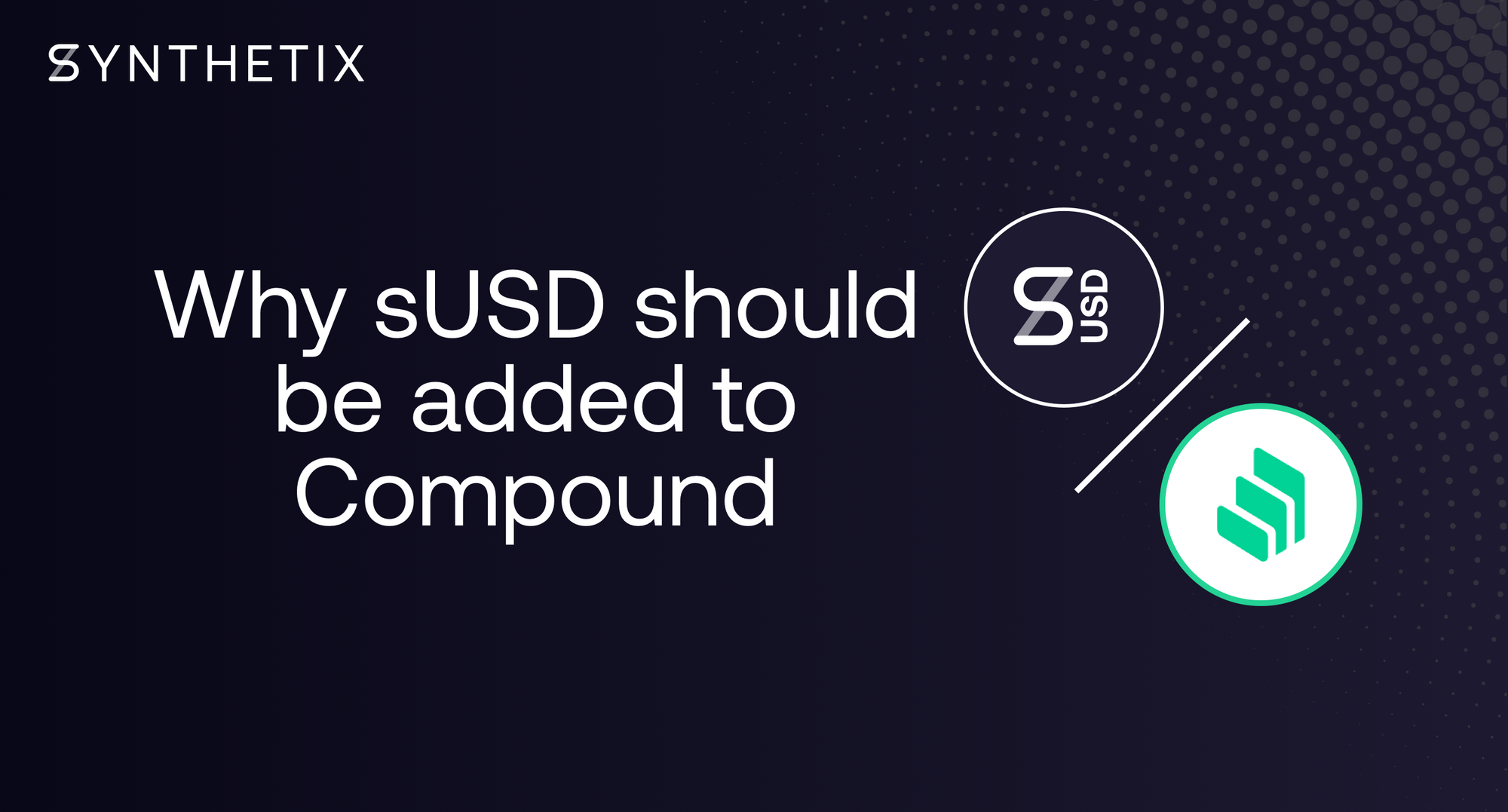 sUSD has been included in the upcoming community vote by Compound, the decentralised lending protocol that just crossed $100m in total value locked as measured by DefiPulse. Compound will list two new assets for lending and borrowing in its third community vote.
sUSD's listing on Compound would be highly beneficial to both Compound users and Synthetix users. There is proven demand for stable cryptoassets on Compound. At the time of writing (Aug. 19), there is currently ~$45m in borrowed assets all-time, and 98% of this has been USD-denominated stablecoins: Dai and USDC.
There are two primary reasons for the popularity of stablecoins on Compound. The first is that there is a liquidation risk for lenders, so lending an asset designed to be stable is far less likely to be liquidated. The second is demand for tokens with demonstrated utility. This is likely because of the requirement for borrowers to pay interest on their loans. Dai is the most liquid decentralised stablecoin, and allows users to access a stable asset without custodial risk, and though USDC is not decentralised it's more liquid than Dai, provided by Coinbase and Circle, which are established brands.
If sUSD is added to Compound, users will have access to another decentralised stablecoin with a different set of trade-offs. Borrowers of sUSD, through Synthetix's unique pooled collateral system will be able to trade for other synthetic assets with infinite liquidity on Synthetix.Exchange. This is great for Compound users (i.e. borrowers) because it means they have access to an easy-to-use dApp that enables trading of synthetic assets. Listing sUSD on Compound will enable borrowers to access Synthetix.Exchange without selling their collateral. Let's use the following example:

Alice wants to trade synthetic assets on Synthetix.Exchange, but only has 10,000 Dai. She deposits Dai as collateral on Compound, which gives her cDai in exchange. Dai has a 75% borrowing factor, which means she receives $7500 of cDAI, which she can use to borrow other assets. She uses this cDai to borrow 7500 sUSD.
Alice heads to Synthetix.Exchange and trades with her sUSD between various synthetic assets such as sBTC (synthetic Bitcoin), iTRX (Inverse TRX), and sCEX (an Index Synth tracking a basket of centralised exchange tokens). She makes a 100% gain (7500 sUSD), and trades back into sUSD leaving her with 15,000 sUSD.
She heads back to Compound and uses 7,500 sUSD to repay her debt unlocking 10,000 Dai, with the remaining sUSD kept as profit.
The upcoming community vote on Compound is a fantastic opportunity for Compound users to select sUSD, an asset with major utility in the DeFi ecosystem. It unlocks a new type of DEX-like trading for compound users that is peer-to-contract (P2C) and orderbook-free. The vote is on August 28, takes two weeks, and is weighted by use of the Compound protocol (measured by lifetime interest earned + interest paid), so if you'd like to see sUSD included head over to Compound.Finance before then and start lending/borrowing!