Synthetix Quarterly Report — Q3 2023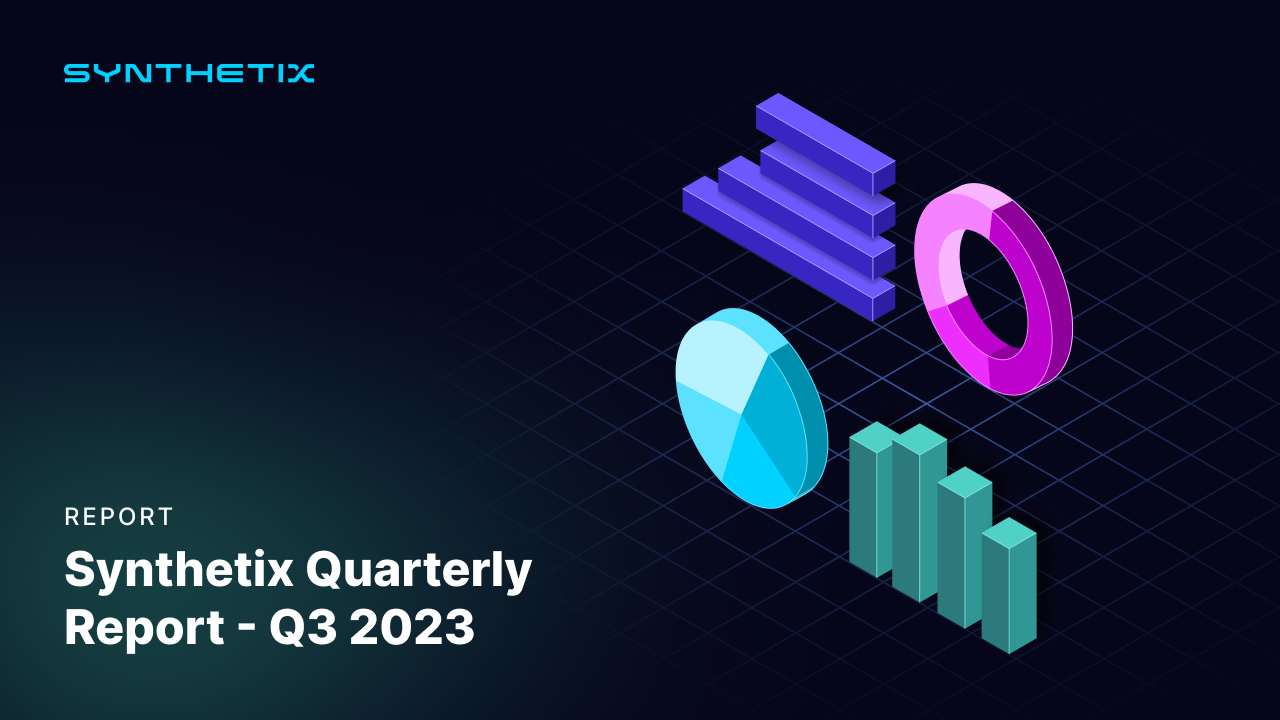 Quarterly Report for Synthetix, Quarter 3 of 2023: July — September.
👉Q3 Highlights
⭐ Spartan Council/CCs: Base Deployment & Testnet Trading Competition
⭐ Grants Council: NFT Project & Watcher Page
⭐ Ambassador Council: Spartan Spaces & Governance Proposals
As we wrap up the third quarter of 2023, it's time to review the major events of the last three months — so let's start with the highlights!
With the V3 core system deployed, the Core Contributors (CCs) directed much of their efforts over the past quarter towards building out Synthetix's flagship product — Perps V3. A big part of this effort was the development of an Ethereum standard for on-demand off-chain data retrieval (ERC-7412). The testnet competition was originally scheduled for some time in July, but during development it became clear that a solution for reading oracle data across chains was required and Chainlink's Cross-Chain Interoperability Protocol (CCIP) currently only capable of writing data across chains. This resulted in some minor delays, but the testnet competition eventually had a firm date for the beginning of October after the CCs worked with partners to integrate ERC-7412.
The competition is being held on Base, which brings us to a huge protocol milestone and our next major highlight for the quarter. The idea that Synthetix should be a protocol capable of seamlessly deploying across different chains has been long in the making and V3 has finally made this a reality. Base, which launched in early July, is Coinbase's L2 built on the OP Stack in collaboration with Optimism. In a show of support for the new L2, Synthetix was one of the first protocols to deploy to Base, though it was just the core system until the competition began on testnet. Cross-chain pools are still in development, however, and staked collateral will remain completely siloed from Optimism for now.
This presented a unique opportunity to test an alternative scaling solution for the protocol — ETH collateral. In another first for Synthetix, all trading activity on Base is planned to be supported by an ETH debt pool rather than SNX. The decision to use ETH collateral was made to avoid fragmenting SNX liquidity across multiple deployments. External collateral has always been a touchy subject and we will dive into that a bit deeper, but this deployment itself represented a net benefit for the protocol and stakers. Every dollar in fees generated on Base using ETH collateral will be an additional dollar of value generated, as opposed to the zero-sum shifting of SNX collateral supporting the Optimism markets over to Base.
Also noteworthy this quarter, nearly thirty new Perps markets were approved with three particularly eye-catching new offerings — ETH/BTC, stETH, and stETH/ETH. These are the first of their kind for Perps offerings on decentralized exchanges, and really showcase the power of the Synthetix product. With reliable price feeds and liquidity, the number of markets that can be created is endless and we are certainly excited to see what a future, possibly permissionless, Synthetix V3 has in store!
Next up, Kain was on the previous Treasury Council and in an effort to bring some transparency to their activity, he developed a Synthetix Treasury Proposal (STP) procedure. Some community members had complained in the past that the Treasury Council didn't appear to have as much accountability to stakers as the rest of the governance bodies. In September, SNXweave hosted a call to hear presentations on the first few STPs, which highlighted the strategic objectives of the Treasury Council. Most of them seek to allocate funding to necessary functions that do not fit neatly in any current Core Contributor box, but are absolutely critical to continue to grow the protocol (i.e. business development and data analytics teams). A recap of that call can be found here in our previous blog post!
👉Challenges
The main challenges in Q3 have been brewing in the protocol for some time, but are now bubbling very close to the surface as the V3 deployment and migration plan begin to take shape. The first is the tokenomics plan for V3. In the last election, a big talking point was that tokenomics discussions have been ongoing for the entire year with no clear resolution in sight. There are a number of considerations, and it is certainly a challenging issue, but the big question is how to continue accruing value to stakers while growing the protocol.
Synthetix trading activity is supported by a debt pool where LPs stake SNX as the collateral base for the network. This creates an upper bound on scaling potential based on the market cap and price of the SNX token. Without these stakers, there would be no Synthetix, so the challenge is figuring out how to grow the Synthetix pie while also maintaining the value proposition for stakers who have been with the protocol since the early days. There are proposals on the table, even drafted SIPs from TerraBellus and Adam, but neither have been presented for community feedback. Recently, ML_sudo put together a document to assess these proposals side by side, but there has not been material progress made on this front yet.
An alternative that has been floated on several occasions is using ETH as collateral. ETH has very deep liquidity and the competition for yield is relatively thin, with ETH staking generating just 4% annually. The deployment to Base offered a unique opportunity to test the use of alternative collateral, and Adam's tokenomics proposal suggests 60% for stakers, 20% for Base LPs, and 20% for integrators. With scaling V3 being the goal, the Spartan Council will have to continue looking for opportunities to grow the collateral base beyond what the SNX token is capable of right now. As stakers themselves, and representatives of stakers, maintaining the value proposition for SNX will always be top priority. We will be closely monitoring the Base deployment to see how this experiment plays out.
Towards the end of the quarter, the topic of integrator fee sharing was brought up several times in the Spartan Council meetings. As a brief background, the original fee share program was managed by the Treasury Council. It was a tiered reward system paid in SNX based on volume, but some of the early integrators outgrew the allotted reward so quickly that it was no longer a sufficiently incentivizing driver of volume. Last year, a volume source fee program was proposed that would allow integrators to redirect a portion of fees to themselves. There was some disagreement as to whether this fee should be an addition onto the Synthetix fee or a reduction from the fee accrued to stakers, but it was eventually rejected. The next variation of this proposal introduced a tiered fee structure that would have paid 10% for fees generated under $1 million, 7.5% from $1–5 million, and 5% of fees over $5 million. This payout would be entirely in SNX and would still be a transaction executed by the Treasury Council monthly.
In the most recent Spartan Council meeting, Kwenta, Polynomial and Rage Trade brought a proposal to the group that would direct 30% of the fees towards integrators. In addition to funding operating expenses, this would allow integrators to pursue other promotional activities that should bring more volume to the protocol, since the frontends are where all the volume originates. This is still very much an active discussion, but there seemed to be some consensus that 20% may be more reasonable.
👉Protocol Stats
Overview of Synthetix Q3 Stats: July 2023 — September 2023
👉Spartan Council
Q3 2023 Spartan Councilors:
Epoch 1 (May-Aug): Adam, Burt Rock, Cavalier, cyberduck, Danijel, dsacks, Jackson, ml_sudo
Epoch 2 (Sept-present): Adam, Burt Rock, cyberduck, Genefaesius.eth, Jackson, Kain, Millie, ml_sudo
Along with their contribution to the achievement of major Synthetix milestones this epoch, let's take a minute to review everything else that the Spartan Council was able to achieve in just the last 3 months.
The big win for this quarter was finally getting Perps V3 ready for the testnet competition, which will extend through the end of October. This was mostly a CC effort but the Spartan Council was instrumental in getting quite a few SIPs though governance as quickly as possible so they could continue work on the product. 25 SIPs were approved this quarter, 11 of which were V3-related.
Several of the remaining 25 approved proposals aimed to increase the depth of Perps offerings. At the end of July, several SIPs went out on the Ankaa release to add 6 new Perps markets, including the ETH/BTC ratio market — the first of its kind on a decentralized exchange. Many in the community have been requesting this market for some time as it allows for novel exposure to the top two cryptocurrencies by market cap.
In August, the Enif and Scheat release went out, adding WLD and USDT Perps. The USDT Perps market marked another decentralized exchange first! At the beginning of September, OP trading incentives were extended for another five weeks and the Sabik release went out, adding 19 more Perps markets. By the end of the quarter, the Spartan Council had averaged roughly two new Perps markets per week over the whole 3 months.
👉Grants Council
Q3 2023 Grants Councilors:
Epoch 1 (May-Aug): ALEXANDER, CT, JVK, sunny, synthquest
Epoch 2 (Sept-present): ALEXANDER, CT, MoneyManDoug, sunny, synthquest
In addition to reviewing multiple Grant applications this quarter, the GC made some serious headway on several of their various projects and initiatives:
Watcher Page
The Council worked hard this epoch to bring several considerable improvements to the Watcher Page, which is the site that allows you to explore trades, trends, and market movements of Synthetix Perpetuals for valuable insights and informed decision making.
They've incorporated new features such as ENS address resolving, open interest (OI) charts, staker profit and loss (PNL), and more. One of the most recent additions was a "leaderboard" for wins/losses on trades, positions closest to liquidation, and largest open positions. This site is a very important source of information, providing all the stats related to trading data and information.
We know what you're probably thinking…you're telling me I can see every open position on Synthetix by each market in one place?? Yes, yes we are.
BOTS
A classic Grants Council highlight here — the team continued their general Bot maintenance on all of the existing Synthetix Discord Bots, and also updated their new SNX Whales Twitter Bot. These Bots are valuable daily tools that help assist traders, stakers, and arbooors alike. Be sure to check them out in Discord and on Twitter, and let the GC know your thoughts and feedback in the grants-council channel.
NFT Project & LORE
THE NFT PROJECT DROPPED IN JULY!!! This has been a long time coming for them, and was worth the wait. As a reminder, the different Tribes are:
Human: Spartans
Human: OG Spartans
Human: Legendary Spartans
Human: Demigod Spartans
Dwarfs
Elementals
Mechanoids
Philosophers
Alien Elves
Undead
Trolls
The Council has continued to share more information with the community about this project as they progress through the different phases that they announced:
Phase 1: Pre-mint 192 NFTs for the Grants Council ✅
Phase 2: NFT Auction to help raise awareness of the project, Synthetix, and Optimism L2 ✅
Phase 3: Synthverse LORE reveal ✅
Phase 4: Community Whitelist Mint of 2,000 NFTs
Phase 5: Open Mint of 3,000 NFTs (only if demand is high)
Phase 6: Additional Mint phases can be opened up — until we reach the max cap of 10,000 NFTs — if the demand is there
They also released their lore for the NFTs, called "THE SYNTHVERSE." This otherworldly tale features detailed stories of Earth Under the Olympians, The Elysion Initiative, The Synthverse, The Troll Invasion, The Fall of Mount Havven, and the Current Crisis that ties it all together. Be sure to read the full Lore here to transcend reality and get excited about these NFTs!
The GC also ran an auction for a few rare NFTs, all with unique objects or attributes:
Now that they've completed the first few phases of their plan, the team is now working on deploying the free mint. Keep a lookout for this SOOOON!
V3 Help
The Council also did a lot to help promote V3, such as: providing NFTs as prizes for the Perps V3 testnet trading competition on Base, updating and maintaining basic core V3 stats on Dune, and continuing work on the Community Governance Guide Document.
Flipside Data R&D Completed
This project was started by synthquest a few months ago, and was completed this quarter! He led research and development (R&D) to work with Flipside as an alternative data source for Synthetix. This initiative unlocked the ability to follow metrics like total SNX holdings (escrow and liquid), C-Ratio, debt balance (SDS), staker distribution stats, at-risk-of-liquidation stats, and so much more.
This has already been used to help verify models built by researchers and has been added to the queryable schema sidebar, allowing analysts to easily access this data on Flipside. The GC also gave a shout-out to Kaiblade and metricsDAO for assisting with this project and helping obtain accurate and reliable data for Synthetix!
What's next for the Grants Council?
The GC has the following items on their ongoing/upcoming list:
Notifi: The Council has been working with CC Matt to utilize Notifi within Synthetix, which will serve as Synthetix's new notification solution, and will help deliver real-time notifications about C-Ratio, account summaries, rewards reminders, announcements, and more to users. Matt just shared Notifi with The 300 to help test it out, so we should be seeing this soon! (As a reminder, Notifi powers personalized interactions and cross-chain communications between web3 builders and their users — it is a suite of blockchain tools for notifications, real-time alerts, and growth marketing, designed to deliver a seamless Web3 experience in DeFi, NFTs, Gaming, DAOs, and beyond)
The Watcher Page: The team is looking for additional devs to work on more updates and enhancements to the page, as they have a long list of enhancements that they are working on and plan to incorporate to help expand and enhance the site.
New V3 Stats page: The GC also looking for a dev to convert the Dune dashboard into a basic stats page
Retroactive Grants: Looking to issue RGs to community devs
Various R&D
Funding of Base testnet trading comp
Community Governance Guide Document: Work is almost done on the doc!
👉Ambassador Council
Q3 2023 Ambassador Councilors:
Epochs 1 & 2 (May-present): GUNBOATs, Kevin, mastermojo, Matt, Westie
The role of the Ambassador Council is the promotion of Synthetix's interests within the wider decentralized finance ecosystem. This is conducted through two primary activities: 1) participation in the governance of related DAOs and 2) establishing collaborative relationships with like-minded projects.
By way of governance powers delegated to it, the Ambassador Council is expected to seek to influence protocols in a manner that is beneficial to the Synthetix project, voting on proposals that align with the project's interests. When engaging in collaborations, the Ambassador Council is tasked with working with existing and prospective collaborators, such as protocol integrators, addressing their needs and guiding them through the Synthetix ecosystem and external grant programs.
Outside of these two principal activities, the Ambassador Council is also expected to maintain the accessibility of the Synthetix community to new members and actively introduce DeFi projects to it through collaborative media initiatives that bolster engagement.
So, let's review what the Ambassadors did this quarter!
✅ Governance/General
Voting Activity can be followed using these links:
1. General Governance
The Ambassadors played an active role as delegates at Optimism, Hop, Gearbox, Euler, Aave, Uniswap, ENS, and now Arbitrum. They have also served on the councils at Optimism, badgeholders, etc. where Synthetix has been able to lobby for the interests of Optimism and push it towards further growth.
Optimism RPGF Round 3 is open and the SNX Ambassadors are encouraging projects to apply — the deadline is October 23rd to get applications in!
The Citizens' House expanded to ~138 badgeholders and will reward 30M OP in Retroactive Public Goods Funding (RPFG) Round 3. New Badgeholders (on top of Matt and Mojo) are Westie and Millie!
OP Grants Cycle 14 Final Grants Roundup
OP Grants Cycle 15 Final Grants Roundup — this included Kwenta/Lyra receiving OP grants
Optimism Season 5 is gearing up, and the Ambassadors are prepping for it
The Ambassadors Voted Yes on an important proposal to introduce Lyra V2 and establish the Lyra foundation
2. Partner Support and Onboarding
Partner support continues to be another central focus of the Ambassador Council, and can be broken into two sections:
Current Partner Support:
The focus here is on current volume drivers, which includes Kwenta, Polynomial, Lyra, dHEDGE, Infinex, and so on. The Ambassadors have been checking in with partners to get feedback on their experience with building on Synthetix and if they require any governance support in any way.
Not only have they supported partners through feedback, but they've also helped guide these partners (and the Core Contributors) through OP's RPFG & OP Grants.
Future Partners:
The Ambassadors are in talks with potential perp partners and other tools, which is a group effort alongside the Grants Council and other teams. As of right now, this list includes: Rage Trade, Mux, Sonic, Copin, and potentially more.
3. Published Materials
This quarter, the Ambassador Council:
4. Optimism Governance Forum Activity:
As previously mentioned, the Synthetix Ambassadors have a major voice in Optimism Governance. Their respective OP Governance Forum Activities can be found using these links:
It's important to note that the Optimism Governance forum is only one area of activity. Most activity at this point for OP grants lives on their Charmverse & Discord.
✅ Spartan Spaces
Spartan Spaces continued to serve as important community marketing tools this quarter, with the Ambassadors hosting calls and attending other DAO's calls on behalf of Synthetix.
1. Rage Trade (Length: 40 minutes)
Dove into Rage Trade's upcoming integration with Synthetix Perps V3, and their strategy for aggregating perps across various protocols, and cross-chain aggregation.
2. Synthetix Perps V3 Review (Length: 45 minutes)
Guest: Sunny
Explored new features, integrator possibilities, and benefits of building on V3 infrastructure.
3. Tasty Crypto (Length: 45 minutes)
Discussed Synthetix, the SNX Ecosystem, and where the DeFi sector is headed.
4. SNX Grants
Guests: CT & JVK
Discussed Synthetix Grants and their NFT project, Synthverse
5. Ethena Labs (Length: 55 minutes)
Guests : Kain, Afif, and Leptokurtic & Conor from Ethena
Discussed Ethena Labs' integrations with Synthetix Perps and V3, and a conversation around the decentralized stablecoin landscape.
6. Chainlink (Length: 55 minutes)
Dove into Cross-Chain Synthetix, Synth teleporters, CCIP benefits for V3, and more.
✅ Synthetix Governance Proposals
1. SIP-2023: Add XMR to Perps V2 (author: GUNBOATs)
2. SIP-2024: Add ETC and COMP to Perps V2 (author: GUNBOATs)
3. SIP-2025: Add MAV to Perps V2 (author: GUNBOATs)
4. SIP-2026: Add YFI and MKR to Perps V2 (author: GUNBOATs)
5. SIP-2027: Add RPL to Perps V2 (author: GUNBOATs)
6. SIP-2028: Add WLD to Perps V2 (author: GUNBOATs)
7. SIP-2029: Add SEI to Perps V2 (author: GUNBOATs)
8. SIP-2031: Add stETH/ETH on Synthetix Perps (authors: Seraphim & GUNBOATs)
9. SIP-2033: List assets with Chainlink and Pyth feed deployed on Perps V2 (author: GUNBOATs)
10. SIP-2022: Add wsteth/usd to Synthetix Perps (author: Matt, Justin [Lido], Westie, GUNBOATs, Kevin, & MasterMojo) — this SIP was rejected
❤️Special Thanks: To anyone that delegated to the SNX Ambassadors, thank you! Hope you're enjoying your airdrop!
What's next for the Ambassadors?
The Ambassadors biggest pushes for Synthetix will be seen in two main areas:
1. Partner Support — Guiding partner projects through grant programs and other incentive areas that can best support them on Optimism, Base, etc. As mentioned, they've already seen great success in this area, and have successfully guided countless partner projects & CCs through these programs (which has helped them secure large amounts of valuable funding).
2. Synthetix V3, Perps V3, and Base Support — With the upcoming V3 launch on Base, Synthetix must establish a foothold on DEX's, lending protocols, bridges, and others areas to help improve the overall experience. This is something that is a top priority for the Ambassadors, and has already begun with Matt passing a SIP to bring wrapped SNX to Base.
👉Best Memes from Q3
The quarter of COURSE wasn't without humor, so here are our favorite memes from the quarter: