Synthetix.Exchange Discord + Trading Competition Round 4!
All the details about our new Discord server and trading comp!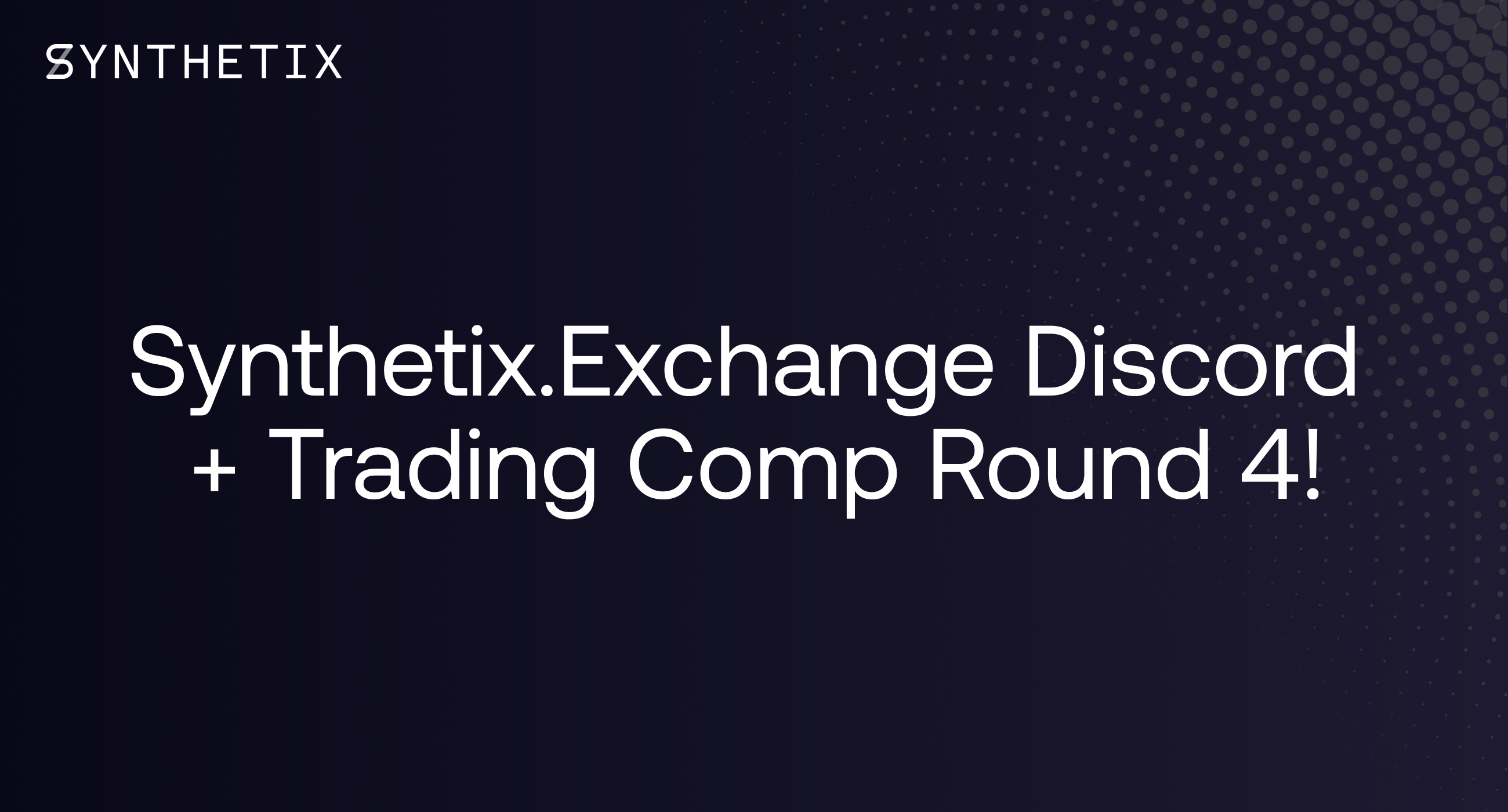 We're excited to announce that there is a new Discord server for discussion relating to Synthetix.Exchange, which you can join here! To celebrate the launch of the new community, and the new Synths deployed last week, we're launching another sX Trading Competition, with 15,000 SNX up for grabs in prize money.
Synthetix.Exchange Discord server
Until now there has been a single Discord server for the Synthetix project, which has housed discussion for users staking SNX and traders on Synthetix.Exchange. One of our goals for 2020 is to create a clearer distinction between these two communities, as stakers and traders should eventually be mostly distinct groups.
For this reason, we've created a distinct Discord server for traders on Synthetix.Exchange, which you can join here. This server is intended to facilitate trading discussion about the wide range of assets available on Synthetix.Exchange, as well as a place for users to provide feedback about the dApp.  
Synthetix.Exchange Trading Competition Round 4
The competition will run between Wednesday, April 8, and Wednesday, April 22 (starting and ending at midday AEDT). There are three tiers in the competition, so people can enter with a range of different balances. Winners will be chosen according to percentage gain on their starting balance. There will be multiple placings for each tier:
Whale: (5000+ sUSD starting balance)
1st place — 6000 SNX
2nd place — 3000 SNX
3rd place — 1000 SNX
Dolphin: (1000-4999 sUSD starting balance)
1st place — 2500 SNX
2nd place — 1200 SNX
3rd place — 500 SNX
Shrimp: (100-999 sUSD starting balance)
1st place — 300 SNX;
2nd place — 200 SNX
3rd place — 150 SNX
4th place — 100 SNX
5th place — 50 SNX
To join the competition, you'll need a wallet holding Synths. However, throughout the competition's duration, you won't be able to transfer, burn, or mint any Synths in that wallet, so in the past some entrants have chosen to use a clean wallet if they are SNX stakers. All entrants must begin with sUSD, and entrants who begin with a balance outside of the tiered ranges will not be eligible. Each entry is eligible for only one tier, though traders can enter multiple times with different wallets.
You can join the competition by entering your details here. We will be allowing newcomers to join the competition in its first week.
Come join us in the new Synthetix.Exchange Discord if you have any questions!