Synth Exchanges are Live on L2!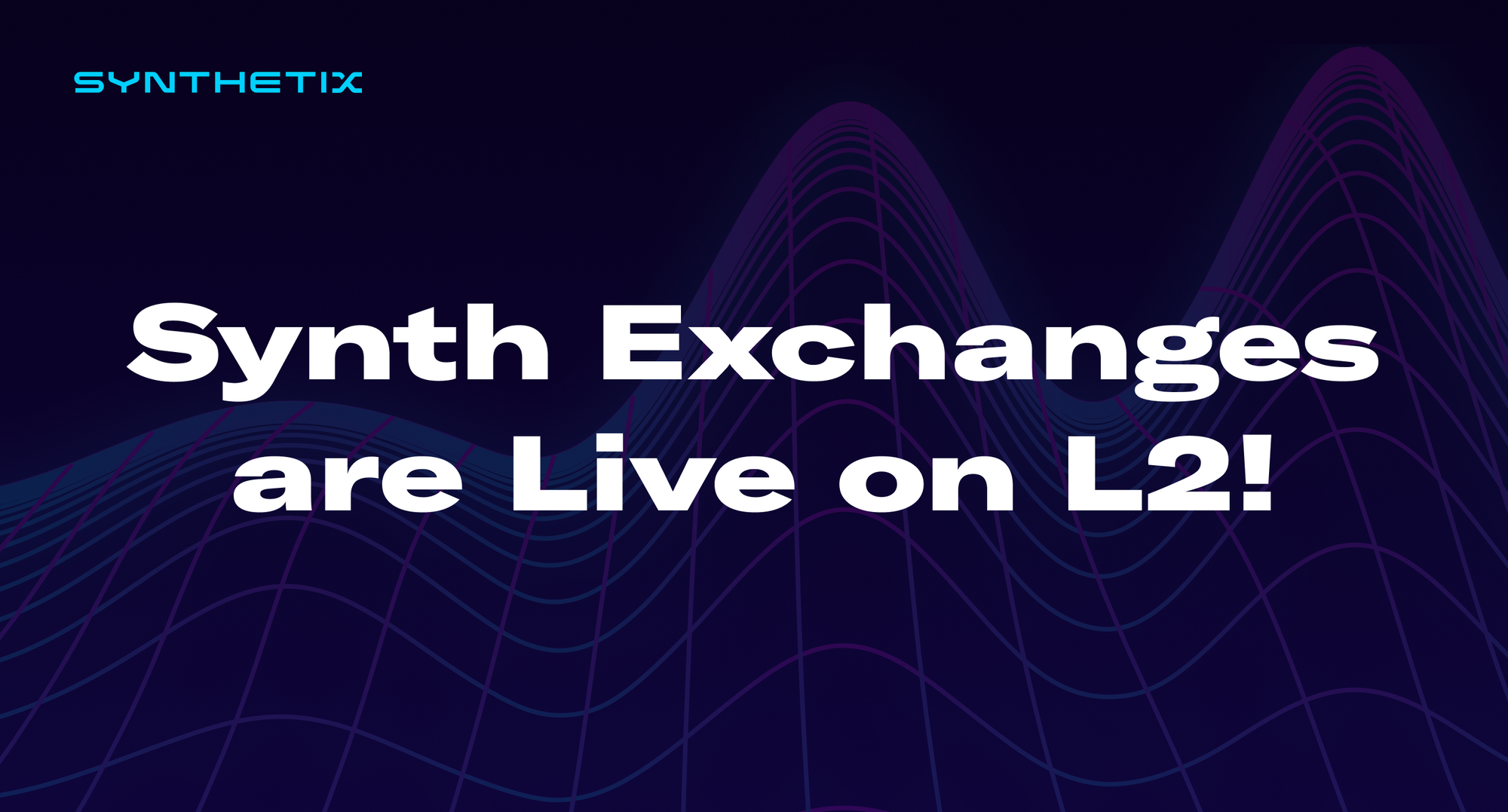 After much anticipation, synth exchanges are now live on the Optimistic Ξthereum L2! Head on over to Kwenta now to give it a try! In this initial testing phase, exchanges will be enabled for sUSD, sBTC, sETH, and sLINK. This release is part of a continual phased rollout of the Synthetix protocol on OΞ. From here, we expect to be able to better evaluate network performance in production, observe the behavior of users on L2, and gain other valuable insights as additional functionality is rolled out on L2. As a reminder, here is a recap of some of the key benefits OΞ will bring to the protocol once the rollout is complete.
As with many other DeFi applications, high gas costs are a central component of the UX issues faced by Synthetix in the past. Synthetix has found success on L1 by offering zero slippage on trades that are large enough to absorb high fees. On OΞ, more users will now be able to start taking advantage of Synthetix's best-in-class liquidity with lower exchange fees and ~50x lower gas fees for traders. For general background information on gas price fluctuations and future optimizations on OE, take a look at Optimism's blog post here.
As trading activity on OΞ scales up in the coming months, L2 stakers will likely have to start managing their debt more actively. With the ability to mint and burn more frequently without incurring exorbitant gas fees, stakers will be able to manage their debt positions more efficiently and improve the overall stability of the network.
Another critical improvement OΞ facilitates is an enormous reduction in oracle latency. For a deep dive on this dynamic, see this post. In short, the Synthetix protocol fills trades at prices reported by Chainlink's decentralized oracle network. The constraints of the Ethereum L1 can make frequent oracle updates economically impractical, creating opportunities for users to trade ahead of price updates for risk-free profit. This prompted the introduction of measures that thwart frontrunners at the expense of user experience (high fees, fee reclamation).
On L2, it is feasible for price deviations between oracle updates to be on the same order as a reasonable exchange fee rate, effectively eliminating the potential profit from frontrunning an oracle update. Based on initial simulations on test-net, this property will allow the protocol to support 40 bp exchange fees without fee reclamation on OΞ, and potentially even lower fees after further testing and optimization on main-net.
As with all releases on the current iteration of the Optimism network there is a high likelihood exchanges will experience some downtime or even minor outages as this functionality is deployed, upgraded and monitored over the next few weeks. The Optimism network will also likely be upgraded with downtime several times ahead of the Optimism mainnet launch. We will be working closely with Optimism and Chainlink to ensure this deployment is as smooth as possible but your feedback and bug reports are critical to this process, please report any issues in the Synthetix discord, linked at the bottom of this post.
There's lots more to do from here, but this is definitely a major first step towards Synthetix's goal of providing the most scalable and composable derivative liquidity in DeFi. As always, if you have any comments or questions, please come join the conversation in Discord!
For more information on Optimistic Ethereum and the team behind OΞ, go to:
Optimism | Twitter | Discord | YouTube | Twitch | GitHub | Documentation | Blog

About Chainlink
Chainlink is the industry standard oracle network for powering hybrid smart contracts. Chainlink Decentralized Oracle Networks provide developers with the largest collection of high-quality data sources and secure off-chain computations to expand the capabilities of smart contracts on any blockchain. Managed by a global, decentralized community, Chainlink currently secures billions of dollars in value for smart contracts across decentralized finance (DeFi), insurance, gaming, and other major industries.
Chainlink is trusted by hundreds of organizations, from global enterprises to projects at the forefront of the blockchain economy, to deliver definitive truth via secure, reliable oracle networks. To learn more about Chainlink, visit chain.link and subscribe to the Chainlink newsletter. To understand the full vision of the Chainlink Network, read the Chainlink 2.0 whitepaper. Want to discuss an integration? Talk to an expert.