SNXweave Weekly Recap 86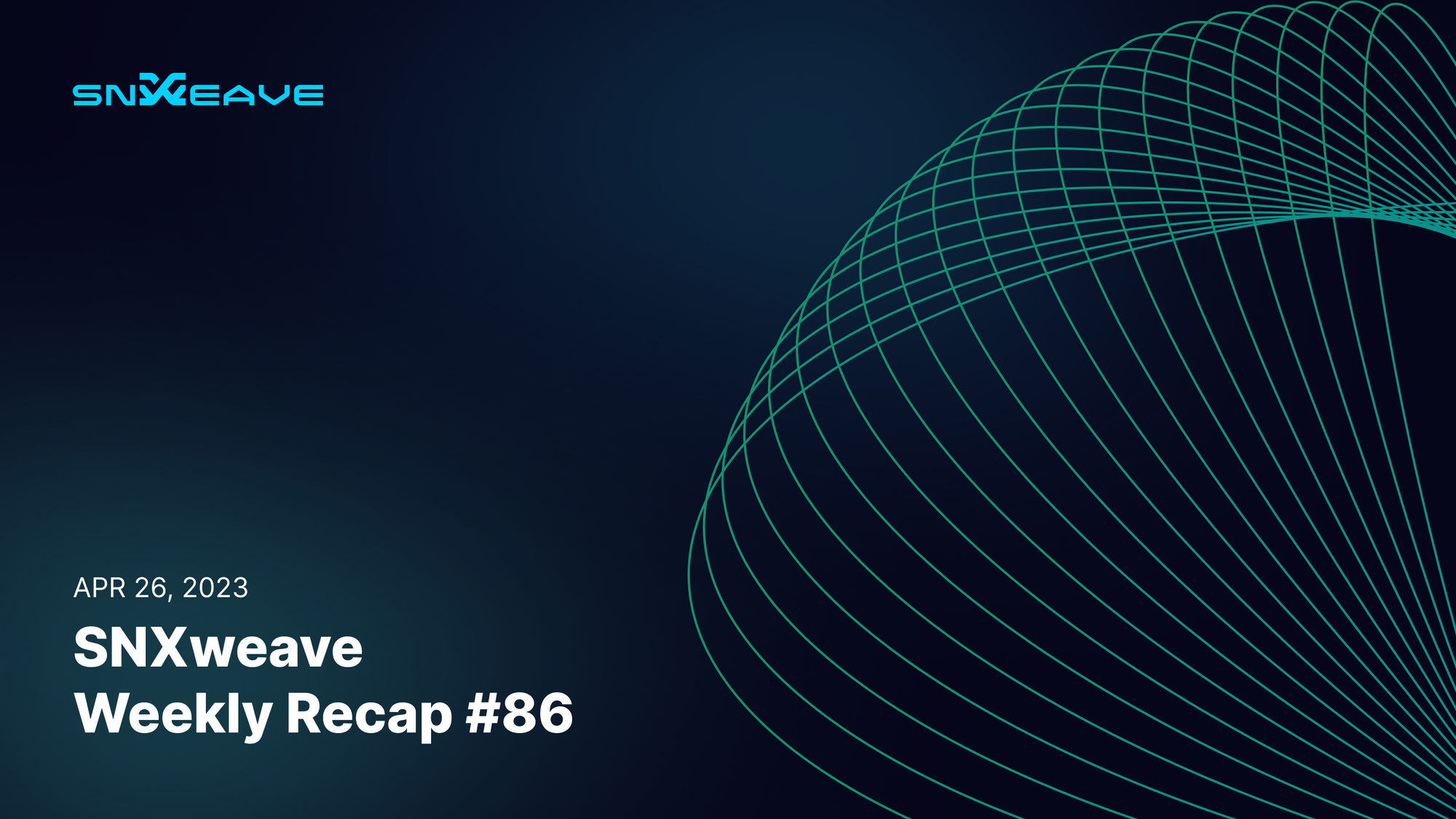 April 26, 2023
The following post contains a recap of news, projects, and important updates from the Spartan Council and Core Contributors, as well as the Grants Council and Ambassador Council from last week.
Spartan Council and SIP updates
Present at the April 19, 2023 Spartan Council Weekly Project Sync:
Spartan Council: Adam, Cavalier, dsacks, KALEB, SeliniCapital (representing Jordi), TerraBellus
Core Contributors: Afif, Darius, db, Max, Mike, noah, sunny
Quick PSA — the Spartan Council Election Panel happened yesterday, so be sure to catch the recording here! It was a bullish call full of juicy content.
Now for our regular updates, the first Mainnet upgrades for V3 are currently with the auditors — this includes SIPs 318, 319, and 320. The IPFS node is also in public alpha right now, and the CCs are trying to get some initial users running it to get some feedback. The CCs are also anticipating fixed reviews from Open Zeppelin back on the spot market implementation sometime this week.
Next, the Spartan Council and CCs had a conversation last week about a different V3 sUSD contract. To preface, a new contract would allow debt from V2 to be distinguished from debt in V3. Basically, the whole database would have to be written in the new ERC-20, and all of the collateral would have to be force migrated into a single transaction (which would be a massive, expensive, and risky transaction to put through on a single block).
Db added that an alternative to this would be to pause V2 for an extended period of time to allow for all the steps to be done with more control. Noah said he thinks the current migration plan is far more appealing than doing a hard cutover, from a risk mitigation standpoint. Adam agreed that the current migration plan seems to be the best course of action, especially after hearing the scale of the transaction that would be required to keep the V2 contracts.
The tentative date range for a major V3 upgrade release is towards the end of May. This would be a deployed, audited, and relatively feature-complete system without collateral or incentives yet.
In Perps V2 updates, there were a few more issues identified that will need to be addressed before the release of SCCP-293 (to update perp parameters). The CCs are planning for a release sometime this week to address the issues.
Also, Perps watcher is now live at watcher.synthetix.io, which shows active trades and current positions of different wallets. Be sure to check it out!
There were also a couple of SIP presentations last week, so let's briefly review them:
SIP-321: Assorted Core System Improvements
— This SIP, presented by Noah, proposes adding various improvements to the core system which will improve overall user and developer experience
— The first of these fixes is better methods to return addresses of the stablecoin and oracle manager
This is necessary because the V3 architecture relies on proxy routers, and the stablecoin and oracle have their own (which is different from the core system proxy router)
This would streamline the process for integrators
— Next, the Constant Node to the oracle manager will streamline the creation of test scenarios and has production use cases (such as ensuring that a minimum price would be returned in combination with a reducer node)
This is a useful feature for testing
There could be some potential use cases outside of testing, but it's not something that would be used in typical markets
The createAccount() method (which does not require a requestedAccountId parameter) automatically generates a valid account ID, creates the account, and returns the ID. This will simplify smart contract integrations and remove the possibility of account creation failure due to the same account ID being requested in the same block
An advantage of setting it up this way is that UIs can construct multi calls and create a custom onboarding experience
— Lastly, the locked method in the IMarket interface will be renamed to minimumCredit. This should more clearly reflect that the value returned by this function represents the minimum credit capacity that the market expects from the pools providing it with liquidity
The purpose of this value is to put how many withdrawals are expected (denominated in dollars)
And transactions that cause this number to drop below what is expected will automatically revert
— The vote is open for this SIP, but has already passed with 5 votes in favor
SIP-298: Adding APT, LDO, ADA, GMX, FIL, LTC, BCH, SHIB, and CRV to Synthetix Perps V2
This SIP has been presented previously, and proposes adding new Perps V2 markets (but they will be paused, pending SCCP to update parameters)
The new markets are: APT, LDO, ADA, GMX, FIL, LTC, BCH, SHIB, and CRV
This vote is open for this SIP, but has already passed with 6 votes in favor
Grants Council
Present at the April 20, 2023 Grants Council meeting:
Grants Team: Alexander, CT, JVK, synthquest
For a quick Grants Council update, the team made some final edits to their budget before meeting with the Treasury Council last week to discuss the upcoming epoch. They also went over updates on the stats page, did a Discord bots overhaul, went through a developer roundup, and talked about a twitter SNX whales bot that's coming soon.
And speaking of upcoming things…they have officially approved a launch date for the NFT project!! Coming SOOOOOOOOON.
---
Podcast now also on YOUTUBE
Follow us on Twitter! @snx_weave
---
SIP/SCCP status tracker:
SIP-318: Market-specific Minimum Liquidity Ratio, Status: approved
SIP-319: Core System Fee Capture Mechanisms, Status: approved
SIP-320: Minimum Collateral Delegation Duration, Status: approved
SCCP-293: Update Perp Parameters, Status: approved
SIP-321: Assorted Core System Improvements, Status: approved
SIP-298: Adding APT, LDO, ADA, GMX, FIL, LTC, BCH, SHIB, and CRV to Synthetix Perps V2, Status: approved