SNXweave Weekly Recap 85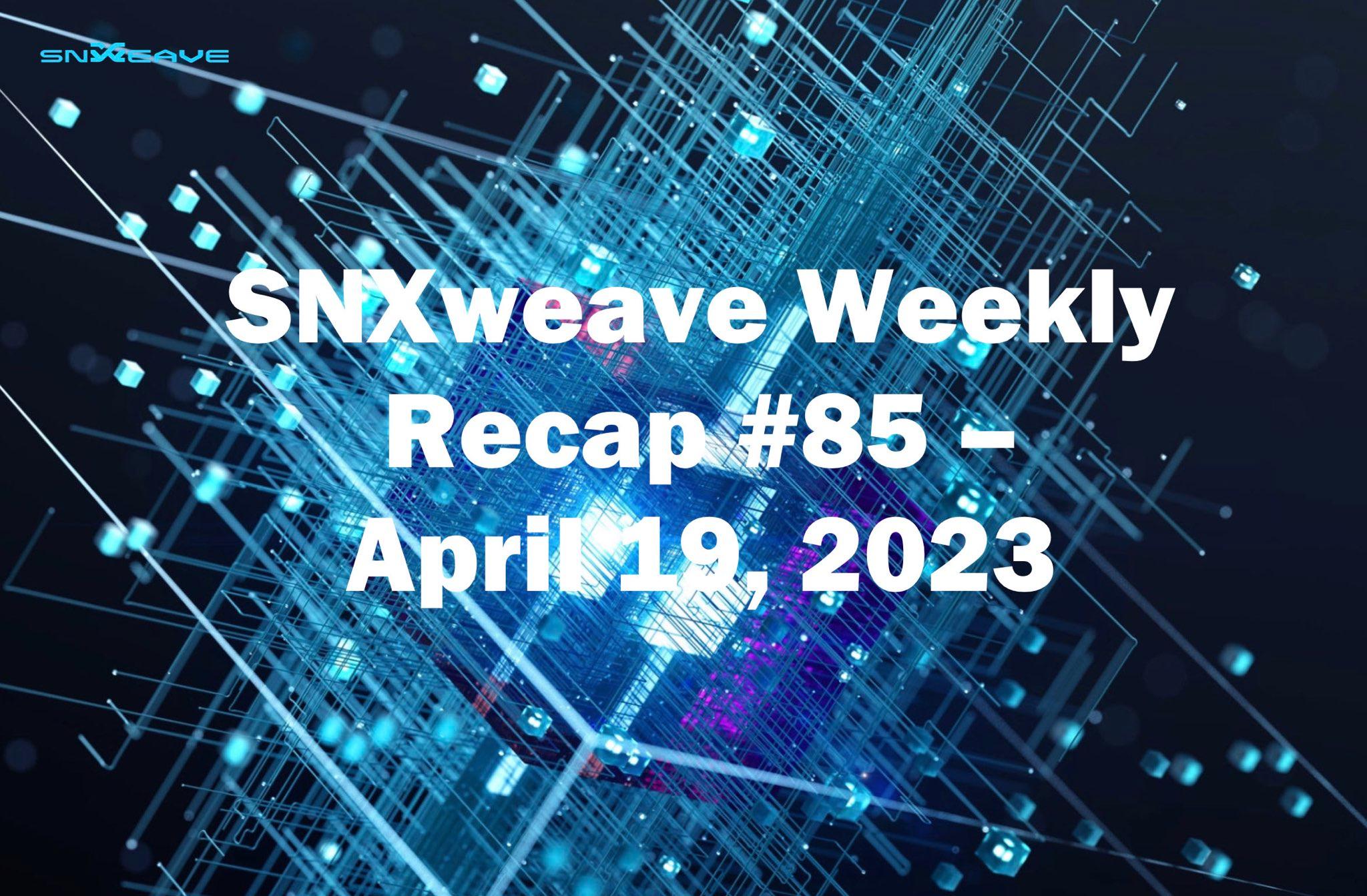 April 19, 2023
The following post contains a recap of news, projects, and important updates from the Spartan Council and Core Contributors, as well as the Grants Council and Ambassador Council from last week.
Spartan Council and SIP updates
Present at the April 12, 2023 Spartan Council Weekly Project Sync:
Spartan Council: Adam, Cavalier, dsacks, KALEB, SeliniCapital (representing Jordi), TerraBellus
Core Contributors: Nikita, sunny
First and foremost…in case you missed it, SNXweave published Synthetix's Quarterly Report for Q1 yesterday! So be sure to check it out.
Now onto our regular updates — all of the audit feedback items for the spot market implementation have been processed and returned to OpenZeppelin, so they will now need a couple weeks to review the fixes.
For a core system update, SIP-321 (Assorted Core System Improvements) has been proposed to improve developer experience. And Iosiro should have SIPs 318–320 reviewed by the end of the week, which will allow the first V3 core system upgrade to happen. Noah also said there's been a lot of effort from the CCs to get the development tooling and processes as smooth as possible, which will make it easier to deploy on new chains.
These releases would bring the V3 system to feature-completeness! The next strategic decision now would be how to bring liquidity over to V3 to support the spot market.
Next, in Perps V2 updates, new improvements have been proposed and rolled out: SIP-2004 for better DelayedOrder integration/trading experience, and SIP-2005 for Perps V2 slippage protection for liquidations. AND the CCs are currently reviewing the brainstorming work that was done during ETHDenver and are onboarding devs onto V3 to begin work on Perps V3.
But back to Perps V2, Adam asked a question regarding the SCCP to update perp parameters, which reduced the max leverage on all perps offerings.
Kaleb explained that the "existing" limits of 100x were due to a bug, and the way the bug was addressed in the past was that front ends were asked to limit leverage offerings to 25x. Although the change looks drastic, it actually just addresses the bug and prevents users from gaining access to 100x leverage by interacting directly with the contracts.
The Council also had another discussion last week, when Adam asked if token addresses for non sUSD synths (sEUR, sYEN, etc.) would be different in V3. Kaleb explained that the reason sUSD was going to be a different contract in V3 was in order to make the transition from V2 as smooth as possible (he wasn't sure if all of the other synths would be new contracts in V3).
Adam thinks the trade-off of a simpler implementation may not be worth it if the new stablecoin will have to be re-listed on every price data source (CoinGecko, AAVE, etc.) and that it may be worth exploring other implementation options to keep the V2 sUSD contract for V3 sUSD. These are ultimately questions that Afif and Noah will have to weigh in on (and they were not able to make the call when this conversation happened), so there is likely going to be more discussion on this topic.
Grants Council
Present at the April 13, 2023 Grants Council meeting:
Grants Team: Alexander, CT
Next up, in Grants Council updates, the team that was present at last week's meeting discussed a few topics as they are coming to the end of the epoch. CT gave his feedback on the meeting he had with the Treasury Council and all related actions that still need to be taken.
They also discussed the recently completed V2 of their Funding Rate Bot, for which the Dev has been paid. They are now talking about the concept of converting the Bot to their Perps webpage. Alexander is going to draw up a concept page for this, which CT will take to Ana for help in designing it for the Council.
CT also mentioned talking to Ana about the Perps Landing page, with regards to some updates based on feedback from the last Grants meeting. Lastly, Alexander is proposing a retroactive grant to a Dev who worked on some important smart contracts — more to come here.
---
Podcast now also on YOUTUBE
Follow us on Twitter! @snx_weave
---
SIP/SCCP status tracker:
SIP-321: Assorted Core System Improvements, Status: draft
SIP-318: Market-specific Minimum Liquidity Ratio, Status: approved
SIP-320: Minimum Collateral Delegation Duration, Status: approved
SIP-2004: Better DelayedOrder Integration/Trading Experience, Status: approved
SIP-2005: Perps V2 — Slippage protection for liquidations, Status: approved