SNXweave Weekly Recap 73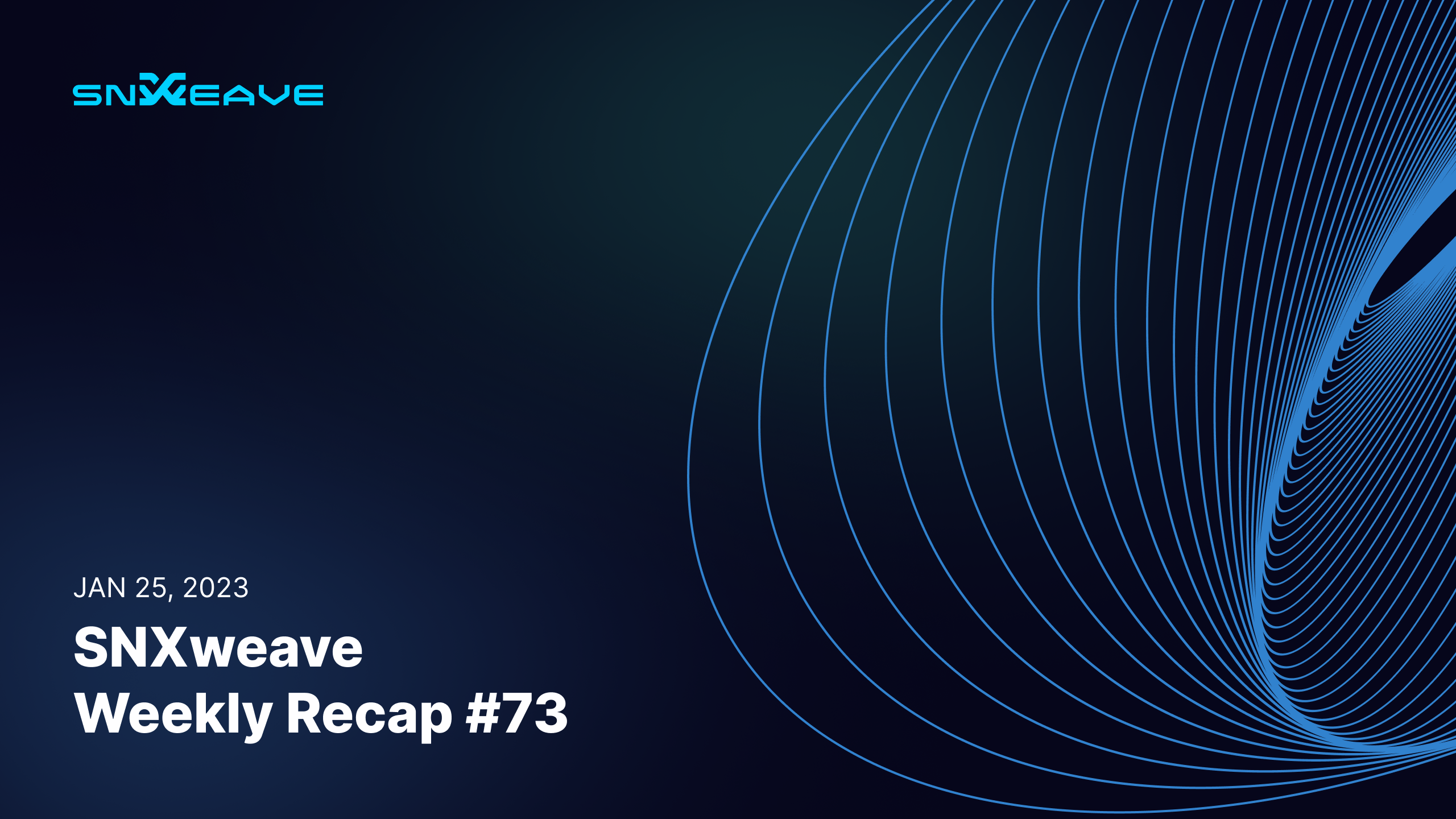 January 25, 2023
The following post contains a recap of news, projects, and important updates from the Spartan Council and Core Contributors, as well as the Grants Council and Ambassador Council from last week.
Spartan Council and SIP updates
Present at the January 18, 2023 Spartan Council Weekly Project Sync:
Spartan Council: Adam, Cavalier, dsacks, Jackson, KALEB, SeliniCapital (represents Jordi), TerraBellus
Core Contributors: Afif, David, joey, jz, Mike, Nikita, noah, Regina
There are no major milestone updates since last week, but the audit for SIP-255, to burn fees instead of distribute them, is planned to happen after the V3 audit is complete and will go out on the next release.
And speaking of V3, the audit feedback is starting to roll in at a faster pace! A couple of the CCs are working on the spot market implementation currently, which should be in a pretty solid place. After spot market implementation, the focus will shift towards processing audit feedback and preparing for launch — which means preparing the deployment pipeline and tooling.
Next, some updates were made to Perps V2, and the CCs are working on a second batch of improvements based on the alpha feedback. Afif said they're looking at ways to optimize the timing with the auditors to implement high impact yet relatively simple fixes. The small improvements now allow the market caps to be expanded.
Last week the Council also discussed Perps V2 offerings, and whether it was necessary to have a separate SIP for each product being offered in Perps V2 even though they are already available in Perps V1. Afif suggested a single SIP adding all of the already approved SC markets from Perps V1 to Perps V2.
Kaleb also brought up a past SIP where the SC rejected the idea of adding new variations of offerings via SCCP only. Afif highlighted that if the perps contracts were upgradable, everything would have carried over to the new contracts with the only votes happening to approve the new version of perps.
Grants Council
Present at the January 19, 2023 Grants Council meeting:
Grants Team: Alexander, Ana, JVK, synthquest
Next up, in Grants Council updates, the Stats page is live! The Council is still figuring out some of the Dune formatting, as they have said they need a Dune API to allow building out custom stats pages to pull data from Dune. This may require a CC and security considerations, which they are currently discussing.
For the NFT project, Ana is going to get some firm dates on delivery from the NFT team, as the Council has completed overviewing all of the moving parts on their side, including: the whitelist, website, auctions/marketing, social media, testnet/contract/dev status, etc.
Alexander is also working on making a nice shareable graphic with SNX volume/fees stats for marketing purposes, and he has discussed trying bounties for Dune analytics work.
Ambassador Council
Present at the January 17, 2023 Ambassador Council meeting:
Ambassadors: GUNNBOATs, Kevin, mastermojo, Matt, MoneymanDoug
In Ambassador updates, the team discussed future Spartan Spaces, including Illuvium, Armada, and Lido. They will be on Twitter with Illuvium tomorrow so be sure to join!
The Optimism votes are in, so the next phase for the Ambassadors is to start looking for integration opportunities with all of these new protocols coming to OP, which is their top priority right now.
The team also had an update from the Treasury Council — StakeDAO vote market will be used for a 10,000 SNX weekly bribe, and the Ambasadors anticipate needing more for OP relatively soon.
Lastly, in external protocol updates, check out this tweet from Polynomial that Matt retweeted that teases a new product coming from them in 2023. Also, a couple of community members are still working on prepping a SIP for a better volume source program, which should make the Ambassadors' job a bit easier when it comes to protocol integrations.
---
Podcast now also on YOUTUBE
Follow us on Twitter! @snx_weave
---
SIP/SCCP status tracker:
SIP-255: Burn fees instead of distributing them, Status: approved