SNXweave Weekly Recap 28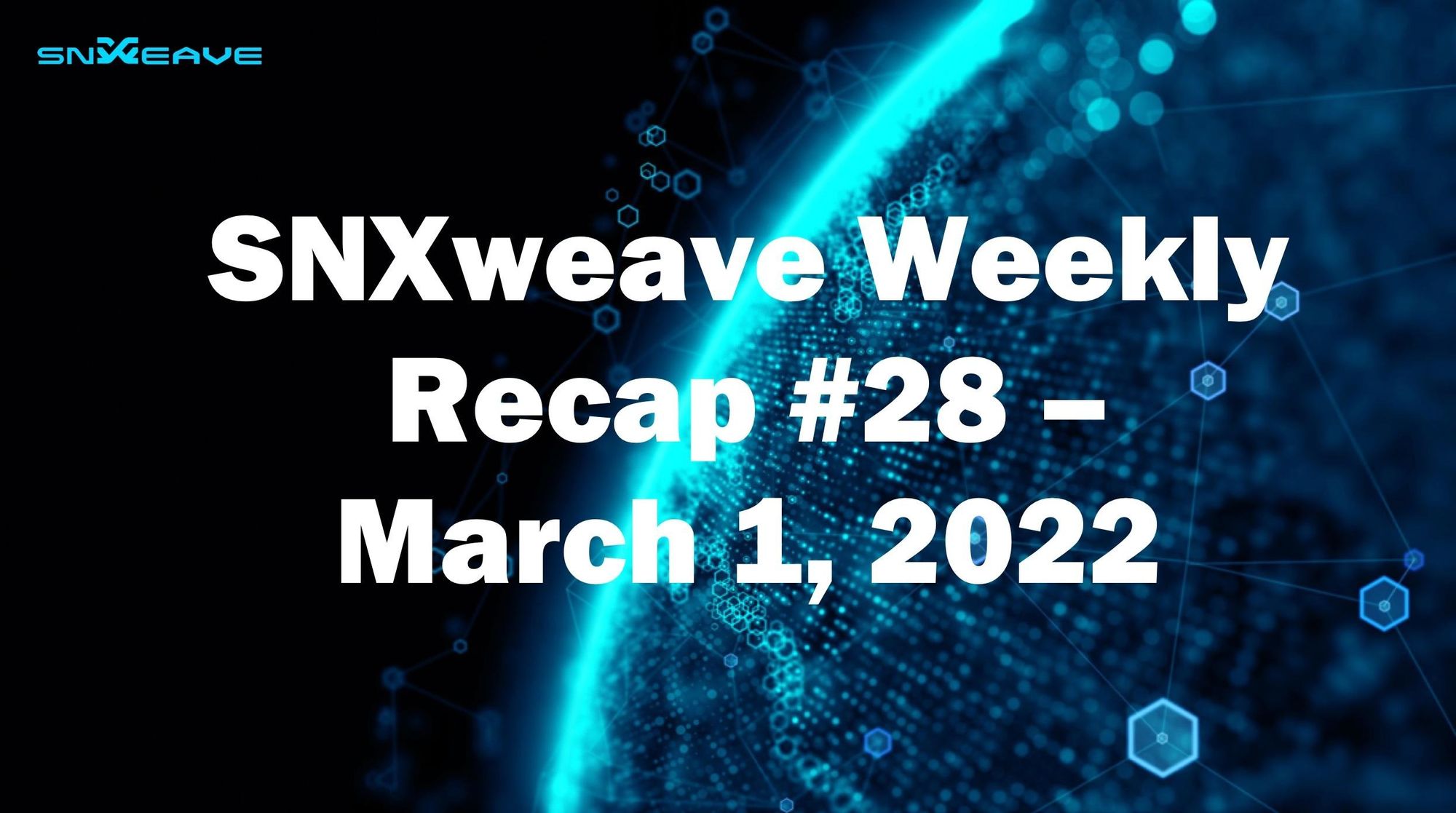 March 1, 2022
The following post contains a recap of news, projects, and important updates from the Spartan Council and Core Contributors, as well as the Grants Council and Ambassador Council from last week.
Spartan Council and SIP updates
Present at the February 22, 2022 Spartan Council Weekly Project Sync:
Spartan Council: Afif, BigPenny, bojan, jj, Kain, KALEB, redmarglar, TerraBellus
Core Contributors: Cavalier, Rafa
With ETHDenver and the Synthetix offsite now over, we're all counting down the days to the release of Futures. Work on the liquidation keeper has progressed nicely, and Jackson has been working on merging to Kovan. Kain said it's pretty much ready to go, depending on the audit that is currently in progress and is expected to finish this week. Futures will just need to be presented one last time, where its final parameters will be discussed, then it can be released to Kovan. The Kwenta team will also be briefed to make sure everything is integrated properly.
One of the updates to the SIP for Futures is the addition of next price. During the Spartan Council meeting, Afif explained that next price is necessary for Futures because it's important to help keep the funding rate low for arbitragers. The team will continue monitoring performance to see how low the fee can be pushed.
In case you missed it, the Algieba release went out at the end of last week. This release included SIP-205, which has introduced three new synths on Optimism with shorting: Avalanche (AVAX), Polygon (MATIC), and Euro (EUR). This SIP, which was presented again last week, was initially supposed to include AAVE and UNI as well, but those feeds require a bit of calibration to be deployed on Synthetix. AAVE and UNI are therefore now in their own separate SIP, pending Chainlink upgrades.
The Algieba release came shortly after the Hamal release, which we discussed last week. The new target staking ratio was introduced on the Hamal release, and the Council plans to announce the target ratio at the close of each period until this process can be automated.
As for the rest of phase 2, SIP-148 for the upgraded liquidation mechanism is almost done, it's just going through some final reviews in preparation for its audit. The Debt Pool Synthesis is still in audit, and will likely be ready to go out at the same time as SIP-148. As a reminder, the Debt Pool Synthesis is a dependency for the Debt Migration and Synth Teleporters SIPs, both of which are still in draft. The team actually linked up with Tornado Cash at ETHDenver, and Kain said "it turns out, totally trustless teleporters is a fairly challenging problem." They are still looking into different solutions to decide on the best option for synth teleporters.
SIP-203 to add a volume source fee is another SIP in draft, and will allow integrators to capture fees from the volume they route through Synthetix. To do so, an optional source fee will be added as a transaction parameter that can be passed from any frontend to the Synthetix Exchange Contracts. The two main considerations for this SIP are whether to do a fixed fee or a percentage. The current consensus is 10% of whatever the protocol fee is, but this will be discussed further when the SIP is presented.
Grants Council
Present at the February 24, 2022 Grants Council meeting:
Grants Team: beachmom, CT, joey, Mike
In Grants Council updates, in case you missed it, there was a big leak in the Discord last week! The leak, which was about the Synthetix NFT project that we've been hinting at, featured a breakdown of the different "tribes" of NFTs that the Grants Council will be releasing. These tribes will include Synthetix human Spartan warriors, legendary and OG Spartans, Demigods, undead masses, trolls, Kwenta elementals, Thales philosophers, Lyra mechanoids, Aelin aliens, and dHedge dwarfs. As far as the design concepts go, the Grants team said they aren't quite ready to leak those just yet.😉
But here's some N, F, and T in the meantime:
Synthetix has such a deep history in the larger Ethereum and DeFi space, so the Universe.xyz team is hard at work with the Grants Council to bring this complex community to life in the form of an equally diverse NFT universe. The Council is also working on some lore for this NFT drop, and hopes to share it with the community sometime soon.
For the Hackathon, the Grants Council has been speaking with one of the Core Contributors who will be the Synthetix representative at the event. The Council is still confirming the timeline and event dates, however, and is currently in discussions to pull together the documentation for builders.
Lastly for Grants Council updates, thank you to everyone who has submitted a proposal to assist in the Synthetix documentation translations project! As a reminder, though, please be sure that your proposal includes required time, pricing per 100 words, and a way to verify that the translation is correct.
Ambassador Council
Present at the February 22, 2022 Ambassador Council meeting:
Ambassadors: GUNBOATs, Matt, MiLLiE
In Ambassador Council updates this week, the Ambassadors have been discussing an NFT collaboration with the Grants team. They are exploring the possibility of doing an NFT drop for delegators and future governance participation programs. One of their short-term objectives for this program is to incentivize UNI delegations in order to push the proposal to get UNI incentives on Optimism. More to come here.
Millie also had a conversation with the Grants Council about doing Spartan City Halls that feature grants-specific guests and topics. These could include the teams behind Optimism Grants, AAVE Grants, Compound, and possibly UNI Grants as well. They are working on getting these scheduled, so stay tuned.
Follow us on Twitter! @snx_weave
SIP/SCCP status tracker:
SIP-80: Synthetic Futures, Status: SC review pending
SIP-205: Add AVAX, MATIC, and EUR to Optimism, Status: implemented
SIP-213: Add AAVE and UNI to Optimism, Status: vote pending
SIP-202: Target Staking Ratio, Status: implemented
SIP-148: Upgrade Liquidation Mechanism V2, Status: vote pending
SIP-165: Debt Pool Synthesis, Status: approved
SIP-208: Debt Migration, Status: draft
SIP-204: Synth Teleporters, Status: draft
SIP-203: Volume Source Fee, Status: draft