SNXweave Weekly Recap 27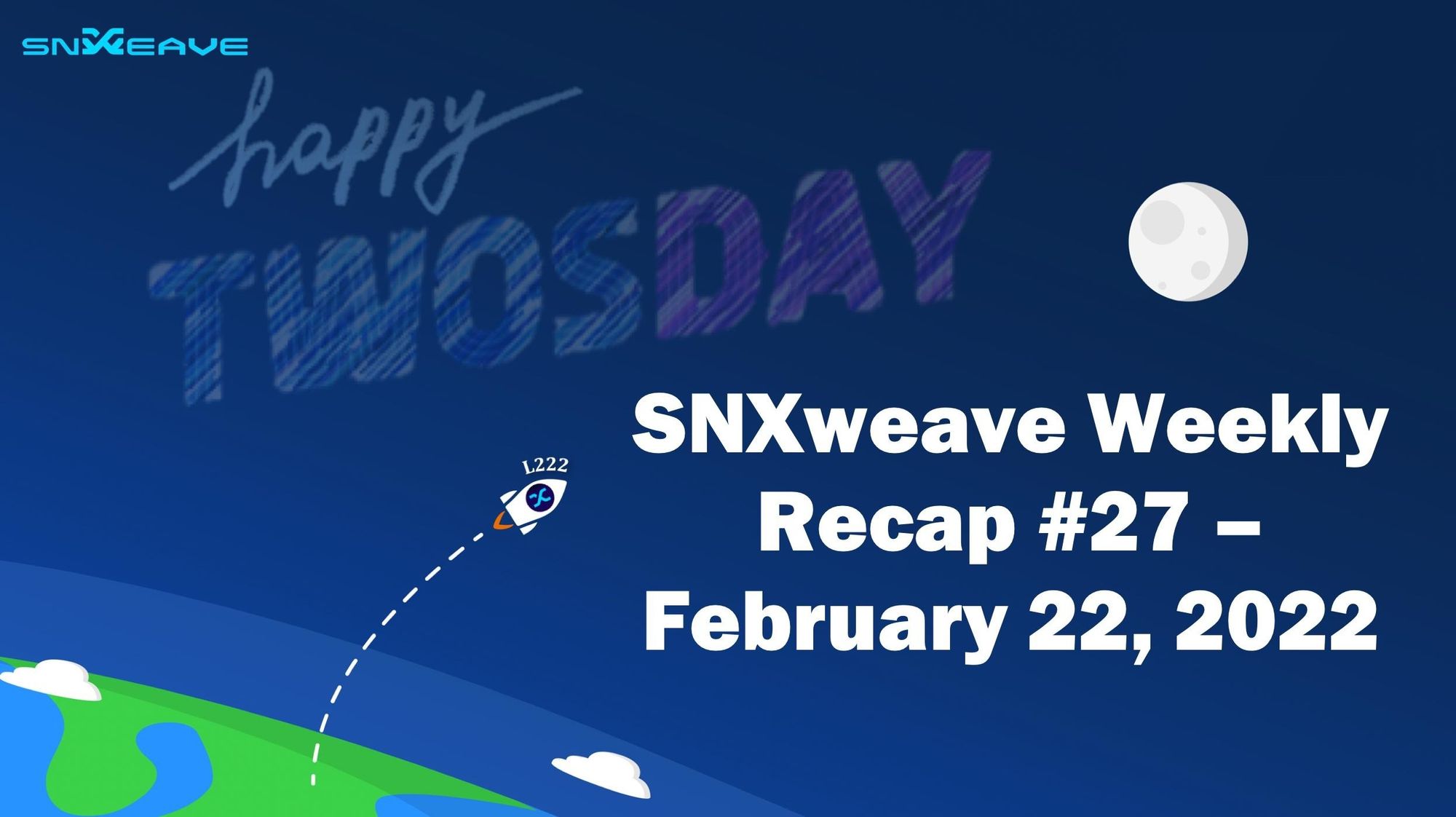 February 22, 2022
The following post contains a recap of news, projects, and important updates from the Spartan Council and Core Contributors, as well as the Grants Council and Ambassador Council from last week.
Spartan Council and SIP updates
Present at the February 15, 2022 Spartan Council Weekly Project Sync:
Spartan Council: Afif, BigPenny, bojan, jj, Kain, KALEB, redmarglar
Core Contributors: Cavalier
Happy Twosday, Spartans! Is today, the day of all 2s, when all of our L222 dreams come true? Well maybe not today specifically, but it looks like this epoch surely is! Trading fees have been slashed, we have five new synths on the way, and Futures is in audit — need we say more?? This is certainly an exciting time for Synthetix, and with several team members at ETHDenver and the offsite, we're looking forward to seeing what comes out of these events.
At the end of last week, we saw the Hamal release go out. This included one SIP and one SCCP:
SIP-202: Target Staking Ratio — This SIP introduced a target staking ratio that is incentivized through inflation. It will track this staking ratio within the network and modify the inflation rate weekly to ensure it is being met.
SCCP-164: Extend burn lock to seven days — Since there is currently a time lock that prevents burning above the target ratio for 24 hours following a mint, this SCCP adjusted that lock from 24 hours to 7 days.
And those slashed trading fees we talked about, well that was thanks to Afif, Kaleb, and SCCP-166. Presented last week, this SCCP has now lowered fees on exchanges into sBTC, sETH, sLINK, sSOL, and sUSD from 40 basis points (bp) to 25bp on Optimism. These lower base exchange fees were made possible by the implementation of the Dynamic Exchange Fees SIP, which has been on Mainnet for a couple of weeks now.
Kain clarified that there aren't typically presentations for SCCPs, but the Dynamic Fees SIP was meant to bring fees down and that hadn't been taken advantage of yet, so this SCCP basically switched it on. The Council therefore decided to have a presentation to make sure all of the risks and potential issues were being factored in.
During the presentation, Afif explained that Dynamic Fees have a couple of components that allow them to be optimized to get users the lowest fee:
Threshold — sensitivity to volatility
"Memory" component — how long it should retain the fee and how long for it to decay
Kaleb explained that testing was done, and 25bp was decided to be the lowest feasible base fee that would still prevent traders from taking advantage of latency. He explained that in order for the fees to go lower, we would either need to change the way exchanges are offered or make some oracle improvements. 25bp is already a significant improvement, and maybe in the coming months this can be lowered even more, but it would require significantly better latency to reach a sub-10bp base fee.
In more Spartan Council news, the next release to go out will be Algieba. This one should include SIP-165, for the Debt Pool Synthesis, and SIP-148, for the Upgraded Liquidation Mechanism. SIP-165 is code-complete and is currently being audited, so it could potentially be ready for release during the Synthetix offsite this week. JJ mentioned, however, that there's been quite a bit of backlog on the audits with all of the releases going out recently. SIP-148, on the other hand, is not yet ready for audit, but Kain said the team is getting pretty close. These two SIPs are pretty much the last time-sensitive SIPs of the v2x scope.
Kain then said "once we have the Debt Synthesis done, we just need to think about how aggressively we want to push the L1 stakers towards L2." BigPenny expressed concern about pushing stakers to L2 without debt migration. Kain countered this point saying the concern about migrating inflation to L2 was originally because of the idea of over-leveraging the L1 debt pool, however that will no longer be an issue with the debt synthesis since everyone is responsible for both debt pools. JJ added that the issue with waiting for the Debt Migration is that Synth Teleporters are a dependency for it, and it's still unclear how far out that is.
Kaleb asked if there is a reason to push users towards L2 exclusively. Kain said the long-term plan is to have all staking on L2, adding that there is possible additional risk with multiple contracts across different networks. He also added that the plan for v3 is to only deploy on L2 since having to deploy on both networks increases the complexity greatly. This is an ongoing discussion amongst the Spartan Council members, but they will be having it openly with the community and will communicate their plan clearly if they decide not to continue pushing more inflation to L2.
As for Synth Teleporters, Kain has been working with db on the architecture and planned to meet with the team behind Tornado Cash at ETHDenver.
Lastly for Spartan Council updates, the team plans to assign people to v3 during the offsite this week and will likely be setting up a separate weekly meeting for a v3-specific sync with the Council. After this, the only remaining engineers on v2 will be one to monitor Futures and one to close out the last couple of SIPs of v2x.
Grants Council
Present at the February 17, 2022 Grants Council meeting:
Grants Team: beachmom, CT, cyberduck, Mike
In Grants Council news, the Council has been making some amazing progress with the Universe.xyz team on the Synthetix NFT project. There is actually a leak coming soon, so keep your eyes peeled. 👀
The stats page should hopefully be ready to use soon, db and Darius are just working with the developer to make sure the data sources are integrated accurately. CT emphasized that the big dependency for this site is clean and proper data, so they're making a list and checking it twice.
We mentioned some possible translations coming from the Grants Council a couple of weeks ago. The Council has put out some initial feelers and looked into the demographic data of Synthetix website users to begin narrowing down which languages they plan to translate important Synthetix documents into. They will likely be putting out a request for proposal (RFP) soon for community members to help with these translations — so be on the lookout for this!
Ambassador Council
Present at the February 15, 2022 Ambassador Council meeting:
Ambassadors: GUNBOATs, Matt, MiLLiE
In Ambassador Council updates, while there was no Spartan City Hall last week, our Ambassadors as always have some stuff cooking in the kitchen. They plan to eventually merge their City Halls with the new weekly Synthetix L222 Twitter Space Events. These new L222 Tuesdays are a way for Synthetix to have conversations with DeFi protocols that are doing exciting things on L2.
The Ambassadors are also planning on doing another governance incentivization program, and have been discussing the amount with the Treasury Council. Be on the lookout for more information here to get involved and win some rewards!
Follow us on Twitter! @snx_weave
SIP/SCCP status tracker:
SCCP-166: Lower L2 Exchange Fees to 25 bp, Status: implemented
SIP-205: Add Five Synths on Optimism with shorting, Status: approved
SIP-80: Synthetic Futures, Status: SC review pending
SIP-202: Target Staking Ratio, Status: implemented
SCCP-164: Extend burn lock to 7 days, Status: implemented
SIP-165: Debt Pool Synthesis, Status: approved
SIP-148: Upgrade Liquidation Mechanism V2, Status: vote pending
SIP-208: Debt Migration, Status: draft
SIP-204: Synth Teleporters, Status: draft