SNXweave Weekly Recap 2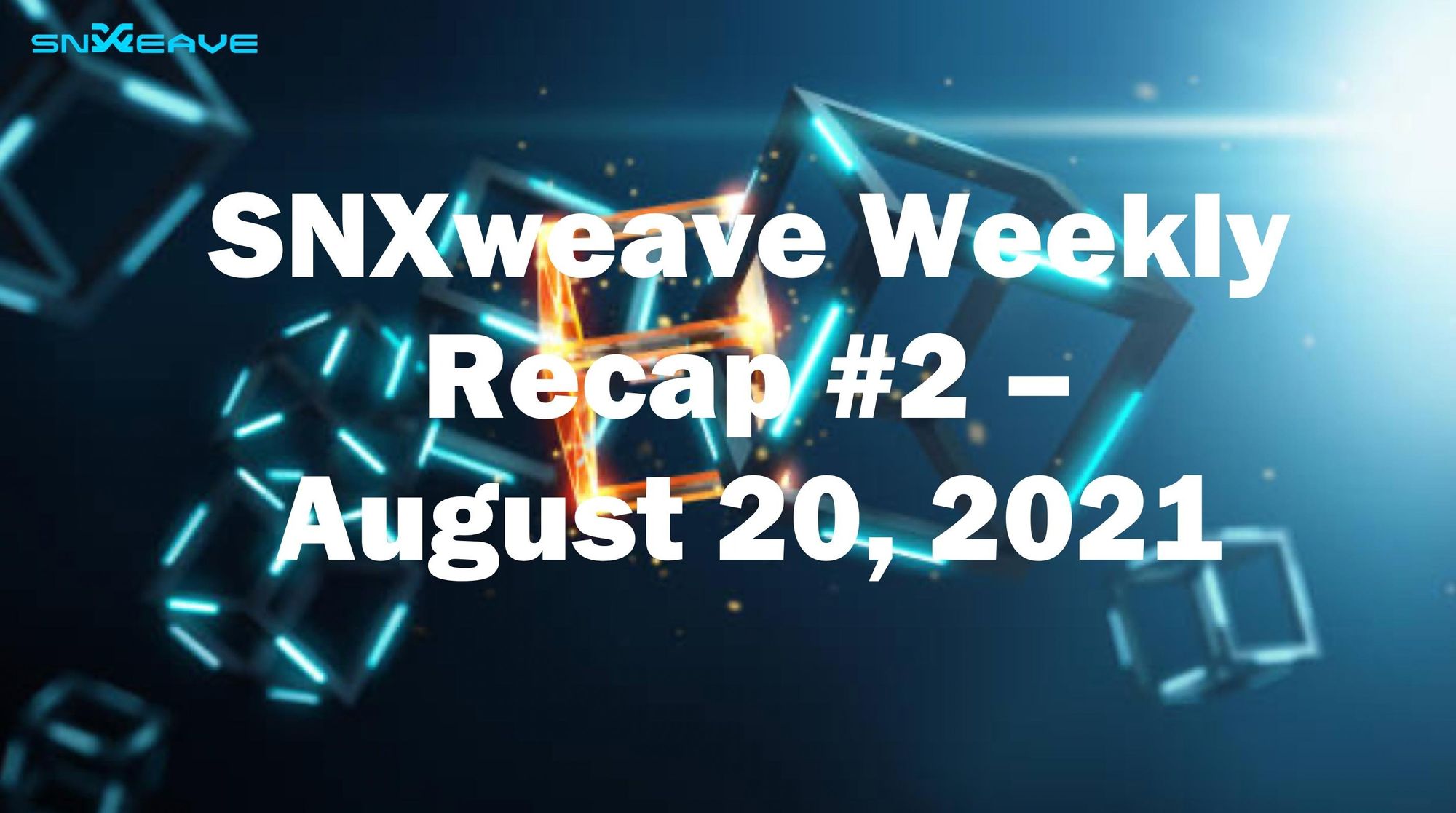 August 20, 2021
The following post contains a recap of news, projects, and important updates from the Spartan Council and core contributors this week, as well as some performance highlights of those involved in governance. The presentations of SIPs 155, 174, and 175 are also discussed.
Present at the August 17, 2021 Spartan Council Weekly Project Sync and SIP Presentations:

Spartan Council: Bojan, Brian, Danijel, Jackson, Kain, Michael, Spreek
Core Contributors: Afif, Darius, David, Jordan, Jakub, Justin, Rafa, Shahzada
In last week's recap we discussed SIP-155, which proposes deprecating the sDAO and replacing it with the Treasury Council and Core Contributor Committee. Check out last week's blog post here for a more in-depth background and description of this proposal. This week, SIP-155 was presented to the Spartan Council and community by core contributor, Jordan. Several important aspects of this proposal were clarified during the presentation:
First, Kain asked Jordan to explain the thought process behind the decision to have Treasury Council members elected by SNX stakers. Jordan explained that it's safer and more decentralized to have stakers elect them directly, rather than having them chosen by the Spartan council. The tradeoff here is that candidates will need to be public. However, in the interest of transparency and in the ability for the community as a whole to make decisions on treasury management, there isn't really another reasonable alternative.
While on the note of transparency, there was a question regarding who will be eligible and how many people will be on the Treasury Council. Jordan said that there will be 4 members, likely operating a 3- of-4 multisig. However, this will need to be finalized and there will need to be additional thought put into the tradeoffs when efficiently doing transactions, while still thinking about security. Treasury Council members will be paid a monthly stipend of 1,000 SNX and may also be required to post an SNX bond if elected, however the amount is not yet decided.
There are a few small edits that Jordan will be making to SIP-155, however the council didn't think it would require an additional presentation, so a vote will be coming soon for this proposal.
Next, SIP-174 was also presented this week. Proposed by Justin, this SIP outlines a system to allow for redemption of deprecated synths. By creating a contract that allows holders to redeem deprecated synths at a fixed sUSD price, this SIP will create a more streamlined method for removing these synths from the protocol. This will deprecate the process of purging, and replace it with a more elegant way of phasing out or updating synths.
It was also decided this week that SIP-173, the synth upgrader contract, will be rejected in favor of 174. SIP173 proposed a synth upgrader migration contract to more easily handle the various aspects of a synth's logic upgrade and to avoid system downtime. However, as we discussed, SIP-174 will provide a more sophisticated solution and an even easier mechanism for redeeming synths that have been deprecated. The council however will vote on SIP-174 before officially rejecting 173.
Justin also presented SIP-175, which proposes diverting a set portion of the weekly SNX inflation for protocol maintenance and upgrades. Seeing as how the protocolDAO regularly uses a significant amount of ETH for gas to run the protocol, Justin proposes having 1,000 SNX automatically disbursed to the protocolDAO weekly, rather than having to request funds every time the pDAO runs out of ETH. Spreek chimed in saying that there might be concerns about fixing 1,000 SNX per week indefinitely. Justin emphasized, however, that having an automatic system like this would greatly help streamline protocol updates and maintenance.
Kain recommended waiting to see what process the new Treasury Council is in favor of, and suggested that the Treasury Council could perhaps just pay the pDAO a quarterly ETH budget from the treasury. Justin said that he would be happy with this resolution as long as it gets sorted out in the next few months as soon as the Treasury Council is formed. This SIP discussion ended with Justin proposing to move SIP-175 to rejected in order to re-submit a proposal for the new Treasury Council to fund the pDAO, once SIP-155 is approved.
In last week's recap we also discussed SIP-169, which proposes deprecating low volume synths on L1. This SIP is waiting on the approval of Justin's SIP-174, which will greatly simplify the deprecation of these synths. As an update to last week's discussion regarding SIP-169, Andre would like to keep the Forex synths for some of the projects he's working on, so they will be listed in the SIP along with the other synths that are staying on L1. Jordan will be presenting this SIP soon after the approval of SIP-174.
Also in feasibility this week is SIP-120. For those of you who aren't familiar, SIP-120 proposes using Uniswap V3's TWAP price oracles, together with Chainlink oracles to enable atomic exchanges between synths. SIP-120 was approved by the council, however, due to recent changes it has moved back into feasibility and will need to be presented again.
Sitting in approved this week is SIP-149, which proposes deprecating binary options contracts. Though this SIP is ready for execution, Justin says it is paused for the moment. He said that the plan here is to create a contract that allows people who have longs or shorts to just withdraw some sUSD from it. Danijel suggested handling this by manually redeeming outstanding options for sUSD. It was agreed that this would be faster than setting up a contract, and that Danijel will likely be driving this effort since he has significant experience in this area as a co-founder of Thales.
Last week we also discussed SIP-171 in detail, which will allow transfer of non fee reclamation balances, and SIP-167, for an L2 bridged governance contract. 171 is still in feasibility, and there should hopefully be an update soon as Justin discusses presentation prep with Andre. 167 is still sitting in approved, however it is not quite ready for execution, as Leo and Ale are still working to figure out if it will go out on the Mirfak or Wezen release.
The last discussion this week between the Spartan Council and core contributors was regarding the possibility of an account merging feature. Rafa brought this up, as there has been some talk offline in the core contributor channel between him, Kain, Spreek, Danijel, and Brian about being able to migrate escrowed SNX.
During this discussion, Danijel echoed some concerns from himself and others that this could make a large amount of SNX instantly liquid to sell OTC. Kain, however, recapped some of the discussions about this issue in the past and pointed out that liquidity is pretty good right now, so this shouldn't be as much of a threat as it maybe used to be. As a compromise, Brian suggested having a "cool-down" period where there is a merging every 6 months, rather than continuously.
The necessity of this potential project as a whole was also questioned during this discussion. In response, Kain emphasized that there is a clear desire to be able to move addresses or cycle addresses for a new hardware wallet, and that tools like this would make processes like that a little easier.
Spreek also expressed concern regarding potential risk, and Kain suggested possibly turning on account merging for a month as a trial period to observe it with the option to switch it off if necessary.
Lastly, Danijel suggested a possible threshold to limit the rate at which escrowed SNX can be pulled out. However, Rafa responded saying that there is already a time restriction, so a size restriction AND a time restriction might be too much.
Rafa will likely be putting together a pitch for the community for this potential project, so expect more updates to come.
SIP status tracker:
SIP-155: Deprecating the sDAO, Status: vote coming soon
SIP-174: Redeem Deprecated Synths, Status: vote pending
SIP-173: Synth Upgrader Contract, Status: likely to be rejected
SIP-175: Protocol Maintenance Funding, Status: likely to be rejected and rewritten
SIP-169: Deprecate low volume L1 Synths, Status: feasibility, presentation coming soon
SIP-120: TWAP Exchange Function, Status: feasibility
SIP-149: Deprecating Binary Options, Status: approved, paused
SIP-171: Allow transfer of non fee reclamation balances, Status: feasibility
SIP-167: L2 bridged governance, Status: approved