SNXweave Weekly Recap 61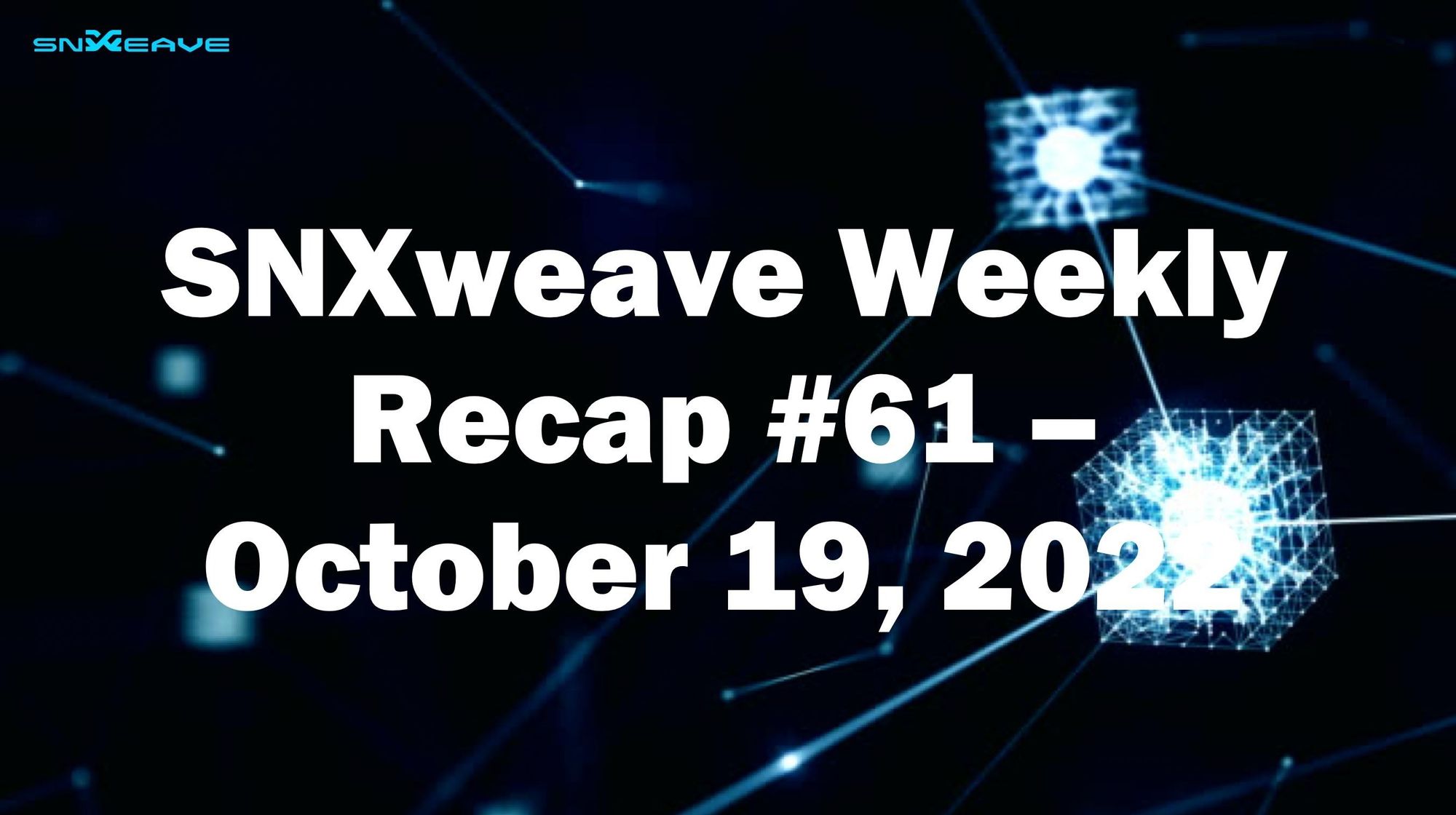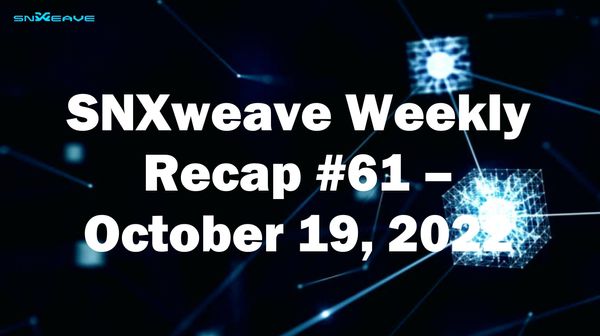 October 19, 2022
The following post contains a recap of news, projects, and important updates from the Spartan Council and Core Contributors, as well as the Grants Council and Ambassador Council from last week.
Spartan Council and SIP updates
Present at the October 13, 2022 Spartan Council Weekly Project Sync:
Spartan Council: Adam, Afif, Danny (dsacks), ksett, nana, TerraBellus
Core Contributors: Cavalier, KALEB, Leo, Matt
First up — SIP-252, to the update the liquidation mechanism, is being prepared for deployment. Some edge cases have been identified that may prevent escrow from being liquidated for some accounts. These issues were discovered in some of the oldest escrow accounts (Haven days) and the terms are defined by contracts that are not upgradable.
Kaleb said it's really only the wallets that are associated with about $1 million of the total collateral base that are affected by this. The team is planning to go ahead with the current SIP as is, while evaluating the best way to proceed with these wallets. Correcting the issue may require an additional SIP to migrate accounts to a new contract that allows for liquidation.
Perps V2 continues to progress very well. One additional item that will likely be added to the scope is outlining how to get from V1 to V2, since there was some concern voiced during the Upgradability (SIP-280) presentation. Leo is doing feasibility on the trade-offs for a "clean break" vs. a migration of the current data. Once that is complete, there will be another call to discuss the options, followed by another SIP.
Next, for Atomic Swaps, Adam asked why the focus on this additional V2X scope was worth it vs. dedicating resources to V3. Kaleb said this functionality will also be available in V3, so testing and iterating will improve the product now as well as for V3.
And speaking of V3, the final couple of code merges have been approved and are in the process of being deployed to testnet. Cavalier said the UI is ready, auditors are digging in now and the governance presentations are scheduled to happen over the next couple of weeks to cover the remaining SIPs. Afif added that the most important action item right now is getting the spot and perp market implementations spun up.
And on the note of SIP presentations, there were several last week so let's briefly review them:
SIP-282: Replace 'Emergency Elections' with the newly-created 'Intra-Epoch Councilor Replacement'
This SIP by TerraBellus proposes a councilor replacement process that will be used to fill specific council spots during an epoch (when necessary) without a full re-election for the entire council
SIP-266 and SCCP-300 have established the concept of an election held outside of the standard quarterly election period
The process for such an election remains undocumented, so this SIP seeks to propose an "intra-epoch councilor replacement" — AKA a separate election for one or more specific councilor(s) during the epoch
The remaining participating SC members would vote to confirm the new member
Kaleb suggested just auto-assigning the next available candidate to the SC, instead of holding a vote. This will be discussed further.
Adam suggested a compromise where the SC has veto power, with a unanimous vote, if the next ranking candidate is inactive or deemed unsuited for the role
SIP-284: Pay DAOs from inflation
Presented by artsychoke, this SIP proposes paying the DAOs' monthly stipend from inflation instead of from the Treasury Council's assets
The motivation behind this SIP is to increase self-sufficiency for the DAO in terms of operating costs, and to better align stakeholders
The Treasury Council currently handles the 47,000 SNX/month DAO stipends, which unnecessarily gives them an additional layer of influence over other Councils and reduces protocol autonomy
Currently, the process is done manually by the Treasury Council, which pays a predetermined amount to each council member
With this SIP, the SNX that is distributed to council/committee members will come from existing inflation, and the distribution method will be done weekly by the pDAO and distributed to existing Council Member NFT holders
Based on the presentation, this seemed to be a pretty contentious SIP among SC members and the community
A question was brought up about whether the responsibility for setting the stipends would still remain with the TC
— Kaleb raised a concern that the manual process creates more awareness about the stipends being distributed which means they can be easily changed to reflect market conditions (i.e. if SNX goes to 20)
— He added that when it's coming out of inflation, people tend to forget about it
Artsychoke requested feedback from the council on changes that would get this SIP approved
A few SC members indicated that they would be more likely to vote yes if the payments were automated
Artsychoke will be making some changes based on the feedback before the SIP is put to a vote
SIP-299: Minor upgrades to V2X to support V3 Migration
Db proposed this SIP, which will grant a few special permissions to the LegacyMarket contract
LegacyMarket allows for users to migrate their collateral and/or redeem their sUSD to their V3 counterparts, while allowing for V2X to continue
Db said the SIP covers all of the technical changes that are required to successfully migrate V2 to V3
Kaleb asked why users can't just burn their debt and remint on V3, and db said it's for the same reason Debt Migration is being pushed: it's not strictly necessary but it's better UX for most users
Currently, the plan is to pause liquidations on V2X and force migrate any eligible accounts over to V3 for liquidation
Db, however, said it's less disruptive to allow stakers to move over to V3 on their terms rather than forcing everyone to move over at once
Over time, the utility for sUSD on V2X will wane as integrators start making use of V3 debt, so there will be a natural incentive for active accounts to migrate sooner rather than later
SIP-303: Markets (V3)
Presented by Afif, this SIP proposes the creation of markets in V3
Creating a generic market interface helps cleanly separate concerns in the codebase and allow for greater composability with the protocol
Afif emphasized that permissionless markets won't be supported out of the box, but will be iterated towards following releases
Nana asked if this poses any issues for atomic swaps. Afif said no since it doesn't break any of the use cases, but it would be a different implementation since it's a new version of the protocol
Afif added that V3 is being designed so that everything that currently exists in V2X will be possible while also adding much more surface area for iteration and improvement
Grants Council
Present at the October 13, 2022 Grants Council meeting:
Grants Team: ALEXANDER, CT, JVK
In Grants Council updates, Tip.CC is complete! Matt and Mike now have funds available to tip 300 members.
As for the NFT minting contract, the only outstanding item is the whitelist. There are multiple ways for wallets to qualify, but there is consensus on the Council that a single wallet qualifying via multiple activities would only be eligible for 1 mint.
Next, the team is putting together a funding request for the Treasury Council. Since the SNX price is low at the moment, it makes more sense to pay out grants in stablecoins. CT is proposing a request for an additional 50,000 SNX that can then be deposited in AAVE and borrowed against to pay grantees. He will be contacting someone from the TC to get the ball rolling on this.
Lastly, Duck proposed an initiative using deposit delegations in PoolTogether as another way to incentivize community activity using the protocol. As a reminder, PoolTogether is a prized-based savings project in DeFi that allows users to delegate deposits to other wallets for a defined period of time. During that period, the wallets with delegated funds are eligible to collect rewards on those funds. This initiative is currently in the brainstorming stage.
Ambassador Council
Present at the October 12, 2022 Ambassador Council meeting:
Ambassadors: GUNNBOATs, Kevin, mastermojo, Matt
In Ambassador updates, the team is doing a call today with Afif to talk about Perps V2 — so be sure to tune in! On top of Spartan Spaces, this call is part of their new initiative to elevate Core Contributors since they are the subject matter experts within the protocol. It's sure to be a very informative call.
---
Podcast now also on YOUTUBE
Follow us on Twitter! @snx_weave
---
SIP/SCCP status tracker:
SIP-252: Liquidation of SNX Escrow, Status: approved
SIP-279: Perps V2, Status: draft
SIP-280: PerpsV2 (Perps Upgradability), Status: draft
SIP-272: Atomic Swaps — Dynamic Fees, Status: approved
SIP-282: Replace 'Emergency Elections' with the newly-created 'Intra-Epoch Councilor Replacement', Status: draft
SIP-284: Pay DAOs from inflation, Status: draft
SIP-299: Minor upgrades to V2X to support V3 Migration, Status: draft
SIP-303: Markets (V3), Status: draft