SNXweave Weekly Recap 103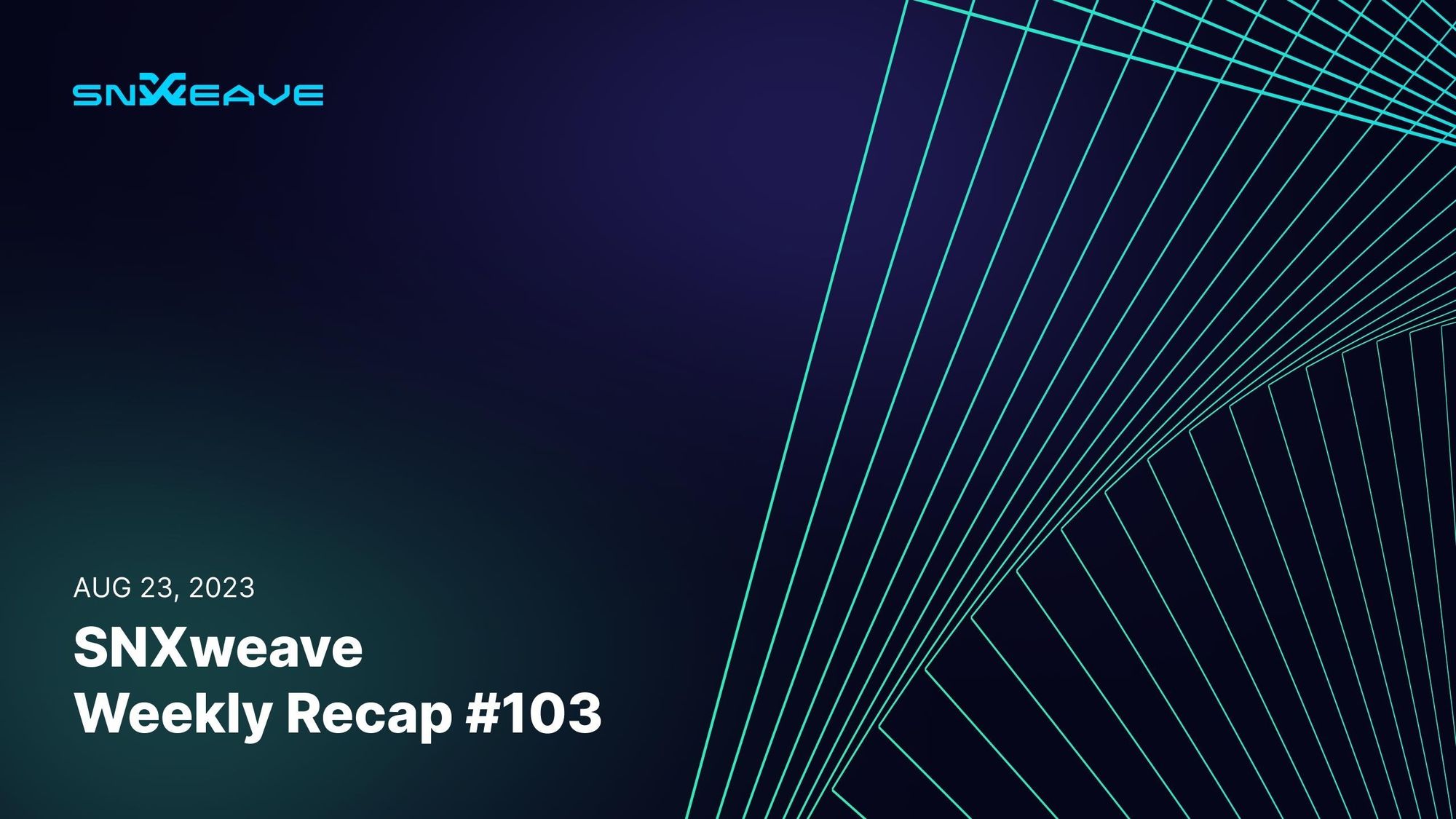 August 23, 2023
The following post contains a recap of news, projects, and important updates from the Spartan Council and Core Contributors, as well as the Grants Council and Ambassador Council from last week.
Spartan Council and SIP updates
Present at the August 16, 2023 Spartan Council Weekly Project Sync:
Spartan Council: Adam, Burt, Cavalier, cyberduck, Danijel, dsacks, Jackson, ml_sudo
Core Contributors: KALEB, Matt, meb, noah, Noisekit, sunny
FIRST, in case you missed it, SNXweave hosted the Spartan Council (SC) Election Panel yesterday in the governance stage. We got to hear from some of this epoch's SC candidates, who answered community questions and spoke to their candidacy. Be sure to catch the recording on our YouTube channel or Anchor podcast! And don't forget to VOTE –the voting period will end on August 30th, and the nomination period will remain open until then.
In other news, the Core Contributors (CCs) are all caught up on the most recent V3 core upgrade SIPs (in preparation for Perps V3), and the auditors are reviewing them now. The core system is in pretty good shape and CCs are just trying to minimize "feature bloat" to really hit the ground running with the Perps V3 release.
Noah and db have also finished putting together a draft for ERC-7412, a proposal that they would like to see as the standard for cross-chain oracle reads. This proposal has received a warm reaction from oracle partners, so the next step is to create proof-of-concept for this pool synthesis feature that compiles with the EIP.
In governance updates, the CCs are working on the SIP for new election system upgrades, which will mostly be to add cross-chain functionality. A "mothership" chain will be assigned (Optimism) and votes can be made on any chain that Synthetix V3 is deployed on, but the final tally will be taken on the mothership chain. A snapshot module will also be added to differentiate v2x and V3 votes, as well as associated voting power.
Another addition in this proposal is a guardian module, which gives the Spartan Council a deadman switch. This is a safety mechanism (managed by the pDAO) to return protocol control to the current state in the event that the new governance mechanism is attacked. The SIP is still in draft and all of the exact parameters of these features are still to be determined and are subject to governance approval.
An improved UI is also in the works to allow Spartan Council members to fully take over pDAO functions without extensive technical background. This upgrade is scheduled to be implemented by the next election cycle and should be in audit by the beginning of September after the Perps V3 review is done.
And speaking of Perps V3, the most recent update is that it's still in audit, but the final report is expected on the 30th of August. The testnet trading competition is currently being ironed out, but it is still being planned for the first week of September.
Next up, there were also a few SIP presentations last week, so let's briefly review them.
SIP-2029: Add SEI to Perps V2
Proposed by GUNBOATs, this SIP will add the Sei Network Token as a market under Perps V2
SEI is currently trading on Binance and will need an oracle feed from Chainlink and Pyth, and configurable values will be set in a subsequent SCCP for each market
SIP-2032: List all current dYdX assets on Perps V2
Burt presented this SIP, which proposes adding THOR, SUSHI, ZEC, XTZ, UMA, ENJ, ICP, XLM, 1INCH, EOS, CELO, ALGO, and ZRX to Perps V2 since they have sufficient liquidity
The SIP also proposes auto-listing all future tokens listed on dYdX (except SNX)
Since Perps relies on arbitragers to balance markets, having similar products available on other exchanges is key to a healthy market function
The proposed change aims to expedite the listing of markets that present potential demand and arbitrage opportunities, while giving CCs the discretion to prioritize certain assets without requiring immediate oracle availability
There is no additional risk exposure since all parameters are assigned via SCCP
This could be opened up to other exchanges in the future, but dYdX had the most listings that Synthetix does not currently offer so it made sense to start there
It was also suggested to have a configurable value that could be changed later to add listings from other exchanges without needing another presentation. There was some back-and-forth debate on this, with Millie arguing against eliminating the presentations and the majority of the SC in favor
SIP-2033: List assets with Chainlink and Pyth feed deployed on Perps V2
Lastly, this SIP will list BAL, FXS, KNC, RNDR, ONE, PERP and ZIL on Perps V2 as they all already have Chainlink price feeds and Pyth price feeds on OP Mainnet
There were no objections from the Spartan Council
---
Subscribe to our YOUTUBE
Follow us on Twitter! @snx_weave
---
SIP/SCCP status tracker:
SIP-2029: Add SEI to Perps V2, Status: draft
SIP-2032: List all current dYdX assets on Perps V2, Status: draft
SIP-2033: List assets with Chainlink and Pyth feed deployed on Perps V2, Status: draft