Second Round of early nUSD issuance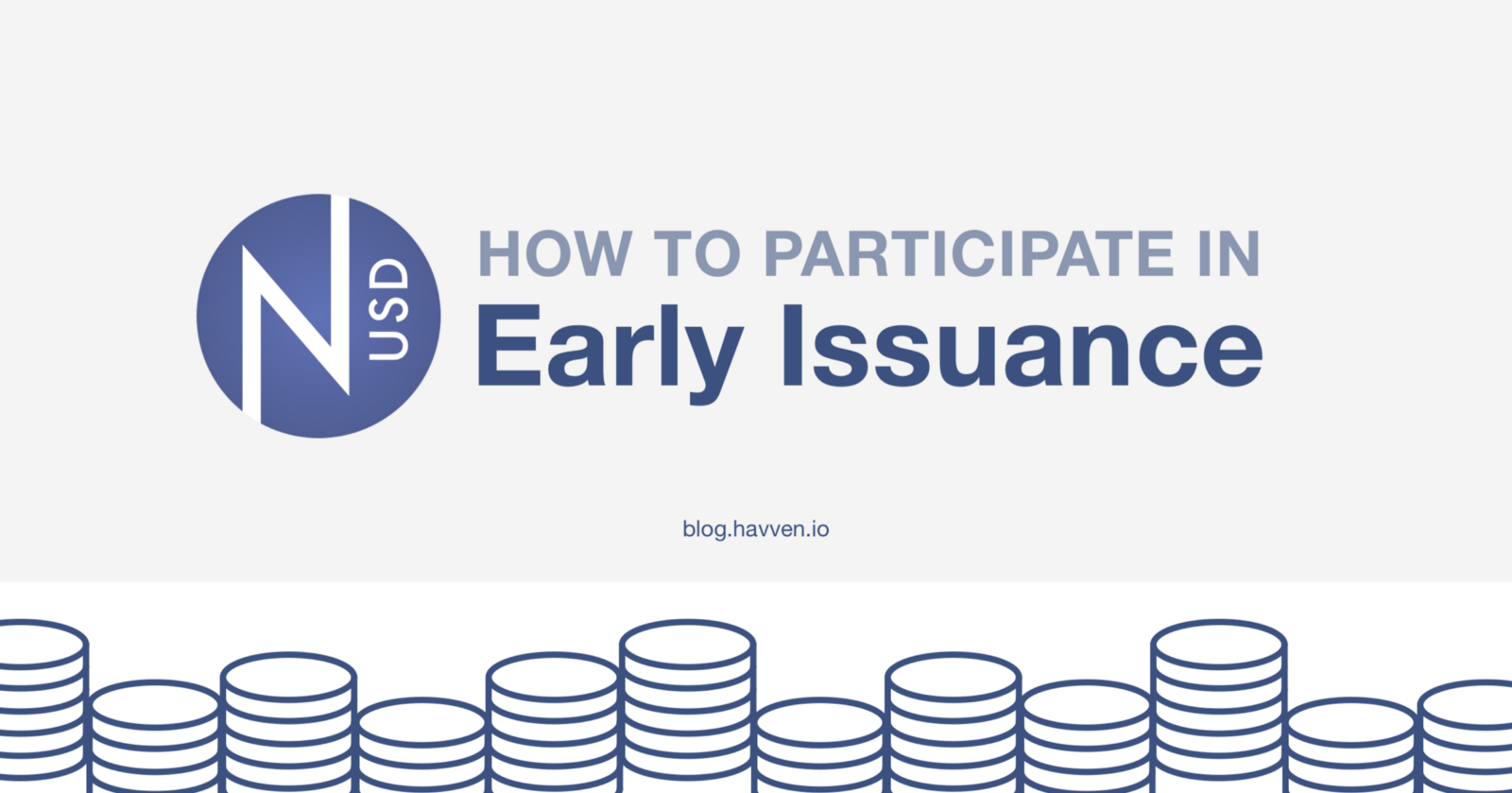 We're giving the members of our community another opportunity to issue nUSD with their HAV.
Last month we successfully opened up this opportunity to our community, giving select members the opportunity to interact with the Havven payment network.
Before this, nUSD had only been issued by the Havven Foundation, as part of a staged roll-out. Opening this to individuals outside the Foundation provided helpful user feedback.
Through early issuance, nUSD successfully passed $1M in circulating supply. This was a significant milestone for the network, just one month on from the release of nUSD.
For this reason, we've decided to open up a second round of early nUSD issuance before wider issuance takes place by the public.
Through this additional round, we aim to provide a thoroughly tested and seamless user experience when we do open public issuance.
When wider issuance is launched, nUSD will be issued onto a DEX, which we'll announce further details about closer to the date. However, during this trial whitelisted HAV holders will issue nUSD directly to their own wallet.
How to Participate
If you would like to participate, you can apply here: click here to fill out the form.
Only submissions made by 24 August, 12:00 (UTC) will be considered for whitelisting.
From these submissions, a small number of individuals will be whitelisted to participate in the early issuance of nUSD, chosen by the Foundation. If selected, we will contact you via email or Discord to provide instructions on next steps.
Whitelisted Members
As noted, whitelisted Havven holders will be given the opportunity to issue nUSD before full public issuance takes place. A comprehensive set of steps will also be provided to guide you through the issuance process.
When issuing nUSD, you'll be able to issue up to 20% of the value of HAV within your wallet.
For example if you have 50,000 HAV and this HAV is valued at $15,000 USD, you'll be able to issue 3,000 nUSD.
Before these steps can occur however, you will need to take note of the following:
The initial process will require you to interact with the Havven contract using MyEtherWallet or MyCrypto (an interface will be available for this in the next couple weeks).
You will need to have access to HAV in a wallet you control (ie, it cannot be an exchange wallet). Please note that you will also require ETH to complete transactions.
---
Enter your email below to join our newsletter