Q1 RELEASE: sBTC and other Synths, Synthetix.Exchange, and no more transfer fees!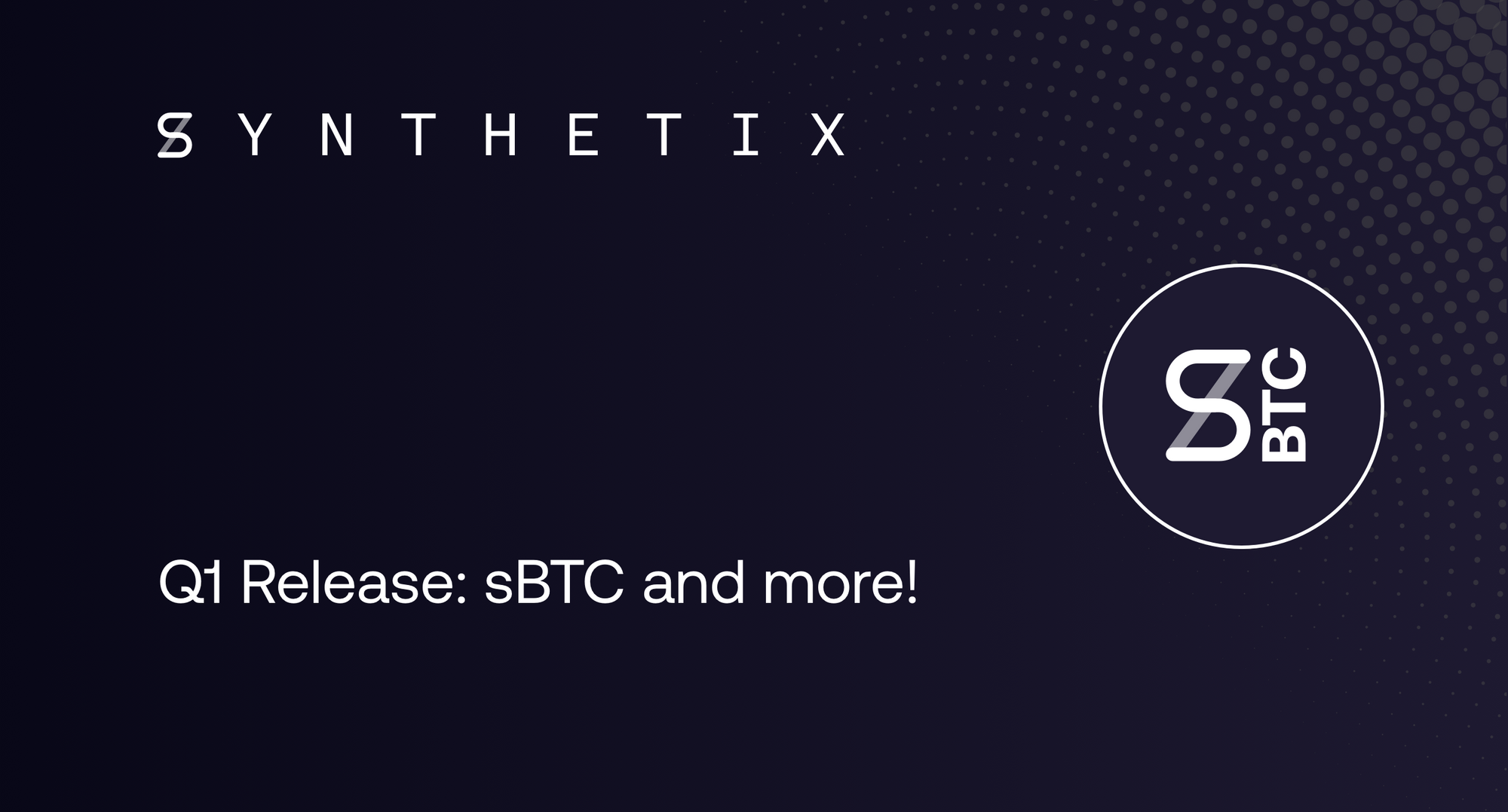 We are excited to announce that another major Synthetix release is now live, which includes the third wave of synthetic assets (Synths), the full release of Synthetix.Exchange, and the removal of transfer fees for all Synths. These changes mark another significant milestone in our 2019 roadmap, expanding the possibilities for trading and transferring value enabled by our decentralised system.
Synths
The third wave of Synths includes our first cryptocurrency, a second commodity, and a range of additional fiat currencies. The cryptocurrency we've added is a synthetic Bitcoin (sBTC), and is the first of its kind on Ethereum. sBTC provides access to the value of Bitcoin without the friction of owning or maintaining a Bitcoin wallet, and like all Synths it is trustless and does not require the underlying asset to be held. sBTC also enables 'Bitcoin' to be traded on DEX's, as well as enabling other Ethereum dApps to use it within their platforms without the need to manage the infrastructure relating to actual Bitcoin. The release also includes a synthetic silver (sXAG), which tracks the price of an ounce of silver, as well as the following fiat currencies:
sSGD (Singapore Dollar)
sCAD (Canadian Dollar)
sRUB (Russian Ruble)
sINR (Indian Rupee)
sBRL (Brazilian Real)
sNZD (New Zealand Dollar)
sPLN (Polish Zloty)
Synthetix.Exchange
The full release of Synthetix.Exchange represents a major step forward for trading on Ethereum.
We allowed Synthetix.Exchange a long beta phase to ensure we could run a full range of tests on the various Synths, and will continue to implement UI/UX improvements in the future as we gather feedback. The full release adds the new Synths, links to a walkthrough video, allows for feedback to be gathered ahead of future updates, clearly delineates between different kinds of Synths, and allows for synthetic stocks to be added to the platform in the coming months. After that, once we add derivatives trading to the system there will be another major upgrade to the interface.
If you haven't used Synthetix.Exchange yet, here's the walkthrough video that shows you how to make a trade:
Transfer fee removal
The final element of this release is that Synth transfer fees have been removed. As per our roadmap, we implemented this change for the following reasons: firstly, the irregular transfer mechanism created friction for partnerships and integrations, and secondly, the development of multiple kinds of Synths meant that it was reasonable to expect that exchange fees between Synths would be able to support the network in the way that transfer fees were initially expected to. In addition, the fees generated by synthetic positions once we add derivatives trading features later in 2019 will also provide an alternative fee stream to replace transfer fees. We anticipate that this change will assist with adoption and integrations.
Conclusion
At the start of 2019, we put great effort into discussing the ideal roadmap for Synthetix with our supporters and allies, and our community responded extremely positively about our plans. This release represents the first stage of executing on our technical roadmap, and sets up Synthetix well for a strong year of adoption and delivery.
Website | Synthetix.Exchange | Mintr | Discord | Twitter
---