Long women in crypto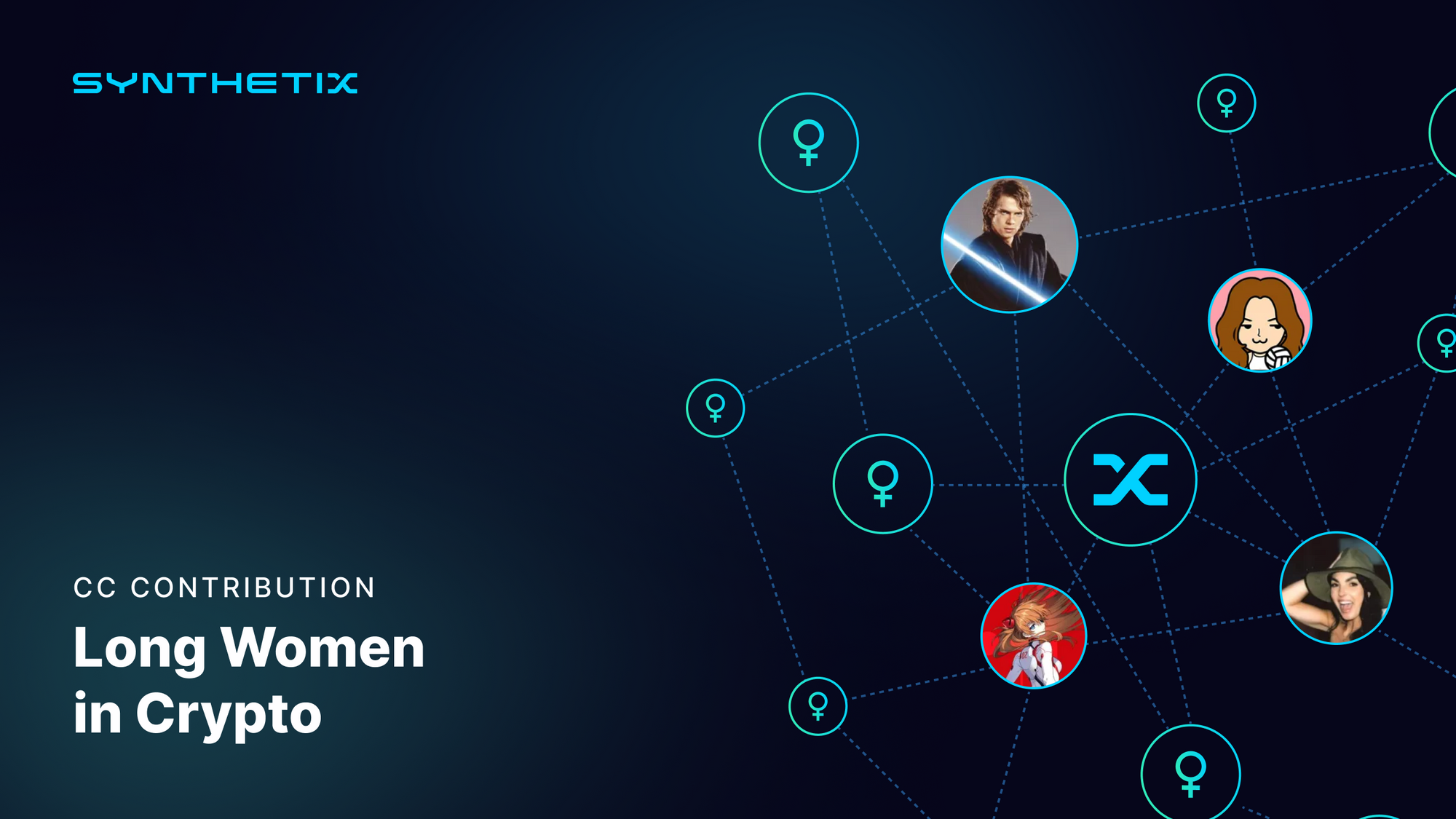 Synthetix' female Core Contributors pull back the curtain on working among the degens.
Hi, I'm Bex, and I make up one of four female Core Contributors (CCs) at Synthetix. A number that has, excitingly, doubled in the last 12 months. In the same breath, we still only make up 20% of CCs. It's not new news that crypto is an industry dominated by men, but there has been a shift recently. Protocols and DAOs are seeing the benefits of women's thinking and leadership, and hiring more. This makes a lot of sense to me - DeFi is trying to reimagine how we coordinate humans, so we need to represent all of society to reach that goal. But are we doing a good job of supporting women in the space once they're here?

I wanted to explore this topic and learn more about women's differing experiences, to help others gain a deeper understanding of how the DeFi experience can differ based on gender, and share some of the behaviors and support systems we should be encouraging for women in crypto to grow and thrive.

I've turned to my fellow femme Core Contributors, Regina (Project Management), Jade (Design) and Ana (Operations), to divulge some of their experiences entering and working in the space - some amazing, some challenging, many transformative. Here's our candid Q&A.
How did you get into crypto and what was your journey to become a Synthetix Core Contributor?
Regina: I have 18 years experience working for both start-ups and large corporations, in diverse industries. My expertise is a great mix of Product Manager and Design Director where I collaborate and lead to successfully define, build, launch, maintain and grow digital products. After a year of freelancing for different blockchain companies, Synthetix showed up as the hardest project to understand, the most interesting and complex decentralized governance, and the most inspiring, curious and like minded group of CCs. I'm a dreamer and a builder, with a little touch of a destroyer, so the intellectual and technical challenges working at Synthetix sounded like music to my ears.
Jade: My first encounter with the world of cryptocurrency was through my first job, working for a company that develops blockchain and software solutions for professionals in the entertainment industry. It was there that I met a (now) fellow CC, with whom I worked with for a couple of months before he left the company. He later got involved with Synthetix, and when a position for a designer opened up, he approached me to see if I was interested. After three months of working as an external contributor, I became a CC myself, and haven't looked back.

Ana: After many years working predominantly in marketing and SEO, I was referred to Synthetix by a friend - the first true DeFi contribution role I have been exposed to. Serendipitously the opportunity presented itself following a few months of diving down the crypto rabbithole, which made me quickly realize the industry's potential, and that I wanted to be a part of it. After some job-searching and networking, I received a call from a friend at Synthetix who was looking for someone to support with the protocol's operations. We scheduled an interview and I accepted the job within two days - the rest is history.
Have you always been made to feel comfortable as a female in DeFi? Why/why not?
Regina: Being respected, admired and considered for our intelligence as latino women in our western-values society is hard. Being a woman in a deep tech environment is a challenge. Typical behavior I've had to deal with in the past is lack of trust in the female performance, being dismissed when sharing ideas, making it harder to get buy in, being acknowledged for team contribution rather than personal performance, having to meet expectations higher than for other peers, getting involved in multiple crucial conversations that take a big emotional toll to get solved, having to negotiate aggressively for salary increases, bonuses, benefits and making myself room at the table.
What has worked for me to overcome these barriers is meritocracy, working harder, teaching by example, strengthening my personal relationships with my network, and actively asking people who I admire for coaching and to sponsor my projects.
Ana: I've felt extremely comfortable as a female in DeFi, working within the Synthetix team. Maybe I've been lucky, but the people I have met in the industry have been nothing but respectful and helpful. I have not once experienced being thought less of because of my gender, on the contrary, everyone seems to be more than obliging to help with my learning and uptake of a complex industry.
I also noticed that many people in the industry are highly intelligent - devs, engineers, marketers - these are people who have achieved a number of things outside of DeFi, and understand the need for diversity to solve hard problems. The acceptance and eagerness to have more females enter the industry is clear. Whether some females have the academic experience for such a technical and finance-focused industry - is another question. It seems that roles taken up by women in DeFi is more or less reflective of real-world tech industries - with women mostly taking roles in HR, marketing, design and other support roles.
Jade: My journey in the crypto industry has certainly had its share of challenges, but most of these haven't been related to the industry itself. As a woman, I have often faced obstacles stemming from gender bias and stereotypes, such as being underestimated and not taken seriously. People tend to assume that my designer role is limited to "making things pretty" and that I lack technical knowledge, which can be frustrating. It's essential to always feel confident and speak up if you want to be heard. Unfortunately, there is a significant lack of representation of women in leadership roles in the crypto space and tech more broadly, which is a problem that still needs to be addressed.
The views of Regina, Ana and Jade, though individual, share a common thread - women's challenges are not exclusive to crypto - but stem from the tech industry and our society more broadly. In my opinion, we continue to return to an age-old problem: Girls' and womens' lagging participation in STEM (science, technology, engineering and maths) through school, higher education, graduation and the workforce. According to the American Association of University Women (AAUW) "Girls and women are systematically tracked away from science and math throughout their education, limiting their access, preparation and opportunities to go into these fields as adults". Engineering and computer science remain heavily male dominated. Only 21% of engineering majors and 19% of computer science majors are women. Worldwide, there is a continuous plight to encourage more female students to pursue a career in STEM, inspiring the generation that follows them. It's an evolving story with much progress being made, and still much to be made.

How does Synthetix enhance the female experience?
Regina: Synthetix values participation, collaboration, courage, high accountability and performance, for all. Since our product is so complex and the learning curve of DeFi is steep, we have a hyper inclusive culture where questions are encouraged and addressed as a team. All CCs understand that we all start from a base where we need support to understand and learn. At Synthetix, we have initiatives like open spaces where we discuss our Synthetix Improvement Proposals with the community, and we can always rely on one-to-ones with our CCs to understand the impact and dependencies of new features.
Every time I want to understand something deeper I find answers and collaboration from our team members. Also the way Synthetix encourages extreme ownership and accountability makes it really fun to propose new projects, get guidance from the Council of CCs. Having so much room to play and explore makes me feel supported, appreciated and respected, and where ideas are welcomed and incentivized.
Jade: I have always received a lot of support from all the CCs, from day one. Despite not having a strong background in crypto or finance, I have always felt that Synthetix provided a safe and supportive environment to learn. Starting out in a non-traditional industry can be daunting, but I received strong support from the previous Head of Design who took me under his wing and helped me familiarize myself with the fast pace and the priorities of the industry. Later on, as I started working more closely with the staking team, I gained a deeper understanding of the technical aspects of Synthetix and became more involved in technical conversations. Although I sometimes still feel like I'm always playing catch-up, my fellow CCs are always available to answer my questions and offer one-on-one support. Their patience and guidance is invaluable in helping me grow and develop my skills.
Ana: At Synthetix, anyone is free to ask the questions they need, and there is no judgment about the things you know or don't know.  One of our most recent initiatives is a study group for any CC who wants to learn certain aspects and fundamentals of DeFi. We have a number of Discord channels (private and public) where information is shared about the industry. As for growth opportunities, again, we celebrate both men and women who are putting their hands up and are willing to take on more responsibility, which often leads to role growth or other forms of appreciation. We also actively try to recognise people with potential and help them to see their own abilities, and to grow within the project.
What rings true in these responses is that Synthetix isn't just working to enhance the female experience, but the experience of all CCs - no matter their gender, career background, or any other factor. Synthetix is a global team of diverse, smart people who work together, role modelling mutual trust and respect. We hold education sessions - but they are open to all - with the ambition to empower anyone who sees the benefit of upskilling in this rapidly evolving space. Carving out consistent space for team members to ask questions and get curious is a support system that continues to prove critical to nurturing individuals' confidence, and foster an inclusive environment.

What are some tangible things others can do to help encourage inclusivity and respectful relationships at Synthetix, and in the industry more broadly?
Regina: I believe support starts from removing the shame and the judgment from what the others do not know, being able to see people for their true talents and being mindful that in our fast-paced, growing, international environment - everyone is fighting a battle we don't know about. So making ourselves available for mentoring and coaching each other and focusing on clear, empathic and supportive communication is key. We rise by lifting others. This applies to all genders and age ranges, and across all industries.
Ana: I think Synthetix is a great example of how everyone can be treated equally and respectfully, no matter their gender, age, or experience. Approaches to actively supporting women could be - promoting female projects, contributing to communities where females are wanting to learn more about DeFi, helping women identify the right tools/education platforms and checking on team members to see if they need any support. Having a friendly rapport and being approachable definitely helps people feel comfortable coming to you with their questions.

Jade: Men can educate themselves about the challenges that women face in the workforce more broadly, including gender bias, harassment and discrimination, and learn how to be better allies to women. They can also speak up when they witness or hear about gender-based discrimination or harassment, and actively challenge sexist attitudes and behaviors. Men can use their platforms and networks to amplify the voices of women, by sharing their work, promoting their companies, and inviting them to speak at events. Additionally, men can provide mentorship and guidance to women who are entering or advancing in the industry, and help them to build their professional networks and develop their skills. Synthetix CCs have been brilliant at the latter and I'm grateful to work with such a supportive team.

Echoing the ladies' points, I believe what makes a good ally is universal and touches all industries. Research continues to show that having allies - whether it be in the conference room, on discord, in the classroom or on the field - boosts women's confidence, enthusiasm for work and encourages an inclusive environment. And as Regina, Ana and Jade have suggested, role-modelling allyship is simple, but it sometimes takes courage. By simply making space for a female colleague's opinion, or calling out poor behavior when you see it, you can completely change the trajectory of someone's day, and in some cases, the course of their career.
To finish
It's no question we are making huge progress when it comes to creating space and opportunities for women in crypto, but there is more work to do. If we don't continue to make progress, we will see what's perpetuated on Wall St in DeFi - and none of us want that sh*t.
Teams like Synthetix that are out there supporting both women and men in their team, and empowering all contributors to grow and become leaders, are helping to break down the systematic barriers preventing greater diversity in our tech sectors. Synthetix recognises that diversity makes us stronger, and that makes us Synthetix ladies super proud to be here. Regina rounds out this blog most eloquently:
"Over time things are getting so much better, though the challenge is not only in DeFi but in all industries. I am tremendously honored for the privilege I have of being one of the very few women who work in blockchain in a leading role. I take the mission of making room for myself and for all my sisters with honor and integrity. "Por mi y por todas mis compañeras" is how we say it in Spanish, "for me and for all my mates". I hope my fight and that of my team opens opportunities for all genders with a message of love, communal effort, civic responsibility, radical inclusion, radical participation, and self-reliance."