Join us on June 23 for the next community governance call!
Everything you need to know about the upcoming community governance call!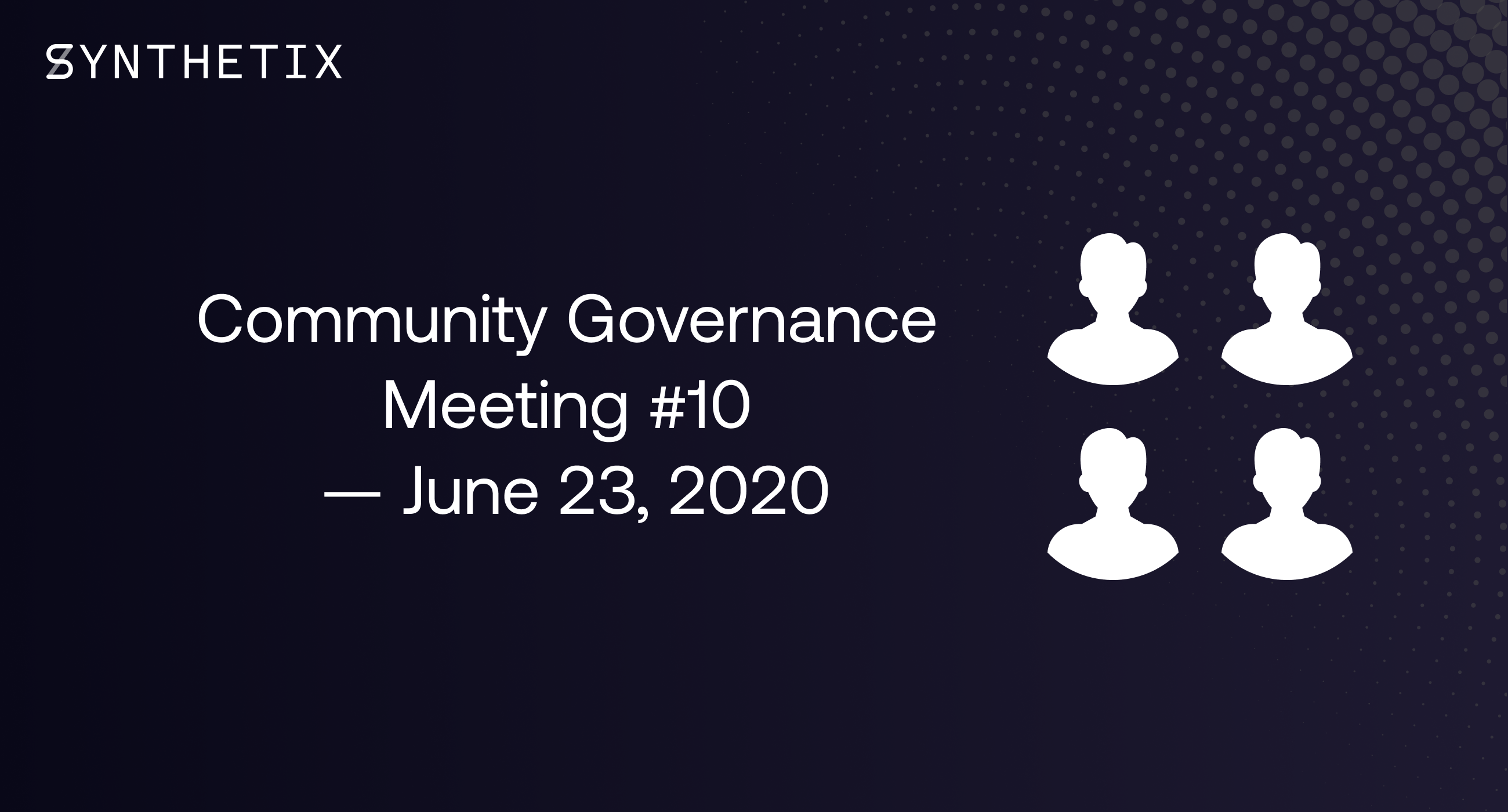 The tenth Synthetix community governance call is scheduled for June 23, and as usual there's plenty to discuss!
Here are the times:
San Francisco: Tuesday June 23, 6am
New York: Tuesday June 23, 9am
Central Europe: Tuesday June 23, 2pm
Singapore: Tuesday June 23, 9pm
Sydney: Tuesday June 23, 11pm
Time converter at worldtimebuddy.com
You can join the call here using Zoom, and there will be an online recording on YouTube shortly after. Here is the agenda for the meeting:
Intro
Recap of the last month
Backend
SIP-15: Liquidation
SIP-56: Differential fees
SIP-57: AddressResolver proxy
Ether collateral trial APR increase + next version
SNX/USDC on Uniswap v2
SNX/USDC on Balancer
SNX/REN on Balancer + sBTC/renBTC/WBTC on Curve
Frontend

Gypsum Product Release
Switching off user tracking
Sulfur Product Release
Halite Product Release
Synths overview pages
Debt tracker page
Other
Synthetix.Exchange user survey
grantsDAO
Chicago DeFi Alliance
Branding
Growth
Looking ahead
Backend

Acrux
Aldebaran
Synthetic futures
SIP-58: Emit Reclaim and Rebate events
SIP-64: Flexible contract storage
SIP-65: Decentralized circuit breaker
Frontend
Change stats to pre/post Achernar
Graph view of sDEFI index
Other
Current topics for debate
SIP-15: Liquidation mechanism details, inc. delay
SIP-61: Keeper Synths
SIP-62: Futures reference price methodology
Margin trading
Fee reclamation window
sDEFI and sCEX tokens
Open questions from community
If you've got any questions or suggestions ahead of the call, come join us in Discord!