The Achernar Release
All you need to know about our next release!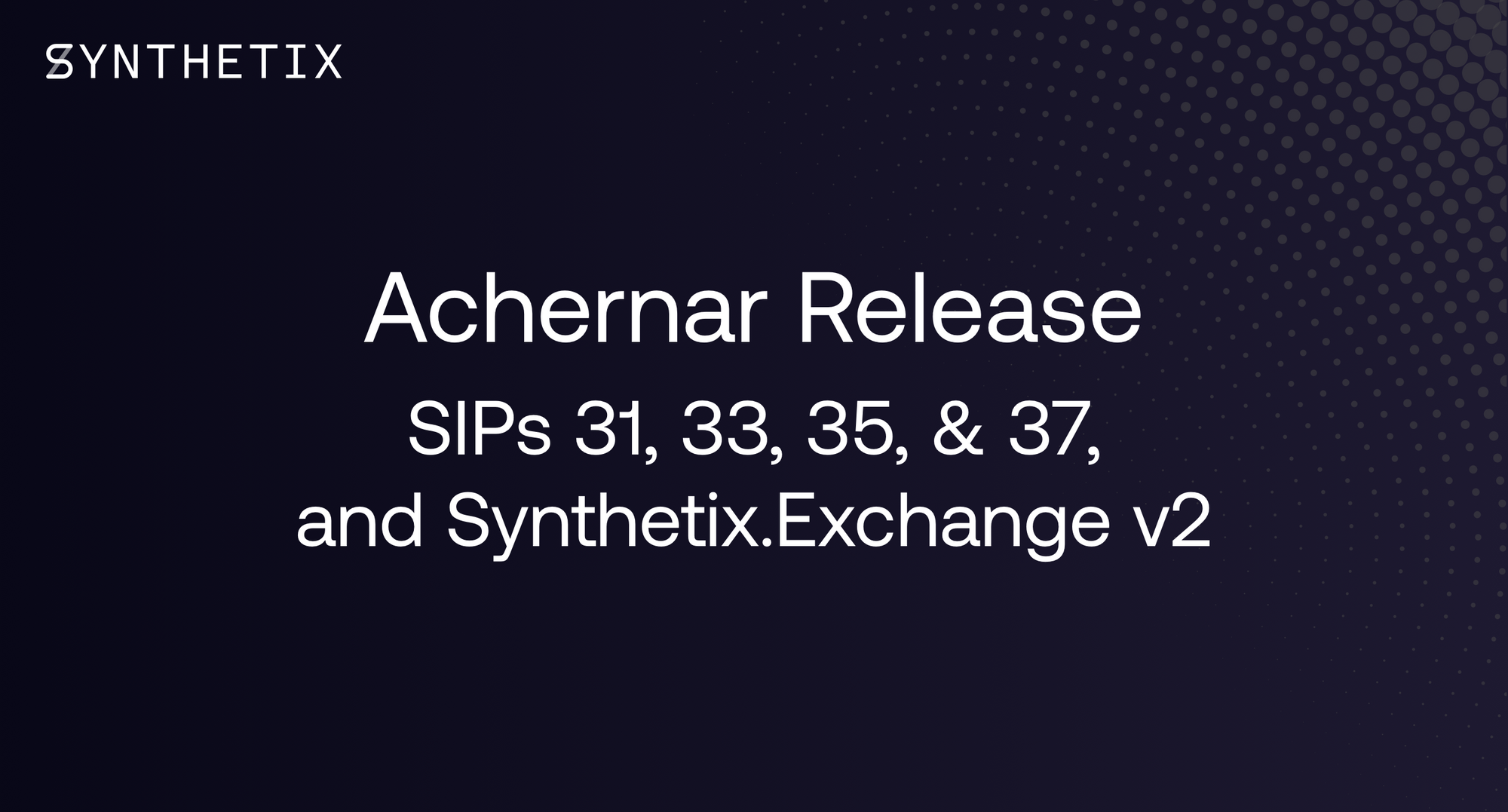 This Thursday (February 20, AEDT), we'll be deploying an upgrade with a number of protocol improvements. The system will be down for several hours while the upgrade is deployed. During this time, users will be unable to interact with the system, including using Mintr or Synthetix.Exchange, and transferring SNX or Synths.
Here's what is included in this release:
SIP-31: sETH pool automatic rewards — SNX rewards for providing sETH/ETH liquidity on Uniswap are currently paid out manually using a multisig. Using an automated system will be far more efficient and reduce the possibility of human error. Liquidity providers will now have to claim their rewards from a smart contract (no timeframe requirement).
SIP-33: Removal of XDRs — The XDR Synth was originally used as the base unit of account, but sUSD now fills that role. Taking out XDR will simplify several functions for users, particularly the payment of trading fees.
SIP-35: Skinny Ether collateral — There has been significant demand from the crypto community for ETH to be enabled as collateral in Synthetix. The three-month trial will reduce friction for new traders.
SIP-37: Fee reclamations and rebates — This SIP implements anti-frontrunning measures, ensuring that traders cannot profit from Oracle latency.
SIP-38: Charge fees during purge — This SIP adds a trading fee to when a Synth holder gets purged out of a Synth, to prevent users from camping out in these Synths without paying their fair share of fees.
Synthetix.Exchange v2 — We are launching a new version of Synthetix.Exchange. V2 will move to production from beta as part of the Achernar release.
SCCP-11: Reduce trading fee to 0.3% — As part of the fee reclamation release, we'll be reducing the trading fee back down to 30bps.
SCCP-12: Reactivate previously deactivated Synths — s/iXTZ, s/iBNB, and s/iLTC were all previously deactivated as they were being targeted by frontrunners, but we're reinstating them in the Achernar release.
SCCP-13: Reinstate fee claim buffer to 750% from 500% — The requirement to claim fees was reduced from 750% to 500% to allow stakers to not get hit by the temporary fee increase.
This release is called Achernar,' which like all releases is named after a star (in order of visual magnitude). If you've got any comments or questions about the release, please submit it at our GitHub Issues page or come join the conversation in Discord.