Join us in the next community governance call on September 11/12!
All the details for the upcoming community governance call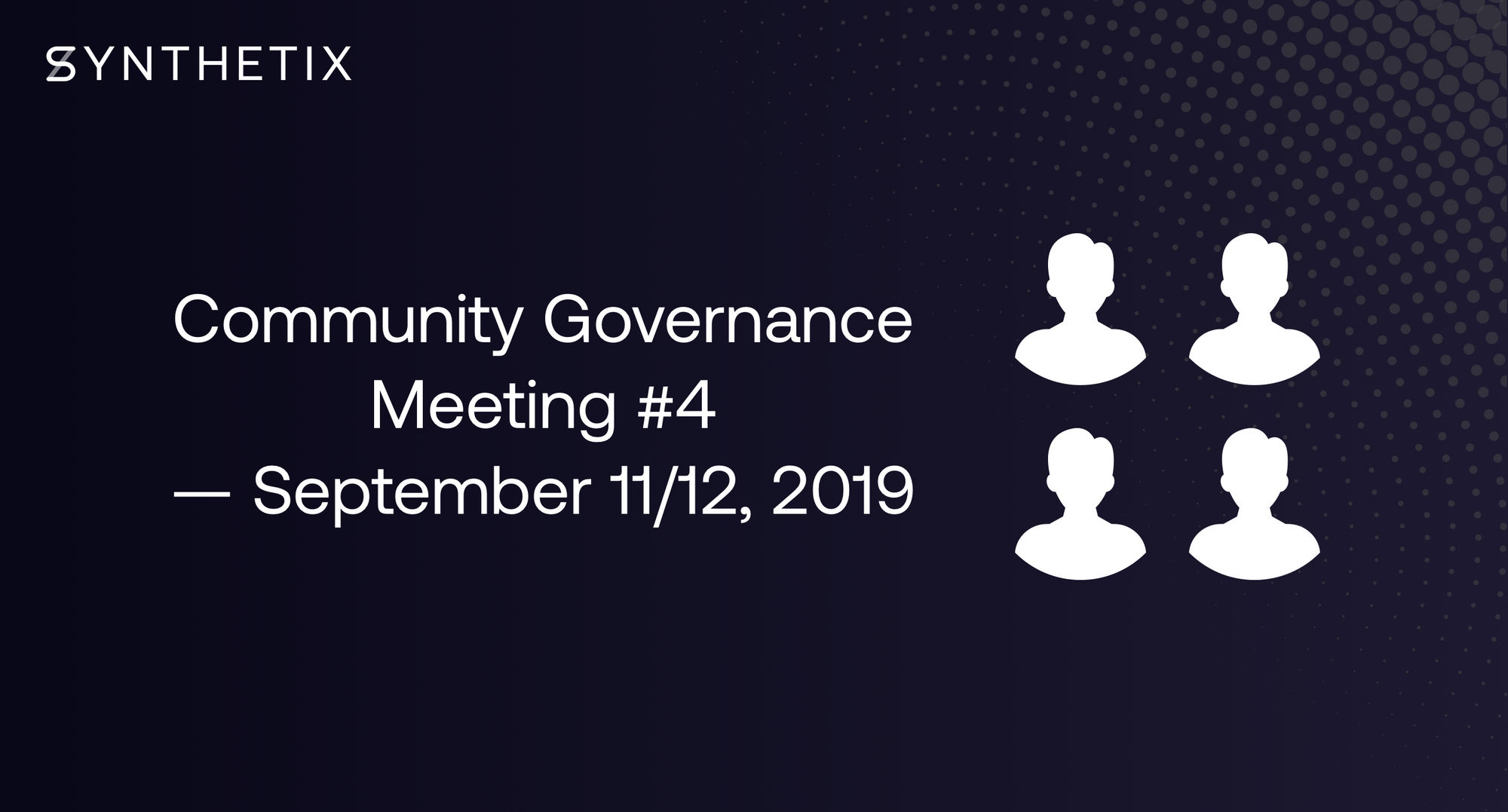 Update (30/10/2019): you can watch the full governance call here.
The next Synthetix community governance call is scheduled for September 11/12 depending on your timezone, and there's lots to discuss.
Here are the times:
San Francisco: Wednesday September 11, 6pm
New York: Wednesday September 11, 9pm
Central Europe: Thursday September 12, 2am
Singapore: Thursday September 12, 9am
Sydney: Thursday September 12, at 11am
You can join the call here using Zoom (desktop app required). Here is the agenda for the meeting:
Intro
- Meeting pace vs topic coverage
- Framework for balancing current 'rough consensus' governance style with large decisions
Updates
- bytes32
- Mintr v2
- Multisig wallet
- sCEX and iCEX
- SIPs website
- Leveraged sBTC
Talking points
- SNX inflationary schedule (with deltatiger)
- ETH collateral
Decisions
- sDEFI
- Reducing or eliminating the C-Ratio buffer
- Weekly allocation of SNX to arb contract
- sETH pool phase 3 (SIP-8)
- sETH migration
- Pitch staking to centralised exchange/s
SIPs
- Delegation (SIP-10 + SIP-14)
- Max gas price for exchange transactions (SIP-12)
- Account merging (SIP-13)
- Direct redemption (SIP-15)Utilise proxies internally (SIP-16)
Gitcoin Bounties
- SNX staking pool (Gitcoin)
- Next priorities
Questions
If you've got any questions or suggestions ahead of the call, come join us in Discord!