Join us for the next community governance call on October 24/25!
All the details for the fifth Synthetix community governance call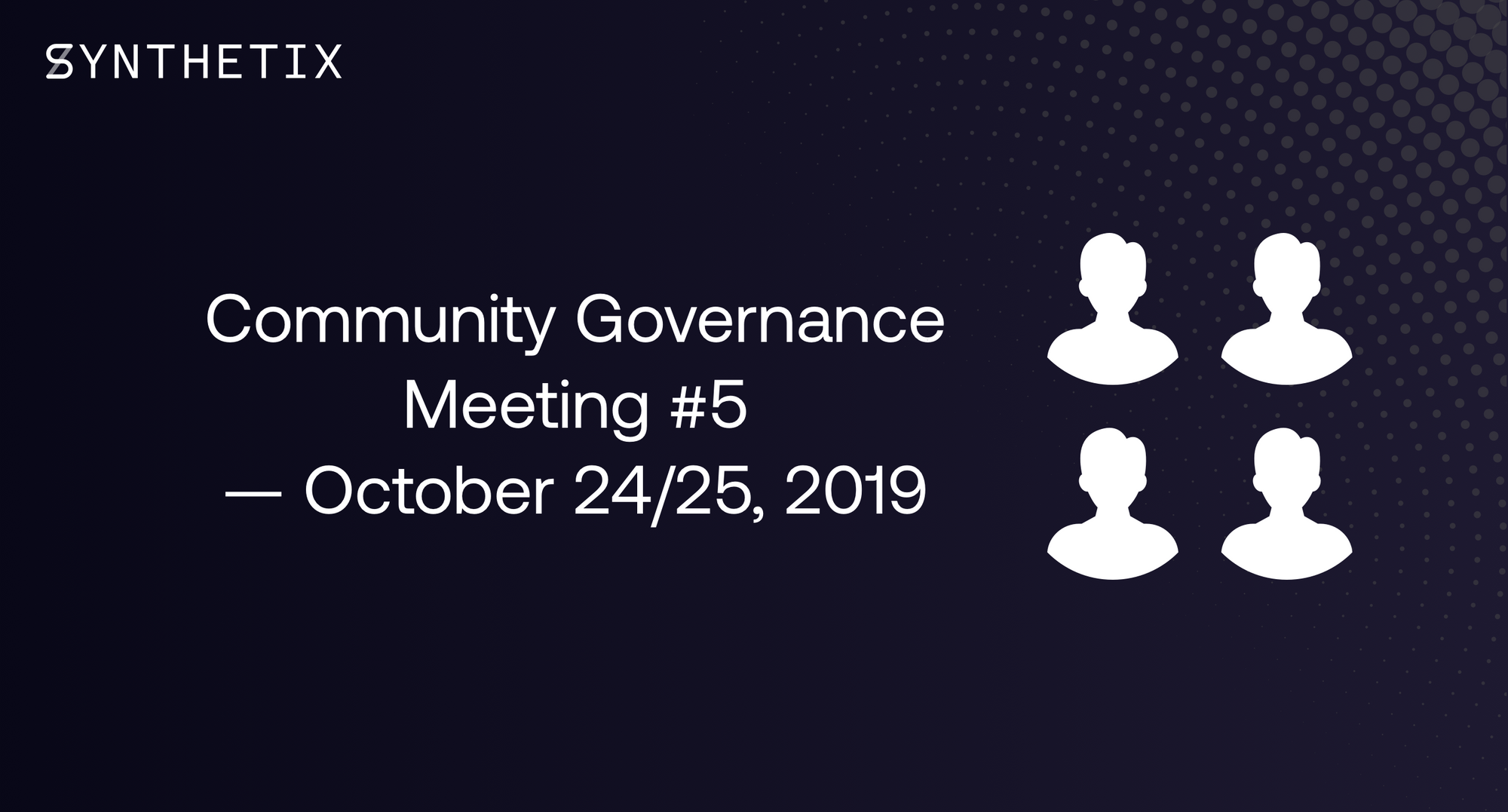 Update (30/10/2019): you can watch the full governance call here.
The next Synthetix community governance call is scheduled for October 24/25 (timezone dependent), and there's plenty to discuss.
Here are the times:
San Francisco: Thursday, October 24, 4pm
New York: Thursday, October 24, 7pm
Central Europe: Friday, October 25, 12am
Singapore: Friday, October 25, 7am
Sydney: Friday, October 25, 10am
You can join the call here using Zoom (desktop app required). Here is the agenda for the meeting:
Updates

Point Synths to Synthetix proxy and FeePool proxy
bytes32
Recover $2.9k from nUSD transfers
Remove transfer fee code
Frozen sETH migration
Holders to contact support
Schedule old system to be attached for small withdraw window TBD
Using TheGraph for the dashboard (issue-254)
Chainlink Update
Mintr v2
sX v2
Coinbase Wallet integration
Synthetic positions
Open Issues

SNX monetary policy (issue-36)
Smoothening schedule
Perpetual inflation
ETH collateral (issue-232)
What should the C-Ratio be?
What should the minting fee be (if any)?
What should the debt ceiling be set to as a % of total debt?
How should the APR be calculated on ETH collateral?
Decentralised proxies (issue-235)
SIPs

Rigil Release
Other SIPs
Gitcoin Bounties
SNX Staking Pool - In progress
Uniswap Atomic Swaps - In Review
Gas Opt R&D Complete - Integration
Next priorities
If you've got any questions or suggestions ahead of the call, come join us in Discord!