Enter our eStore Competition!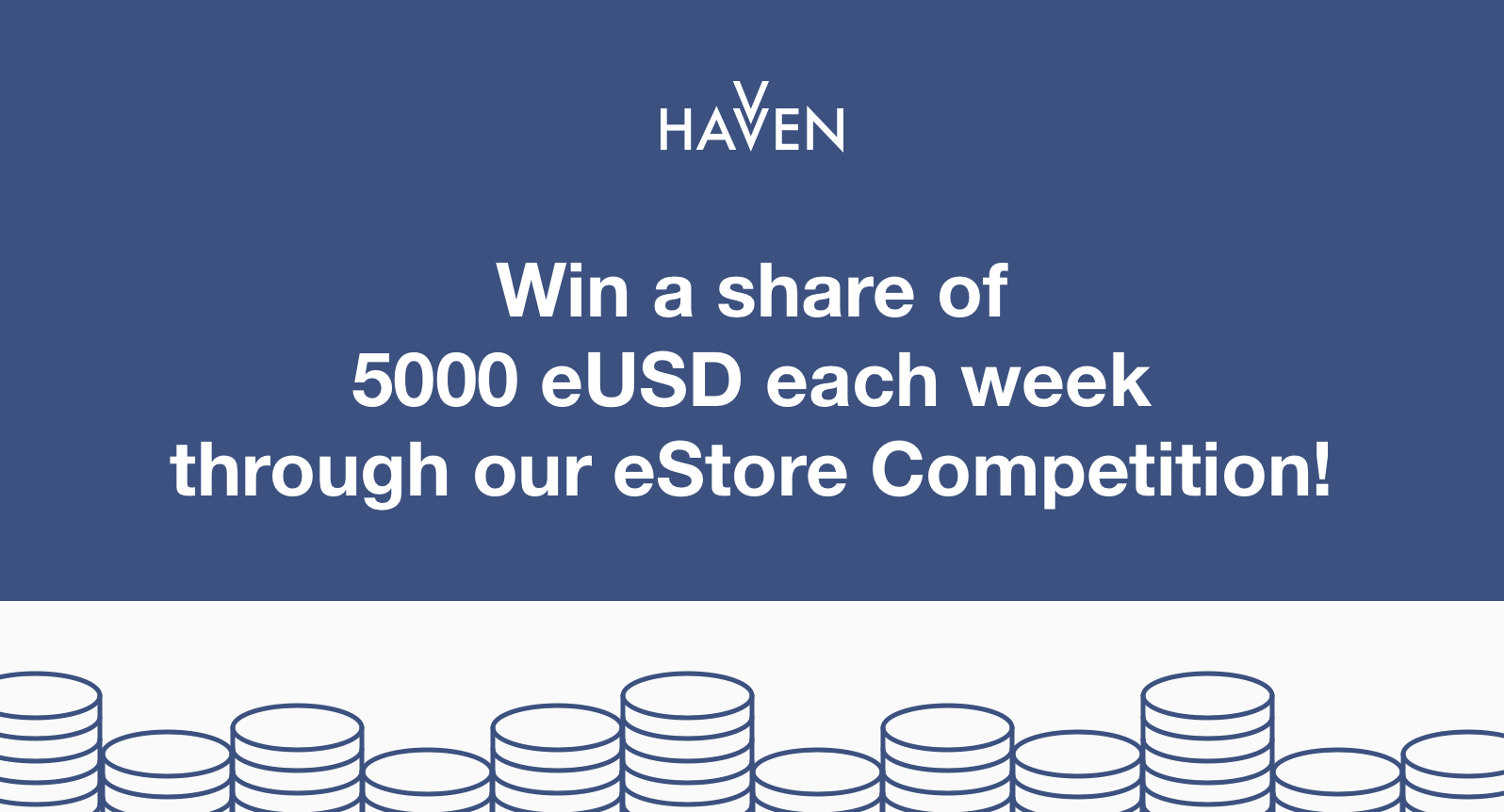 Last week we announced the addition of Apple products to the Havven eStore as well as our stablecoin/eCommerce partnership with ALLDAYZIP. We believe these announcements represent a milestone for Havven and the future of stablecoins, as the volatile nature of cryptocurrencies has limited the penetration of cryptocurrencies in eCommerce in the past. The success of stablecoins in this area will be key for market penetration.
The feedback we have received from our partners and followers has been great about the eStore as a proof of concept for a stablecoin's compatibility for eCommerce. We'd love for as many people as possible to make a purchase using the eStore, so we've decided to launch a competition to encourage people to give it a go!
Entry Rules:
1) Fill out the enrolment form to participate in the competition at https://competition.havven.io
2) We require a valid and verified email address and your unique Telegram username for the announcement. We require a unique Telegram username as that is what will be announced publicly for the winner.
Please note: Telegram usernames must be manually set by the user in Telegram Settings. A username is not the same as your display name — it is preceded by an '@' symbol and it cannot contain any spaces.
3) Make at least one purchase in the Havven eStore (a detailed guide on how to use the eStore can be found here). This can be any product in the eStore, and the cost of the purchase does not affect the weight of your entry. Purchases made before the competition's opening are also valid for an entry. Please note: you will need to use the same email address that you used when entering the competition.
How the Competition Works:
1) The competition will run twice for one week each, and at the end of each week we will make an announcement of the winners. The dates are May 15–21 (winners announced May 23) and May 22–28 (winners announced May30). All dates are measured in PDT time.
2) All eligible enrolments are eligible for each draw made after their entry. For example, if you enter in Week 1 but fail to win, you can still win in Week 2.
3) Your purchase will give you one entry to the draw, however you can invite as many friends as you can and once they enrol and make a purchase, you'll also get an extra entry. There is no limit to the total number of referrals you can have. If you manage to refer 100 people who make purchases and enter the competition, then you'll receive an extra 100 entries.
Please note: a referral must directly use your referral link to enter if they are to count as a referral.
4) Each Wednesday following a week of entries, we will randomly select 3 winners. If you entered the competition and made a purchase but didn't refer anybody, then you will have one entry; if you entered the competition, made a purchase, and referred 100 people, then you will have 101 entries. There is a total of 5000 eUSD to be given out each week, allocated in prizes of 3000 eUSD, 1500 eUSD, and 500 eUSD. Of the three winners that are randomly selected, whichever winner had the highest number of entries will receive the highest prize, and so on for each winner.
5) The 3 lucky winners will be announced each Wednesday (the day after the week of competition ends) on Telegram. Prizes will be transferred to your ERC20 wallet address that you made a purchase with in the eStore, unless you request otherwise. You can either spend the eUSD prize in our eStore or convert it into to ETH, which can be done with our converter tool.
Additional Details
We have introduced Free Shipping on all items.
We have introduced a note section in the cart, so if you have a specific requirement for customs please note it there so we can add it to your order.
There have been a few questions about Apple products from US residents (Apple products are only available to US residents). The Apple products are being purchased from an Australian entity, and delivered by an American entity, so there is no state tax on your orders. They'll be shipped directly to you for the price displayed in the eStore.
We have added $3 Havven stickers to the eStore to increase accessibility.