Case Study: Polynomial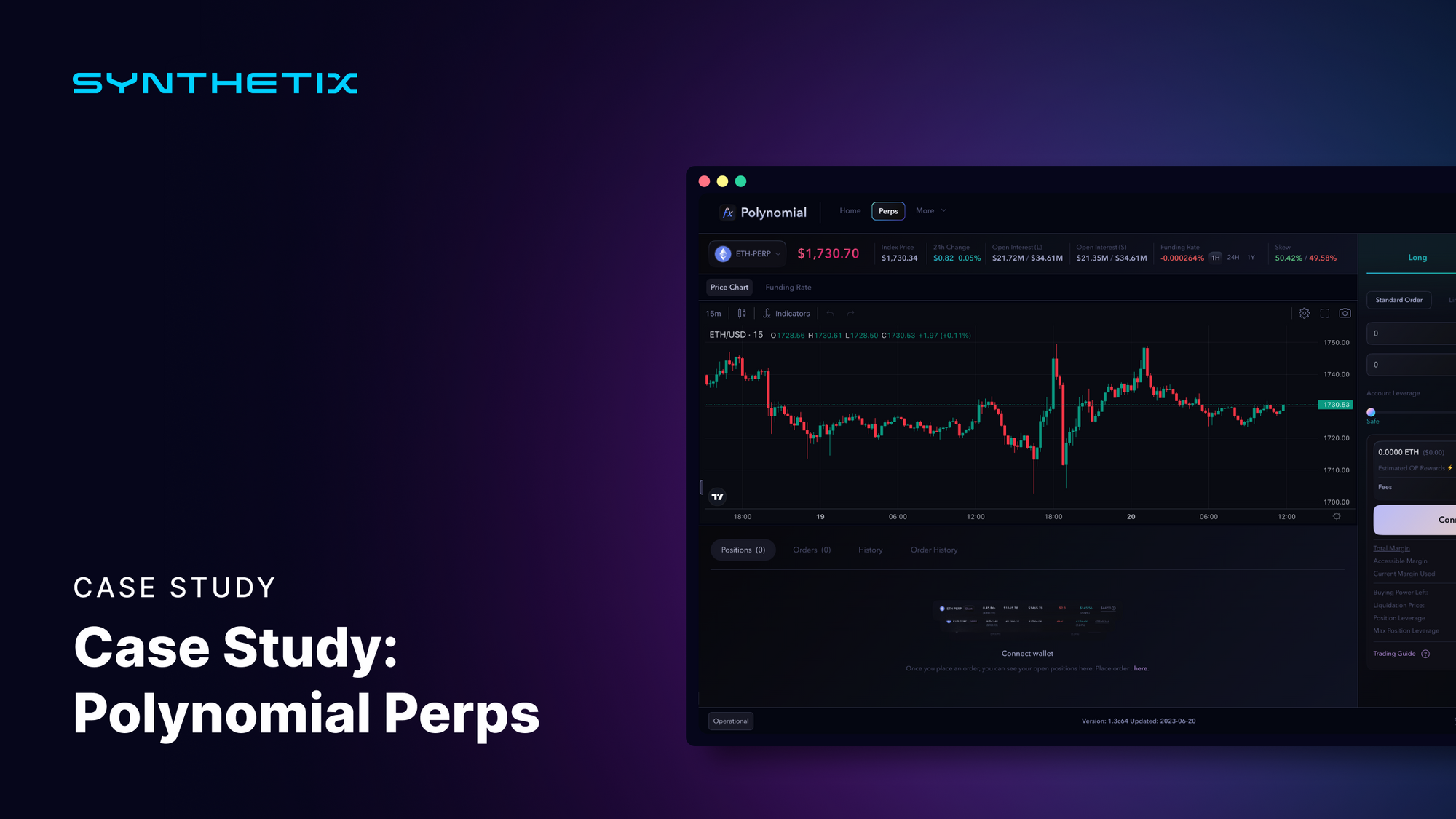 Synthetix Perps were designed to power the most efficient perps markets in DeFi. Synthetix developed a composable market and added partner fee share with the idea that any competent team could integrate them into their own trading platform or on-chain financial instrument. Polynomial has done just that, leveraging Synthetix to power their Polynomial Trade platform while building enhancements like their Smart Wallet to enable advance orders and more easily manage margin across perps markets. With additional features in the pipeline, Polynomial demonstrates what is possible with Synthetix Perps.
About Polynomial:

Polynomial began at HackMoney 2021, hosted by ETHGlobal, with a bold notion: to enable people worldwide to effortlessly and safely purchase on-chain derivatives. Their team has consistently aimed to make derivatives available to all and to offer the most user-friendly onboarding process for the next generation of DeFi users.
Why the Polynomial team chose to build on Synthetix

Synthetix is an OG DeFi project which has survived for many years. The team has been helpful since the beginning, and their technology offers a lot of opportunity to build better on-chain derivatives.

The futures market in centralized finance is worth trillions of dollars, but in the DeFi space, it is still in its infancy. DeFi has yet to offer a user experience that matches that of CeFi, until now.

While Synthetix has developed impressive technology as a protocol built on top of the system, we felt that the product needed a better user experience for traders. Additionally, Perps will play a significant role in Polynomial's upcoming launch of the Power Perps platform, positioning Polynomial as a powerhouse in DeFi derivatives.
Results:

In the first 30 days after launching, Polynomial drove over $75,000,000 in notional volume across over 3,300 unique trading addresses; contributing over 40% of the unique users during this period. Additionally, as the first front end partner to deploy limit orders, Polynomial saw approximately 2,750 limit orders placed during this period as users tested the new feature.

Shortly after 30 days from launch, Polynomial broke through $100,000,000 notional volume and has continued to drive growing daily trade volumes.

Since then, Polynomial has surpassed $200,000,000 in a single day, which was the highest amount of any onchain perps DEX that day, while surpassing $1b in total notional volume.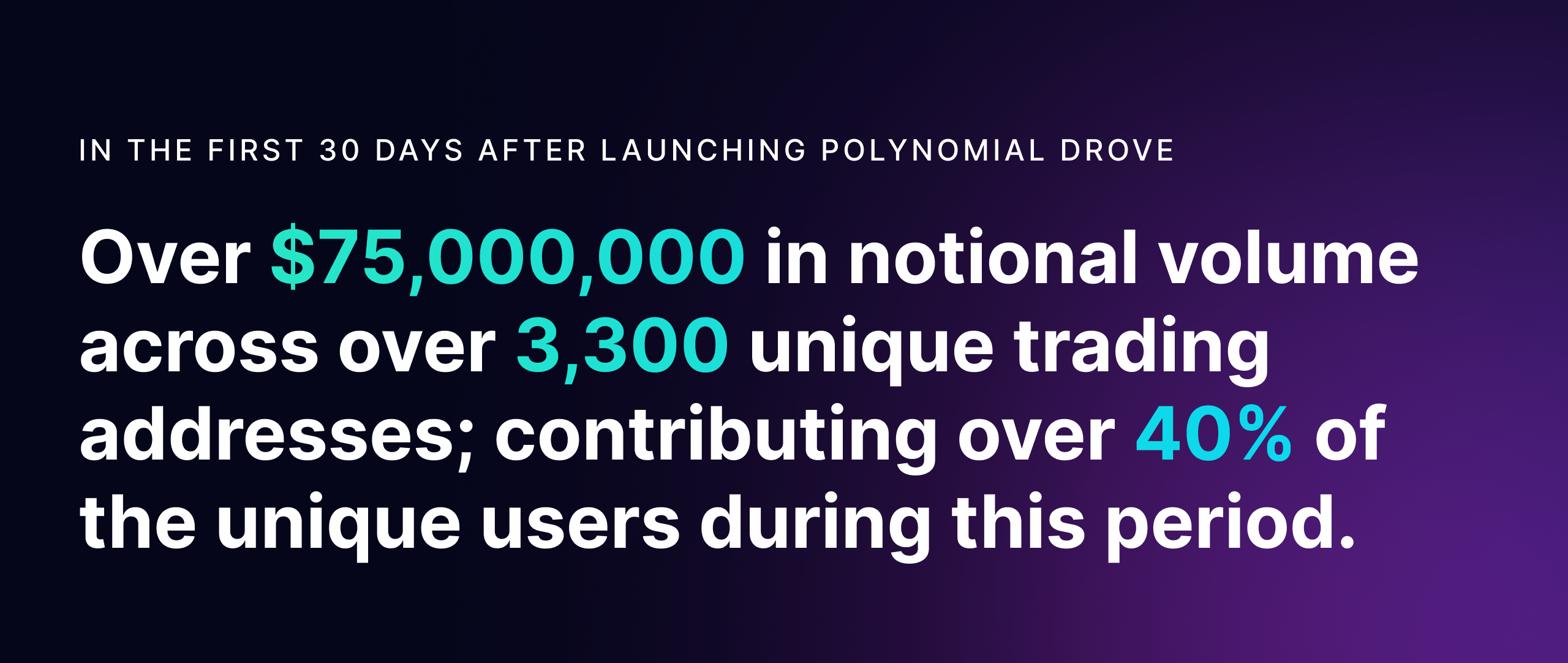 What's Next:

Polynomial continues to drive new users and growing volume. Their team is gearing up to introduce some distinctive products to the Synthetix ecosystem. Among these, the Polynomial Power Perpetuals are highly anticipated and are currently under development. These derivatives offer convexity benefits and do not have expiration or strike prices. The upcoming release in late 2023 will include products like ETH², BTC², and others.
Moreover, basis trading is a highly profitable strategy in the financial derivative industry, and Polynomial recently introduced a convenient, one-click funding rate arb feature within its UI . This feature will allow traders to earn positive funding while maintaining a delta-neutral strategy.


Get involved:
If you are looking to build on Synthetix Perps, here are some helpful links:
Synthetix Perps Hub: Synthetix.io/perps
Perps Integration Guide: https://docs.synthetix.io/integrations/perps-integration-guide
Talk to the Synthetix team in Discord: https://discord.gg/synthetix