Announcing the nUSD Airdrop Campaign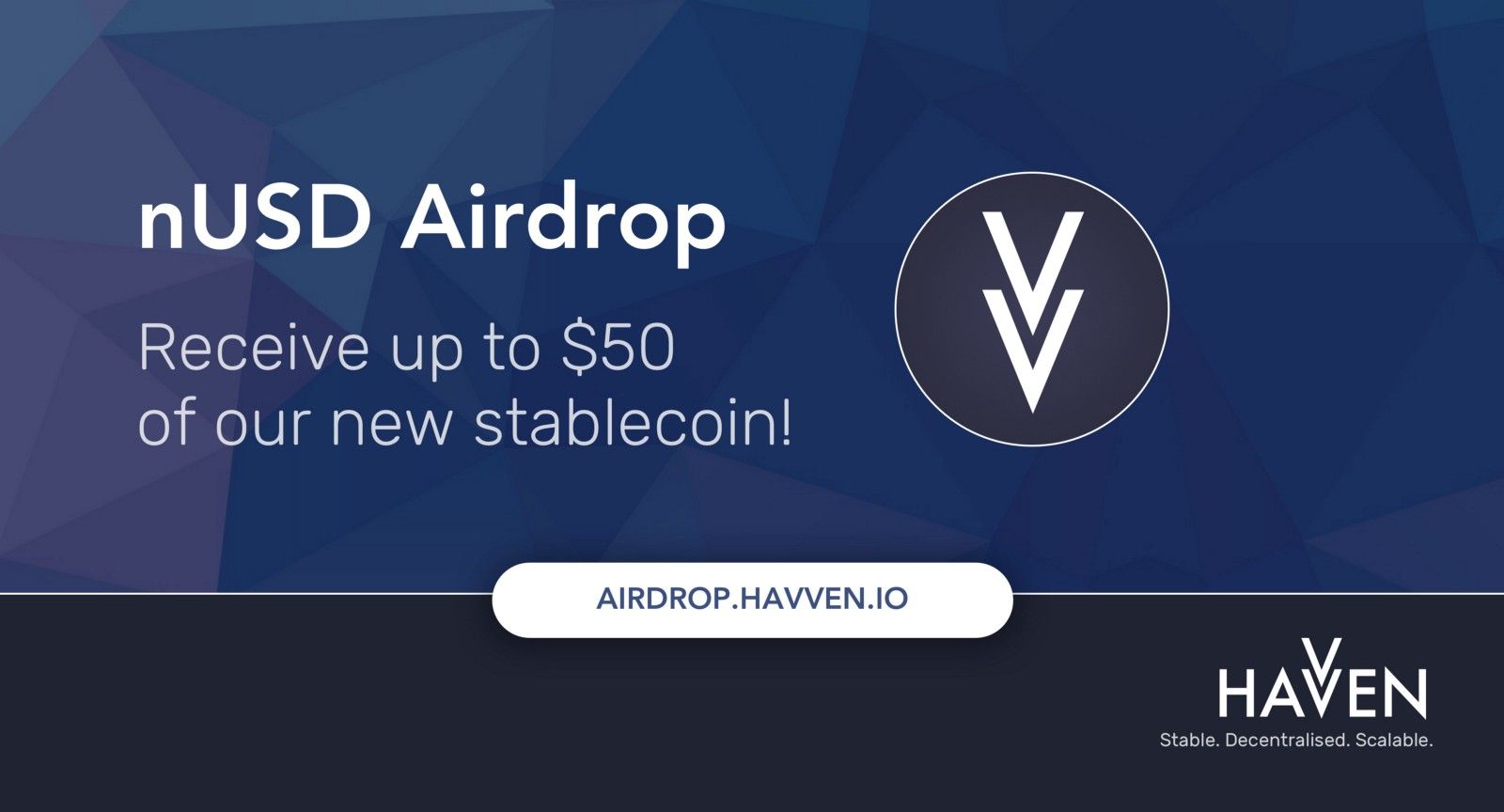 Having launched nUSD, our stablecoin, last week, we are excited to announce an nUSD airdrop for havven-holders! This is an opportunity to encourage circulation of nUSD, as well as rewarding everyone who sees the benefits of the Havven payment network.
How to join
Go to our airdrop page at https://airdrop.havven.io between June 16 (00:00 UTC) and June 26 (00:00 UTC). Update: We have extended the entry window until June 29 (00:00 UTC).
Enter using a unique email address.
Submit a valid ERC20 wallet address that holds (or will hold) a minimum of 25 HAVs.
Submit a valid and unique Telegram username and join our Telegram group: Havven Official.
However many HAVs you hold, you will receive 20% of that value in nUSD, up to a maximum value of 50 nUSD. So, for example, a participant who holds 80 HAVs (at a value of $0.50) will receive 8 nUSD.
nUSD will be distributed to eligible participants in the first week of July. Update: Due to the extension we added here to the entry window, distribution is anticipated to occur by mid-July.
Rules
There will also be a referral bonus, in which you will be provided with a referral link to send to your friends. If another eligible participant signs up for the airdrop using your referral link, you will receive 10% of their HAV value in nUSD, still up to a maximum total value of 50 nUSD (including your airdrop allocation). For example, if a participant who has 80 HAVs (at a value of $0.50) enters and refers two friends who have 20 HAVs each, the first participant will receive 8 nUSD for their entry and 1 nUSD for each friend, bringing his/her allocation to a total of 10 nUSD.
Participants' submitted wallets must hold a minimum of 25 HAVs on June 27, which is when we will check the balances of submitted wallets.
Submitted wallets cannot be exchange wallets.
Participants' submitted Telegram usernames must be valid and unique. [n.b. Telegram usernames must be manually set by the user. To do this, go to Settings and submit a username.] Anyone who simply submits their non-unique Telegram display name will not be eligible. Participants must be in our Telegram group on June 27, when we will check the group members. Update: due to the entry window extension, we will now be checking the group members on June 30.
The airdrop is only open to the first 50,000 participants. Don't miss out!
Havven reserves the right to eliminate participants with fake email addresses, fake Telegram usernames, scammers, and new wallet addresses created specifically to maximise the number of tokens received in the campaign.
If you have any more questions about the airdrop, please ask our friendly community moderators on Telegram. Happy airdropping!