All Synths are now powered by Chainlink decentralised oracles
The next phase of the partnership between Chainlink and Synthetix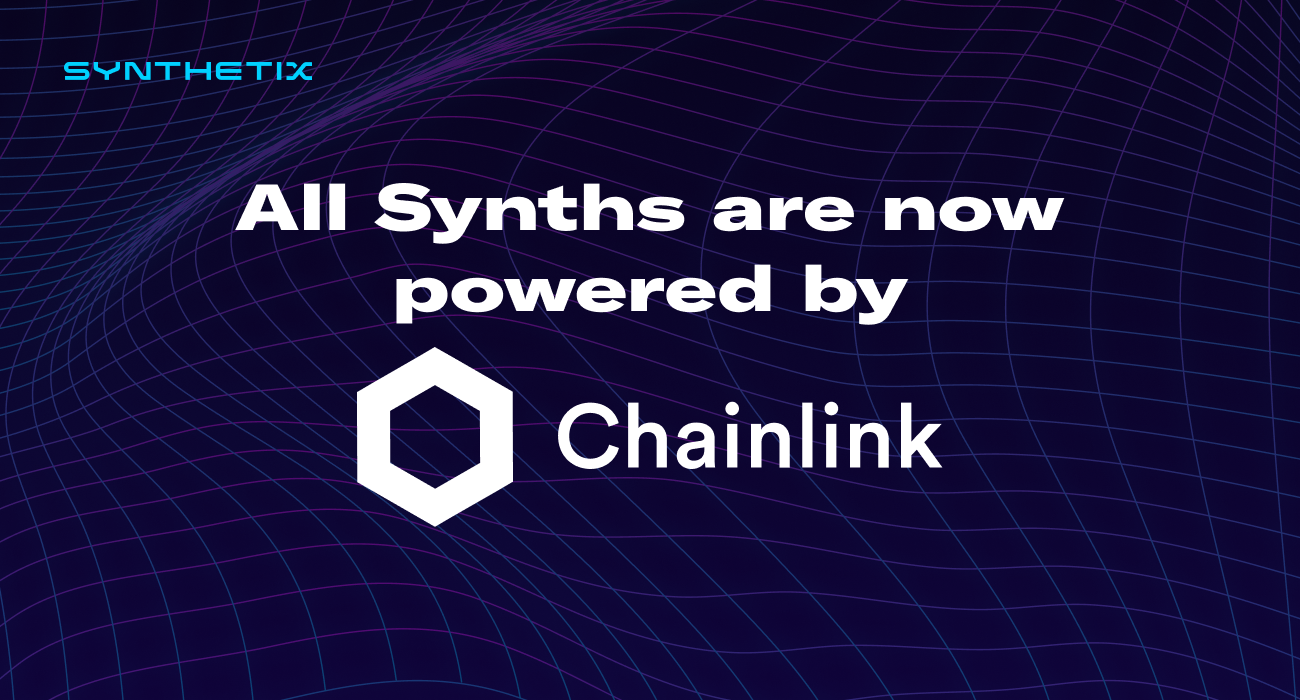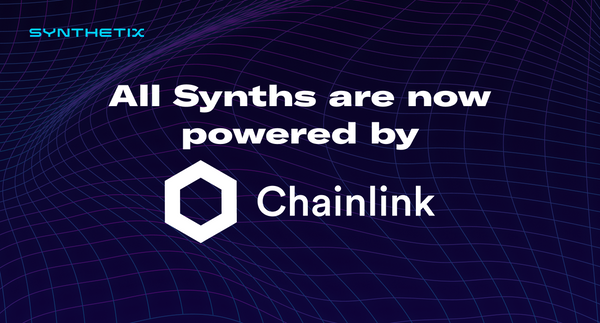 We are excited to announce that after an eight-month successful implementation of Chainlink's decentralised price oracles for our commodity and FX Synths, we have now switched the rest of our price oracles over to Chainlink as per SIP-36. This includes price feeds for all cryptocurrency and index Synths.
This marks a major milestone in the development of the Synthetix protocol, removing any centralised dependency on our core contributors in regards to running the oracle mechanism, another crucial step in transitioning to decentralised governance.
Oracles are a critical component to our success, as every trade on Synthetix is dependent on the price feeds delivered by oracles. Since integrating Chainlink's Price Reference Data, our commodity and FX synths have successfully maintained accurate, tamperproof valuations in accordance with the real world market price of their underlying assets, even during times of high volatility.
Over time, as the value locked in Synthetix has risen, we have been able to successfully scale the security and reliability guarantees provided by Chainlink's oracles, lowering the deviation threshold for on-chain updates to obtain even more precise prices. This has given traders on Synthetix.Exchange stronger assurances that they are always receiving the most up-to-date market price.
Since the initial integration, Chainlink has become the standard oracle mechanism powering most of DeFi, currently securing over $3B in USD value. We are confident that Chainlink will continue to be the most secure and reliable oracle mechanism in the market, providing the Synthetix protocol with strong guarantees that all assets are backed by high-quality price data with high availability, resistance to manipulation, and transparency.
Moving forward with Chainlink allows our oracle mechanism to scale up alongside the value locked up in the total debt pool, particularly across three key metrics: security, asset selection, and costs.
Security: Chainlink can easily onboard more oracle nodes and data providers as the need for greater security arises, protecting stakers and scaling up the amount of Synths that can be minted.
Asset selection: Chainlink's proven price reference framework can be used to quickly and reliably launch additional price feeds, allowing them to support nearly any new synthetic asset the Synthetix community wants to trade.
Costs: Synthetix can benefit from the shared economic model of Chainlink Price Reference Data contracts, wherein multiple projects collectively finance common price feeds. This provides a more sustainable solution aligned with the growing DeFi space, as each new data consumer lowers the costs for all existing users.
We look forward to working with the Chainlink community to maintain our existing price feeds, onboard new asset classes, and build out more secure and reliable price feeds to make Synthetix the leading liquidity derivatives protocol in DeFi.
Further information
You can learn more about Synthetix by reading the litepaper, visiting the new website, following Synthetix on Twitter, or joining the Spartan community on Discord.
If you're a developer and want to quickly get your application connected to Chainlink Price Reference Data, visit the developer documentation, and join the technical discussion in Discord. If you want to schedule a call to discuss the integration more in-depth, reach out here.  Learn more by visiting the Chainlink website or follow them on Twitter or Reddit.