Use sAUD for payments with RelayPay
Learn how you can start using your sAUD!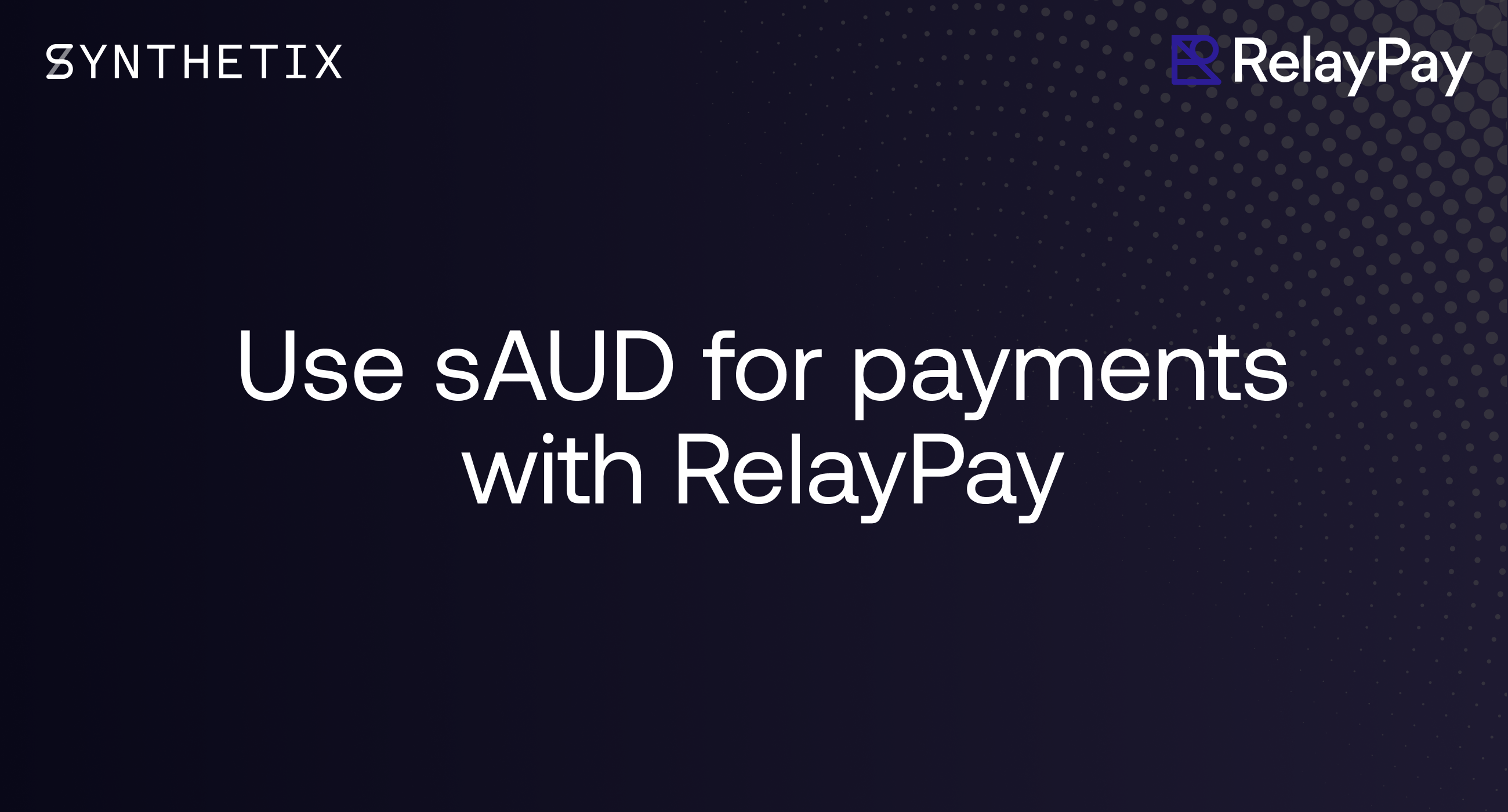 Synthetix has partnered with RelayPay, an Australian payments company building infrastructure and interfaces to bridge the gap between cryptocurrency and traditional finance. RelayPay allows users to use their cryptocurrency to pay bills, credit cards, bank transfers, and withdraw cash. The partnership between Synthetix and RelayPay will add support for sAUD in addition to BTC and ETH, allowing RelayPay users to spend sAUD in a variety of ways external to crypto.
The integration adds further value to the assets in the Synthetix protocol, which were already available for trading on Synthetix.Exchange with infinite liquidity and no slippage. sUSD is already shaping up to be the most censorship resistant stablecoin in the ecosystem, and now sAUD can be used in the physical world, and can be used with the growing range of financial instruments available in the DeFi space, such as lending.
RelayPay is currently building its on-ramp solution, which will support BTC, ETH, and sAUD. Based on user feedback and demand, RelayPay may also look to support other synthetic assets (Synths) from the Synthetix ecosystem.
RelayPay is currently available for users based in Australia, United States, China, Germany, United Kingdom and New Zealand, with support for AUD bank accounts only. This support will expand in the coming months, but in the interim, users outside Australia can still access an sAUD off-ramp by opening AUD denominated accounts through solutions such as Revolut and Transferwise.
RelayPay's Founder and CEO is Charlie Karaboga, former Head of Product at Synthetix. Jordan Momtazi (Partnership at Synthetix) and Kain Warwick (Founder of Synthetix) are also involved helping with strategy and growth.  
More about RelayPay
Relaypay is a new crypto payment solution, aggregating pricing from the world's largest crypto exchanges and presenting the best rate for users in real time. In other words, it's a purpose built 'exchange engine' for buying and selling crypto at the best rate.
To learn more about RelayPay, visit their website and join their Discord or Telegram.