Update: nUSD Airdrop Distribution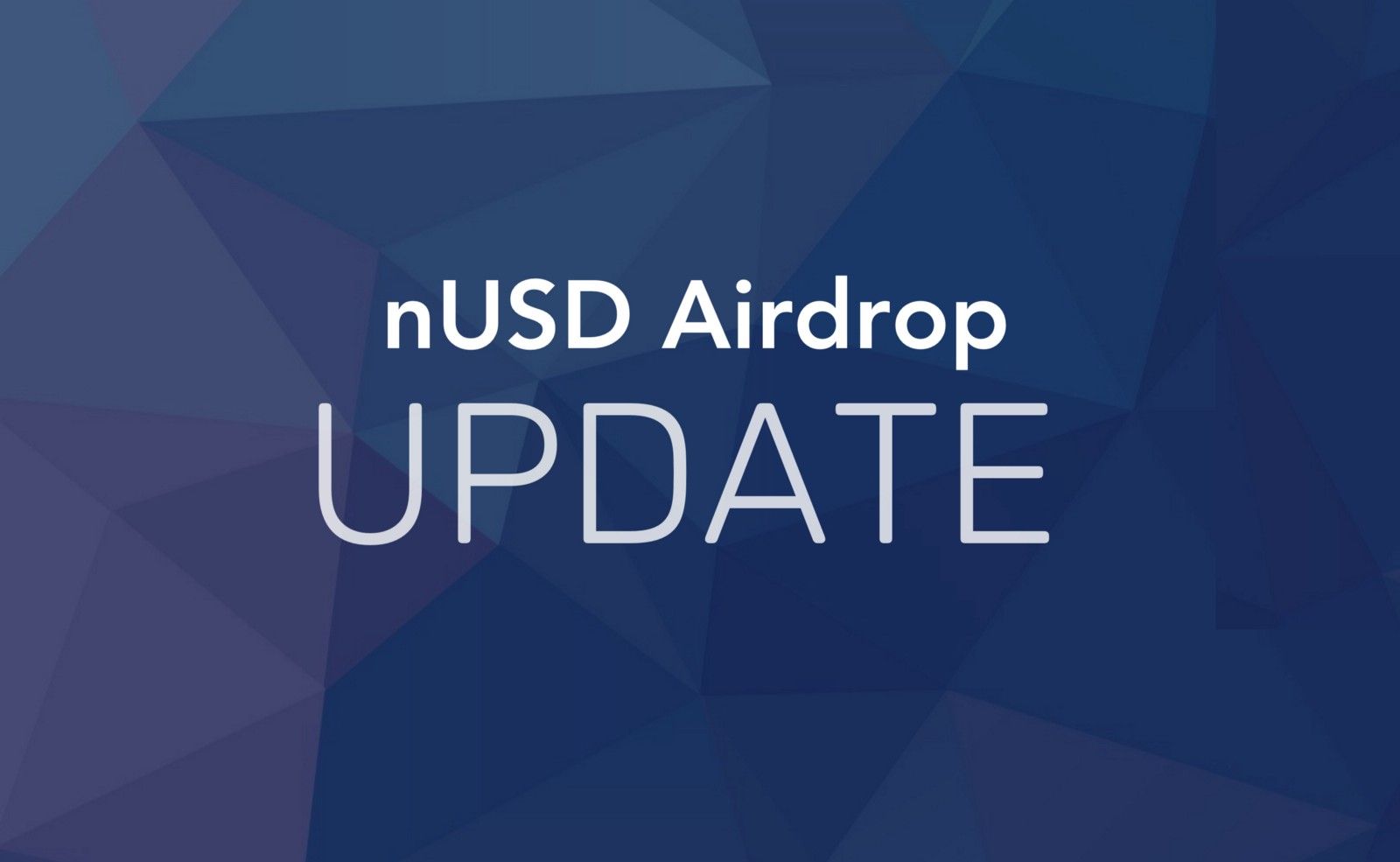 We have now completed the nUSD Airdrop distribution to eligible participants. Please read on for more details about the distribution process, the eligibility criteria for the airdrop and how to check your nUSD balance.
The Airdrop
The airdrop campaign was an opportunity to encourage circulation of nUSD, as well as reward those who supported and recognised the benefits of the Havven payment network.
The campaign ran between June 16 and June 29 offering HAV holders a 20% share of nUSD, proportional to $ value of HAV they held in their wallets (up to a maximum value of 50 nUSD).
There was also a referral bonus, in which you were provided with a referral link to send to your friends to receive 10% of their HAV value in nUSD, and still up to a maximum total value of 50 nUSD (including your airdrop allocation).
For example, if a participant who had 80 HAVs (at a value of $0.50) entered and referred two friends who had 20 HAVs each, the first participant would receive 8 nUSD for their entry and 1 nUSD for each friend. This would bring his/her allocation to a total of 10 nUSD.
Eligibility
The primary eligibility requirement was that entrants were required to hold at least 25 HAV. Participants were also required to hold HAV in their nominated wallets until the end of June 30. This is so the balances of nominated wallets could be checked. For more information about the nUSD airdrop eligibility requirements, click here.
Distribution
Here is a numerical breakdown of participation and eligibility in the airdrop:
Total airdrop form submissions: 27,082
Eligible airdrop submissions: 3,334
HAV price snapshot on end of 30th June: 0.315580 (based on CMC data)
Total nUSD distributed to eligible participants: 67,112 nUSD
Average nUSD distributed per participant: 20.12 nUSD
During our review, we realized that some of the participants couldn't purchase enough HAV to meet the 25 HAV requirement to participate the airdrop. We therefore decided to distribute 1 nUSD to these 1,903 HAV-holders.
How to check your nUSD balance
Once you receive your nUSD tokens, the best way to check your nUSD balance is by using MyEtherWallet. If you successfully participated the nUSD Airdrop campaign,
Go to MyEtherWallet and go to the View Wallet Info page.
Enter your public key, press View Balance to continue, and scroll halfway down the page.
Press "Show All Tokens" and "Click To Load nUSD." It will display how many nUSD you have in that wallet.
If you would like to see a record of your transaction, you can see the details of the token transfers into your wallet on EtherScan.
Go to EtherScan
Type the ERC20 Wallet address you provided during the Airdrop into the search area on the top right corner of the Etherscan home page and click "GO".
On your wallet screen, click the Token Transfer tab and your nUSD token transfer details will be listed with the number of tokens distributed.
Participants who didn't receive nUSD: If you did not receive nUSD in your wallet, it means your submission was not successful due to not having met the airdrop requirements listed here. We flagged a number of entries as fraudulent based on number of internal measures such as duplicate Telegram accounts and wallet addresses.
What can you do with nUSD?
So you are now an owner of nUSD — what exactly can you do with this? Some suggestions are noted below:
You can start trading. nUSD is now listed on KuCoin — you can see detailed information about this listing here.
The Havven eStore now accepts nUSD for purchases. You can order Apple products (only distributed to the USA), Havven branded TREZOR wallets or Havven merchandise from the Havven eStore.
Havven's recently announced partner, Bamboo, will accept nUSD as part of a private tokensale exclusive to the Havven community, with a 20% bonus. Note: the private tokensale is has been extended to Sunday midnight (UTC), 15th July, to allow contributors to acquire nUSD from KuCoin.