Thales Secures Seed Funding From synthetixDAO!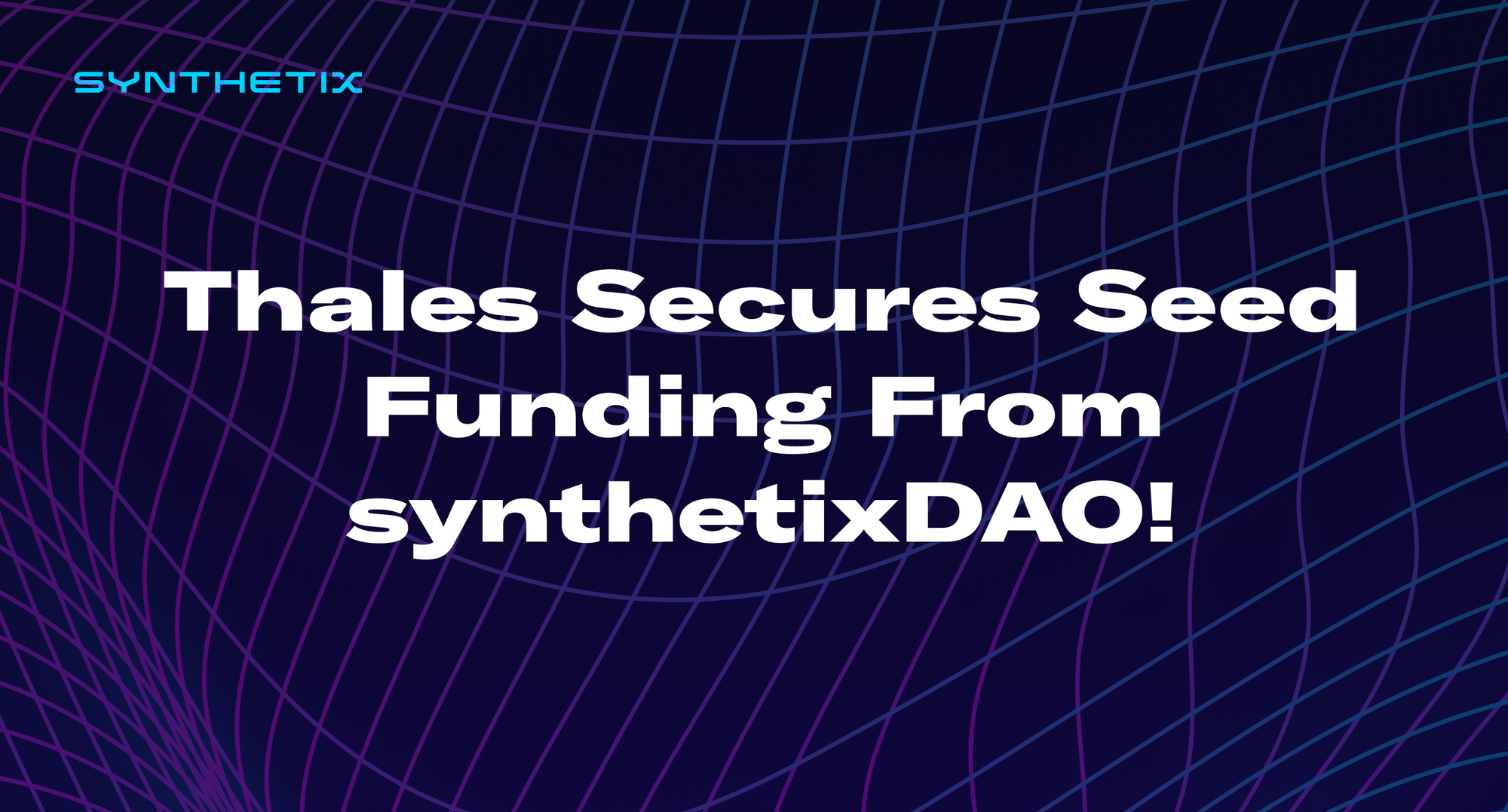 Binary options re-imagined
Spartans that like to closely follow Synthetix development may be aware of the release of binary options as part of the Acrux release in June 2020.
The Synthetix Core Contributors quickly moved on to developing the core protocol and the much needed love and attention (for such a large market opportunity) was not provided to the binary options product.  
Initially, and up until now, binary option position tokens could only be swapped through an OTC (over the counter) transaction, without an on-chain marketplace as an alternative.
Later in 2020, the Synthetix core contributors began to seek an external team to develop a trading platform for these binary options and that's where two long-time Synthetix community members, Danijel and Farmwell, decided to pitch in to develop Thales, a non-custodial binary options platform that taps into the infinite liquidity of the Synthetix ecosystem.
Both founders have strong backgrounds related to software development with Danijel bringing more than a decade of experience as a software engineer in Java technologies and Farmwell coming from an enterprise software consulting background specializing in implementing accounting automations.
Thales founders met and became friends in Synthetix Discord. With the onset of the pandemic, they found themselves spending more time online talking about DEFI, its development, and technical challenges. Last fall was the tipping point for them when Farmwell managed to convince Danijel to leave his comfortable role in enterprise software to jointly develop Thales
...and so this epic adventure begins.
Introducing Thales
Thales will bring binary options to life on Ethereum, implementing decentralized order books for traders and market makers to swap their options tokens prior to the expiry date.
The Thales platform will eventually support options trading on Optimistic Ethereum in addition to customized options trading and sports betting (when results can be verified on-chain). The future looks bright on the horizon.
Thales team has grown to include 6 rock-stars and two specialist contributors eager to bring a new vision of permissionless trading to life with binary options on crypto-asset price feeds.
But one second… what does Thales mean?
Thales was an ancient Greek Chad. He was a philosopher, mathematician, astronomer, among other things, and is inspiring to us because he exercised the first recorded options trade in western history.
As tradition has it, Thales speculated there would be a tremendous yield of olives and so bought up the rights to use all the olive presses in the city at bargain prices. The following season produced a huge harvest of olives and windfall profits for
Thales, who sold the rights to use the olive presses at a much higher price.
Thales tokenomics
We, at Thales, resoundingly consider ourselves Spartans to the core.
As fellow long-time Spartans you may be assured that when the Thales token launches, Synthetix stakers will have a privileged position in the token allocation schedule.
The basic outline is:
35% of tokens will be claimable by SNX stakers with minted debt. An SNX staker's pro-rata share of the global synth debt pool will be the primary scaling factor used for calculating how many of the 35,000,000 Thales tokens a Spartan may be able to claim. 15,000,000 are slated for retroactive distribution with linear unlocking and 20,000,000 will be claimable weekly over a 12-month period.
45%, or 45,000,000 Thales tokens, will go toward various incentive programs and yield farms.
20%, or 20,000,000 Thales tokens, will be allocated to the current and future team.
Further details about the Thales token, supply schedule, and potential value accrual mechanisms will be made available closer to the time of the token launch.
Want to be part of this new adventure?
Join the Thales Discord and be part of a journey exploring new frontiers for crypto derivatives!

---
Enter your email below to join our newsletter