Synthetix Volume Program trial extended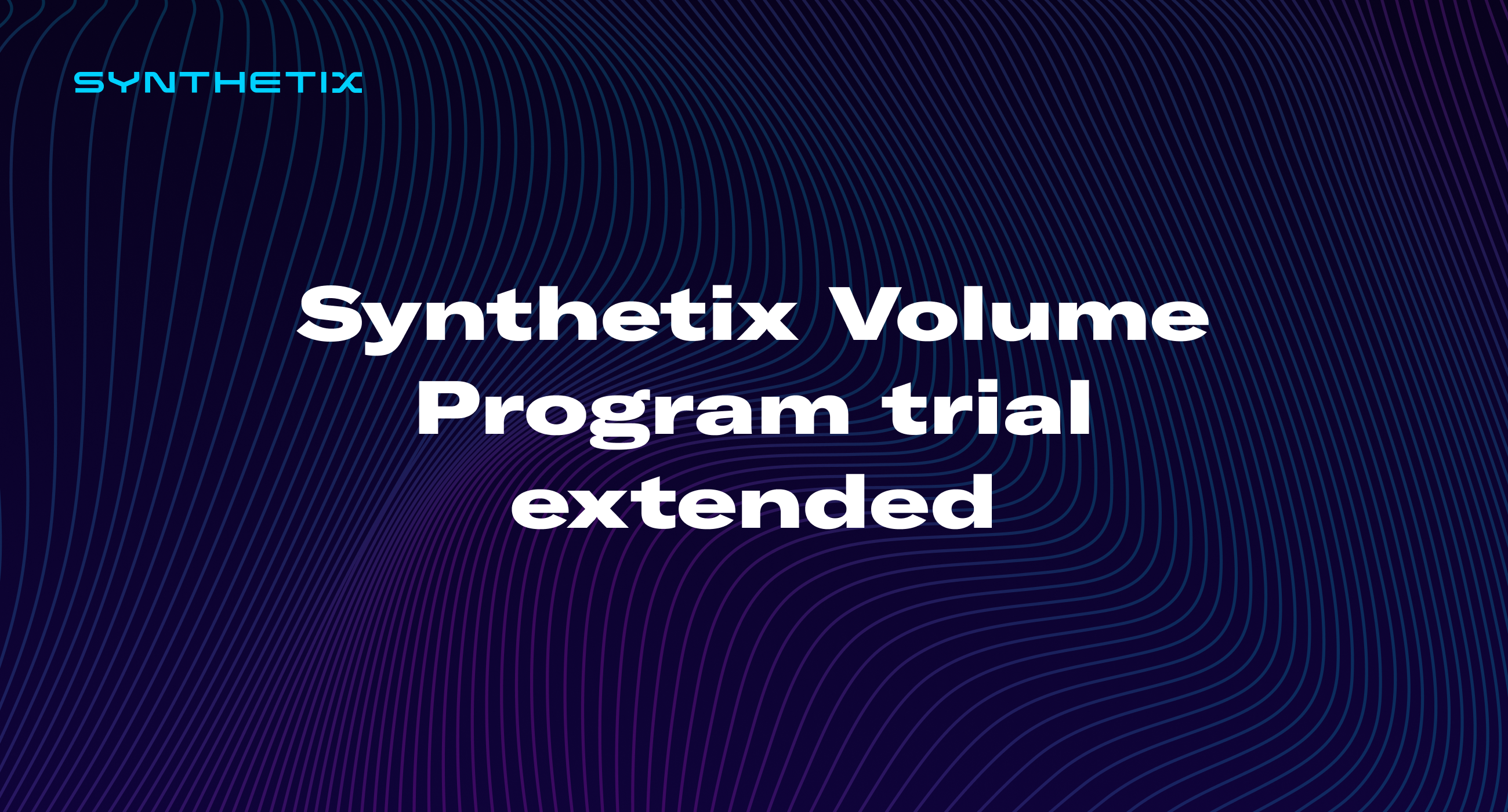 After three months of trialing our new Volume Program, we have decided to extend the trial for another three months as we explore making the Volume Program a permanent component of the Synthetix protocol.
The Synthetix Volume Program is a new initiative designed to incentivize native integration of the Synthetix protocol across DeFi platforms and protocols by providing a new revenue stream for these projects. This program offers a fee rebate to approved integrators who implement Synth-to-Synth swaps natively and generate protocol exchange volume through their interfaces.
Current Volume Program members
There are currently eight projects live on the Volume Program with several more in the process of integrating. The current Volume Program members are:
The Volume Program trial
The structure of the program's trial was as follows:
The program launched Midnight UTC on the 1st September 2020
25% of the net fees paid would be rebated
Rebates would be paid in SNX
Three-month trial
Capped at 100k SNX per month during the trial
The cap may be raised at our discretion
If the cap is hit rebates would be distributed pro-rata
Participants must run a consumer-facing DeFi protocol, app, or website.
Participants must fill out the application form here: Volume Program Application
Once approved participants received a referral code that needed to be included in all transactions
Results
Since the inception of the program, we have tracked 1500+ trades and $26,000,000+ USD from Volume Program members. Soon, we will be adding a section to stats.synthetix.io which will allow anyone to track the performance of Volume Program members.
These statistics are exciting as they reflect measurable growth occurring beyond the output of the Synthetix Protocol's core contributors.
Moving forward
The structure of the program, as outlined above, will remain the same with the addition of one new rule:

11. Participants must produce a minimum of $5 USD worth of Volume Program rewards to qualify for rewards distribution during the trial
Rewards will also be sent out to participants on a monthly basis moving forward.
Join the Volume Program
You can apply to become a Volume Program member by filling out our Volume Program Application Form.
For detailed integration documents, visit docs.synthetix.io.
For more information on the program and integrations generally please reach out on Discord or email integrations@synthetix.io.