SNXweave Weekly Recap 97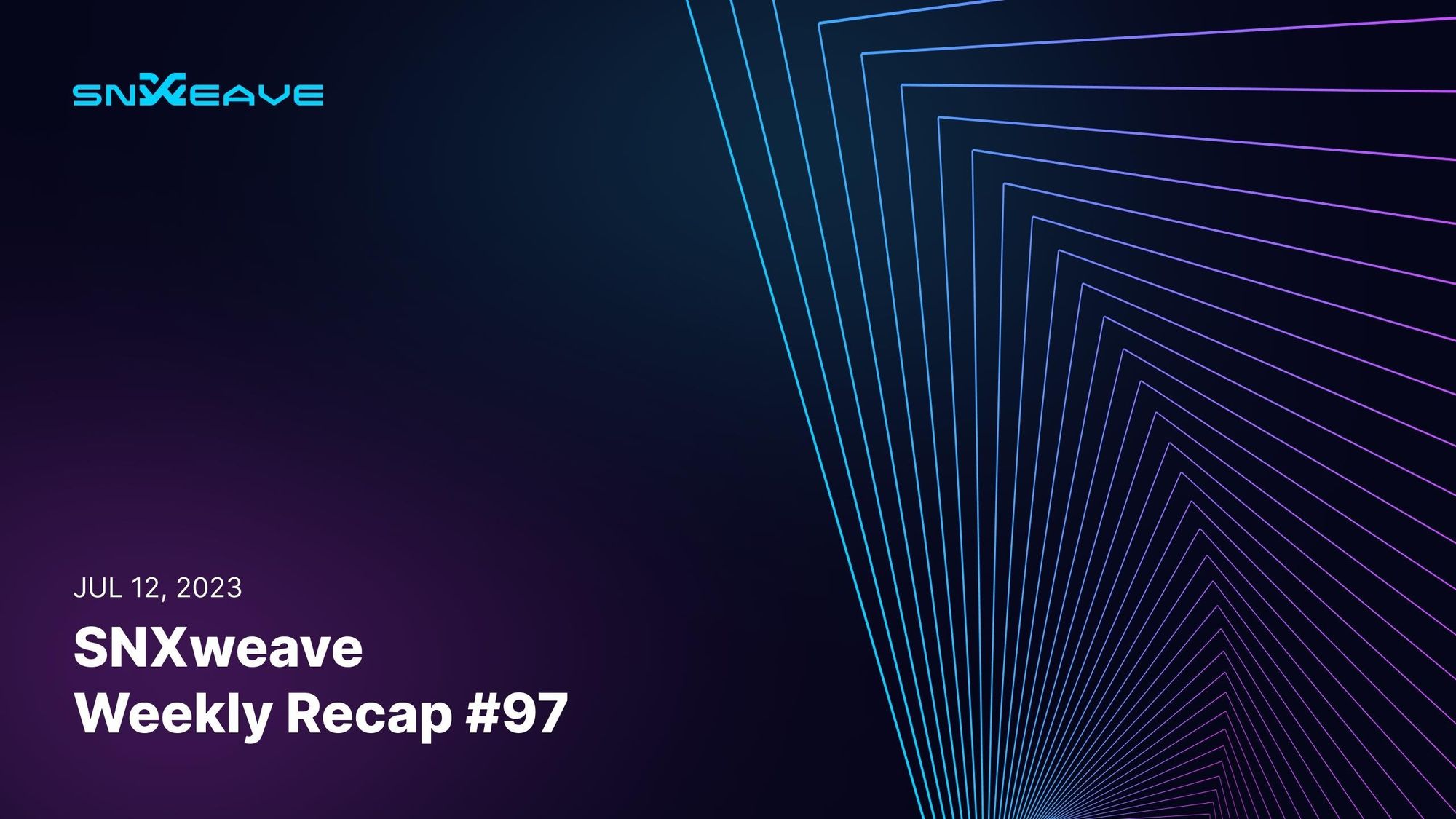 July 12, 2023
The following post contains a recap of news, projects, and important updates from the Spartan Council and Core Contributors, as well as the Grants Council and Ambassador Council from last week.
Spartan Council and SIP updates
Present at the July 5, 2023 Spartan Council Weekly Project Sync:
Spartan Council: Burt Rock, Cavalier, cyberduck, dsacks, ml_sudo
Core Contributors: Afif, jz, KALEB, meb, noah, troy
We've got a quick update for you guys this week — SIPs 326, 328, and 329 have all been voted on and approved, which will now allow work to be finished on the core system upgrades. The teleporter testing has remained successful, and the CCs are also currently processing audit feedback on the legacy market and gnosis safe module.
For Perps V3, the front end interfaces have been finalized! The CCs have been in touch with front end integrators to share details about a testnet competition, and the auditors are currently preparing to review Perps V3.
During the Spartan Council meeting, Cav also brought up the question of whether new pools should be SIPs or SCCPs. Duck said he thinks it's reasonable that they be SCCPs since they're not protocol changes. Noah emphasized that a SIP is an improvement proposal that involves a code update, audit, and testing. Pool additions are just calling protocol functions, and this distinction has been used to classify SIPs vs SCCPs in V2 as well. He added that their hope is for there to be fewer code changes over time so that the majority of what governance is doing is more configuration changes.
Lastly, there was one SIP presentation last week: SIP-2024 to add ETC, COMP, and MAV to Perps V2, presented by GUNBOATs. There was some concern from the Council members regarding the addition of MAV (Maverick Protocol) since the token is brand new and has limited support outside of Binance. GUNBOATs thinks the novelty of it will present an opportunity to capture some early excitement and volatility. Cav acknowledged that the risk is fairly low, but thinks adding a new coin that may not generate significant volume would not be the most productive way to spend CC time. Duck also added that he would be concerned that there is no on chain liquidity. This SIP has since been voted on and approved with all 8 council members voting in favor.
Grants Council
Present at the July 6, 2023 Grants Council meeting:
Grants Team: CT, JVK, synthquest
In Grants Council updates, the team is trying to address the issue with deposits and withdrawals with TipCC. They also had a meeting with a dev who gave them a briefing on requirements for changes and enhancements for the Synthetix Watcher Page. The Council is also discussing solutions for hosting their NFT images, and the NFT Discord channel is ready to go once the minting process begins.
---
Subscribe to our YOUTUBE
Follow us on Twitter! @snx_weave
---
SIP/SCCP status tracker:
SIP-326: Additional pool configuration, Status: approved
SIP-328: Debt Distribution View Functions, Status: approved
SIP-329: Pull Oracle Update Node, Status: approved
SIP-2024: Add ETC, COMP, and MAV to Perps V2, Status: approved