SNXweave Weekly Recap 96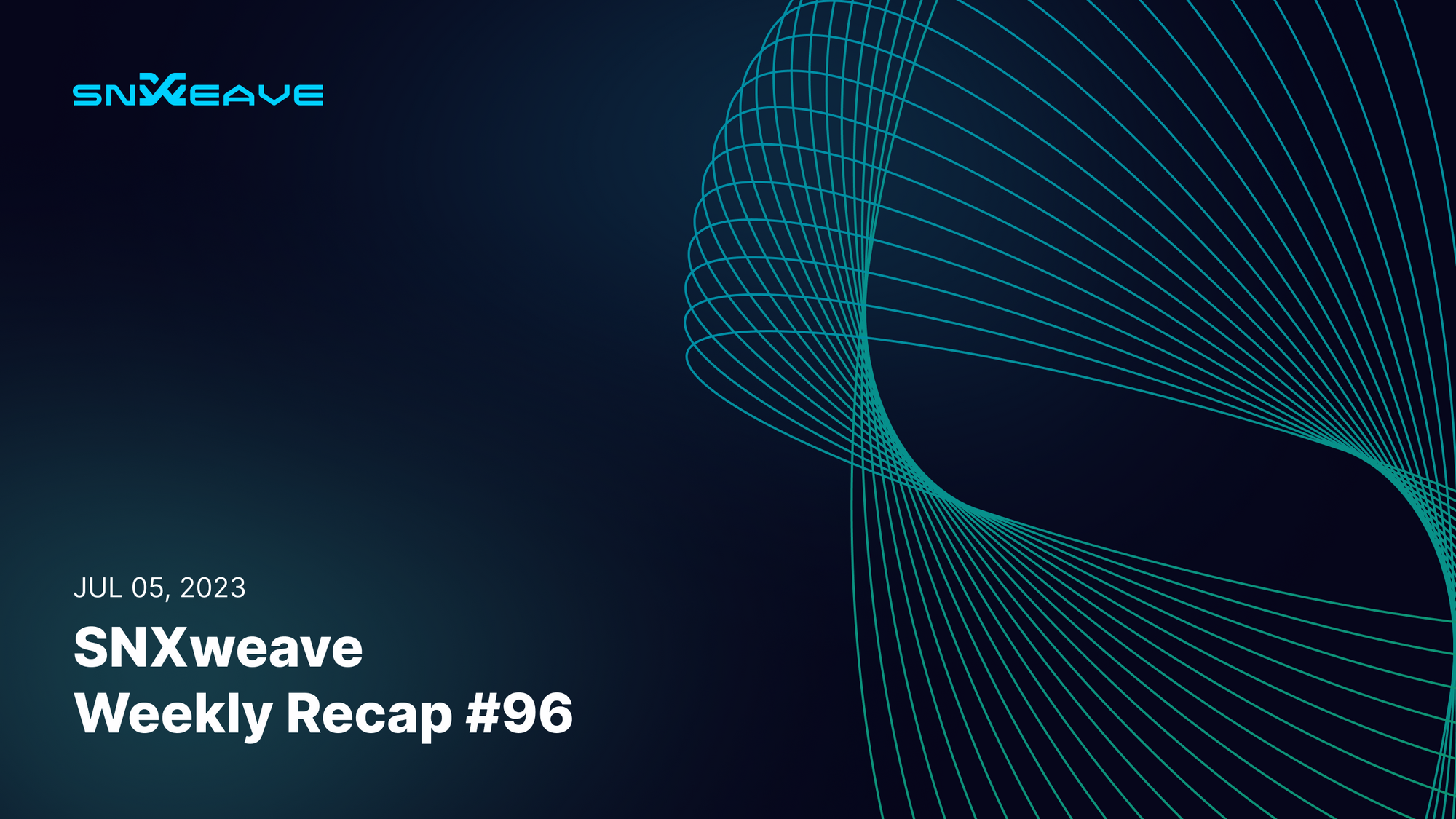 July 5, 2023
The following post contains a recap of news, projects, and important updates from the Spartan Council and Core Contributors, as well as the Grants Council and Ambassador Council from last week.
Spartan Council and SIP updates
Present at the June 28, 2023 Spartan Council Weekly Project Sync:
Spartan Council: Adam, Burt Rock, Cavalier, cyberduck, Danijel, dsacks, Jackson, ml_sudo
Core Contributors: db, jz, KALEB, Max, meb, Mike, noah, Noisekit, sunny, troy
Right now, the top priority is getting Perps V3 in audit, which should happen in a couple of weeks. The only remaining logic component to work out is the cross-margin accounting methodology, after which the code will be frozen. The interface for the smart contracts (front end) is mostly finalized, but more features may be added later, and it should be ready for testnet order execution by the end of the week. The CCs have also synched with Kwenta and they have all of the interfaces they intend to integrate with. Once the Kwenta integration is complete, which should take 2–3 weeks, testnet competition details will be finalized.
The Spartan Council and CCs also discussed some V3 governance updates last week, mainly bringing all the voting and governance completely on chain. A gnosis safe module is currently in audit, and the idea is that each V3 deployment will be controlled by this module, where custom logic will be used to determine ownership and control rights of the safe. The election system would rely on generic CCIP functions to reassign ownership/control rights following an election.
Next up, there were also several SIP presentations last week, so let's briefly review each of them.
SIP-328: Debt Distribution View Functions
This proposal, presented by Noah, entails adding two functions to the Market Manager Module of the Synthetix Core System, which will make it significantly easier for integrators to retrieve data pertaining to pools' market exposure
One of the new functions will return the shares of a market's debt distribution for a given pool and the total number of shares, and the other function will return pools backing a particular market
Being able to more easily retrieve the relative exposure of pools to markets has a variety of use cases
If a market is consistently profitable, this value can signal what share of profits would be distributed to which pools
Overall, this SIP intends to create more visibility around which markets and pools are the most healthy in order to give integrators a better idea of which pools to build on
This is ready for a vote
SIP-329: Pull Oracle Update Node
This SIP will add a new node type to the oracle manager so that clients can automatically replace a transaction with a multicall that prepends fresh price updates from Pyth's pull-based price oracles as necessary
Noah explained that the scaling roadmap for Ethereum is essentially horizontal (lots of L2s), and the purpose of this SIP is to align Synthetix scaling with that roadmap without having to wait on Chainlink to push every price feed
Most of the DeFi ecosystem has been dependent on push oracles, where decentralized oracle networks like Chainlink write prices on-chain at a regular interval or when significant price deviations are observed
Sometimes, however, these prices are not practically usable
ML_sudo asked how this would affect the user experience, and Noah explained that the idea would be for the current UX to remain unchanged, and it's still just a single transaction since it's in a multicall
Adam then asked if this SDK is going to have to be maintained for every front end, and how that would align with the objective of progressive decentralization. Ideally, this would be an EIP eventually, but the SDK is a fairly simple code to maintain and it would ultimately be an optional feature.
This is also ready for a vote
SIP-323: Adopt "s" prefix for Synthetix V3 asset tickers
Millie wrote this proposal to maintain the current standard "s" prefix for all protocol-issued assets through Synthetix V3 and reconfigure the current asset tickers to an "snx" prefix
The aim of this proposal is to preserve the integrity of the Synthetix brand by not deprecating an established and well-regarded set of asset tickers
Cav brought up that changing the stablecoin name may create more confusion for users and the community
Adam suggested instead switching the V2 synths to something along the lines of "old[synth]" rather than "snx[synth]" to reduce confusion for integrators
Millie agreed with this suggestion, and has decided to go with "[synth]legacy" for Synthetix V2 asset tickers
SIP-2023: Add XMR to Perps V2
This last SIP was proposed by GUNBOATs to add Monero (XMR) to Perps V2
It was noted that XMR should have been added in the transition from Perps V1 to Perps V2, but may have been an oversight likely due to minimal volume
This SIP is being put up for a vote
Grants Council
Present at the June 29, 2023 Grants Council meeting:
Grants Team: CT, synthquest
Lastly, in Grants updates, the Council had a meeting with Matt and the Notify Team. CT is proposing that the Grants Council approves the request for funding the trial period for the next couple of months for a community notification system.
---
Subscribe to our YOUTUBE
Follow us on Twitter! @snx_weave
---
SIP/SCCP status tracker:
SIP-328: Debt Distribution View Functions, Status: draft
SIP-329: Pull Oracle Update Node, Status: draft
SIP-323: Adopt "s" prefix for Synthetix V3 asset tickers, Status: draft
SIP-2023: Add XMR to Perps V2, Status: vote pending