SNXweave Weekly Recap 82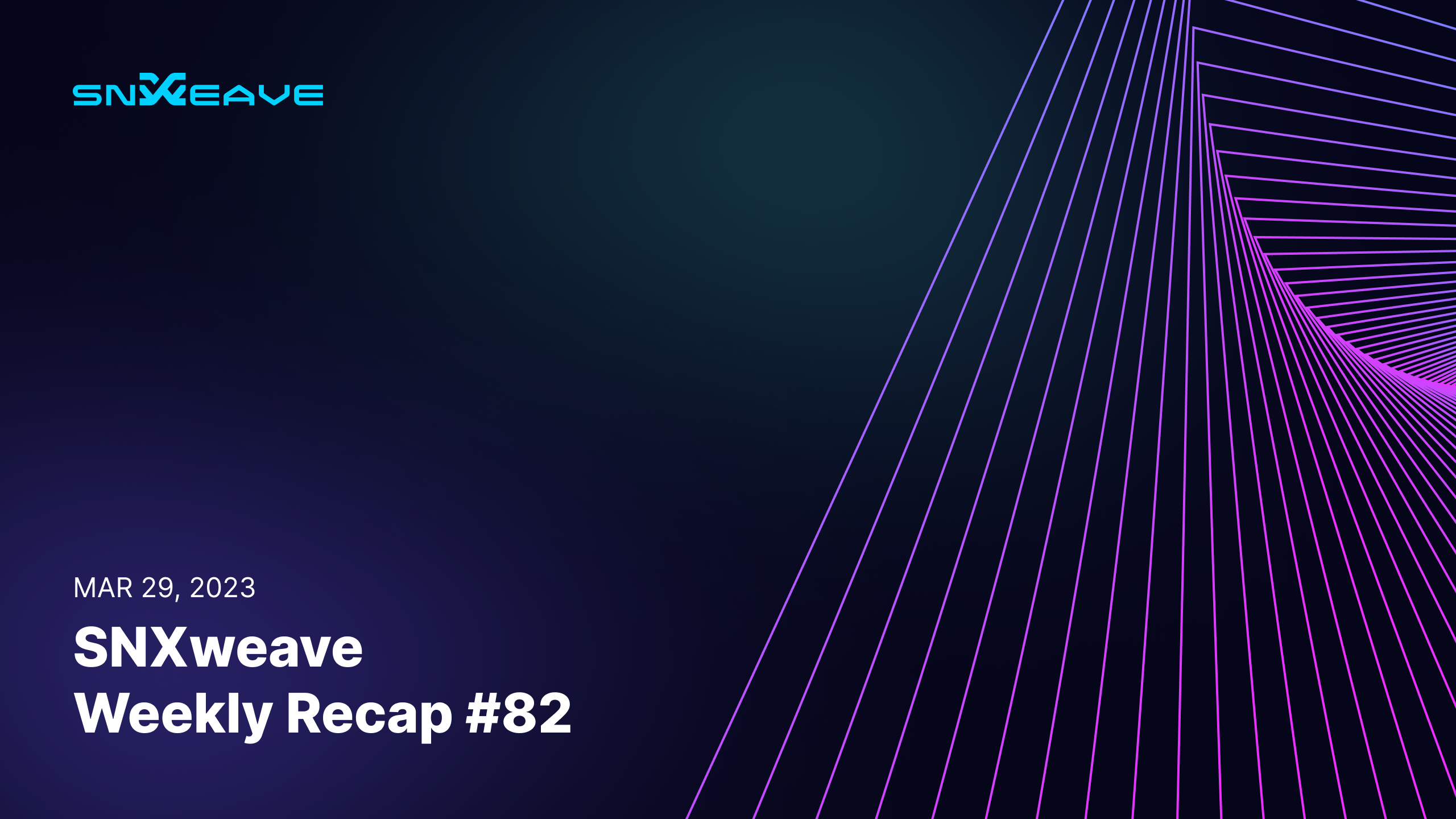 March 29, 2023
The following post contains a recap of news, projects, and important updates from the Spartan Council and Core Contributors, as well as the Grants Council and Ambassador Council from last week.
Spartan Council and SIP updates
Present at the March 22, 2023 Spartan Council Weekly Project Sync:
Spartan Council: Adam, Cavalier, dsacks, Jackson, KALEB, SeliniCapital (representing Jordi), TerraBellus
Core Contributors: Afif, Ana, Bex, Darius, db, joey, jz, Mike, noah, sunny
The V3 work going forward will be divided into two streams: core system and markets. The updates for both of these streams as of now are as follows:
SIP-320 was presented based on feedback from open zeppelin on the spot market implementation (and the final report from them should be available this week).
The next major release (which will be spot markets) should be out by the end of April.
Lastly, the main objective for the CCs right now is getting the full system, including LP and market mechanism, working as soon as possible.
There are no major updates for Perps V2, but Kaleb brought up something that's worth discussing. He flagged that sUSD could begin trading at a premium following the next update and the raising OI caps. He said it may be necessary to increase stable coin wrappers before the next release in order to absorb some of the increased demand.
Adam highlighted that a high premium might indicate that the incentives are too high for the value that the protocol would get from offering them. He thinks a better solution would be to dial the incentives to match the demand, instead of introducing more risk via stable wrappers.
There was consensus that these details should be ironed out before incentives begin, in order to avoid sUSD trading at a premium. Mike, the author of the SIP, will circle back with Kwenta and the Treasury Council to develop a contingency plan in case there is an sUSD liquidity crunch.
Terra thinks whatever liquidity provisions need to be made to a accommodate the increased demand should be worked out, rather than pulling incentives.
An option to use stable coin wrappers other than USDC or DAI (possibly one of the Euro stables) was also discussed, but it was determined that they would introduce the same risk. Afif estimates that there would need to be an additional $20 million in sUSD liquidity to match the increased demand and thinks that changing the rewards in response to sUSD demand may turn off traders.
Next, the Direct Integration SIP was also presented last week, by Gautham from Polynomial, so let's go over that:
SIP-2008: Direct Integration — Polynomial Basis Trading
This SIP proposes adding an exchange done by the Polynomial Smart Wallets, which lowers the exchange fee for sETH and sBTC to 5bp and disables dynamic fees
Polynomial is integrating basis trading into their platform and the lower fee doesn't introduce any more risk to the protocol, but makes the product more attractive (which would drive volume)
Kaleb asked if the position was user managed or automated:
It was explained that the user needs to manage their own leverage, as each user will have an individual position
The expectation is that users will have open positions while the funding rate is positive, but that they will be closed if the funding rate goes negative
Adam pointed out that if this mechanism encourages a directional trade, it may impact the network funding rate skew for Synthetix (at scale). He then asked if it would be possible to implement the inverse of that:
Gautham said they are currently looking into it but it's a bit out of scope for this SIP
SIP-2008 is a bit easier for users to understand which is why it's being proposed/implemented first
This SIP has passed with 7 votes in favor.
Grants Council
Present at the March 23, 2023 Grants Council meeting:
Grants Team: Alexander, Ana, JVK, synthquest
In Grants Council updates, the team completed several outstanding tasks from the week prior, including:
Permissions were fixed on the arb bot
The dev for the Stats page returned unfinished work, so it has been sent back for additional fixes
The Council came to a consensus around a few candidates for the NFT lore based on their internal voting/review and it was decided that Ana is going to make the final selection based on the second round criteria
And lastly, the two grant proposals that were up for votes were both rejected, and a budget meeting has been initiated between the Grants and Treasury Council that will happen sometime in the near future.
---
Podcast now also on YOUTUBE
Follow us on Twitter! @snx_weave
---
SIP/SCCP status tracker:
SIP-320: Minimum Collateral Delegation Duration, Status: draft
SIP-317: Spot Markets (V3), Status: draft
SIP-2008: Direct Integration — Polynomial Basis Trading, Status: approved