SNXweave Weekly Recap 71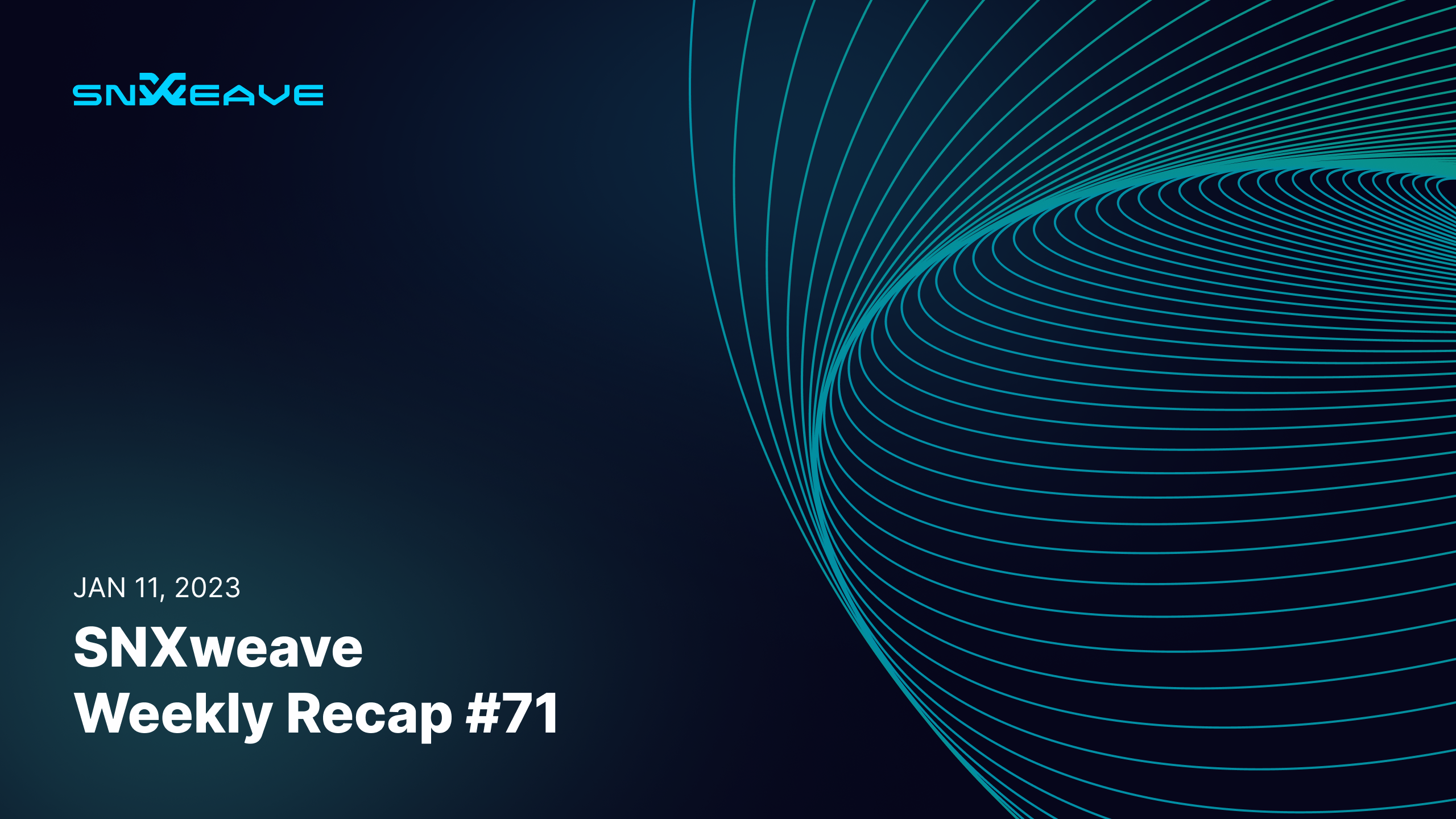 January 11, 2023
The following post contains a recap of news, projects, and important updates from the Spartan Council and Core Contributors, as well as the Grants Council and Ambassador Council from last week.
Spartan Council and SIP updates
Present at the January 5, 2023 Spartan Council Weekly Project Sync:
Spartan Council: Adam, Cavalier, dsacks, Jordi, KALEB, TerraBellus, William87
Core Contributors: Afif, Ana, Darius, Jordan, Nikita, noah, Steve
First of all, Happy New Year!! All of the new Councils are in full swing, and everyone is gearing up for a great 2023. In case you missed the election results, here they are:
🚨Election Results🚨
Thank you to all who ran, voted, and participated in governance this epoch, and congratulations to our newly elected Council members!
Now onto our regular updates…the initial priorities for the year are as follows:
Ensure V3 protocol design is robust with sound implementation
Improve atomic swaps
Prepare for Debt Migration from L1 to L2
Further develop Perps V2 to support additional markets
And speaking of Perps V2, the team is currently monitoring and reviewing alpha performance, and David has been working on the keepers to make them more robust. We could be seeing expanded support for new markets and raised limits on current offerings (ETH) as early as the end of January.
For V3, spot markets are currently in development, and audits with three different firms are in progress. Noah said they're standing by to process any feedback from the auditors as it comes back, but that the current timeline is looking like end of January for all of the feedback to be in. Additionally, the oracle manager could be ready for audit as early as this week.
Kaleb also gave an update on cross asset swap performance, which he said has been challenging to scale in this market. The biggest use case is during periods of heavy volatility, and the markets are currently pretty flat. The fees, however, are currently competitive but are subject to change, pending SCCP. Lastly, Kaleb said liquidity has improved but is still the main constraint.
The new Council also had a brief discussion on tokenomics, and Adam later suggested hosting a dedicated call to go through the three proposals for V3 tokenomics and pick the pieces that the community can get behind from each to combine into a single proposal.
Grants Council
Present at the January 5, 2023 Grants Council meeting:
Grants Team: ALEXANDER, Ana, CT, JVK, synthquest
In Grants Council updates, the team had a productive call last week to welcome new Council members Ana and synthquest. They went over introductions, the Council's Discord channels, and new epoch business, including taking detailed records of attendance over the next few months.
This is the first epoch that will be four months instead of three, so we're excited to see how all of the new Councils fare!
---
Podcast now also on YOUTUBE
Follow us on Twitter! @snx_weave
---
SIP/SCCP status tracker:
SIP-237: Debt Migration, Status: draft
SCCP-303: Extend Governance Epoch Duration from Three to Four Months, Status: implemented