SNXweave Weekly Recap 70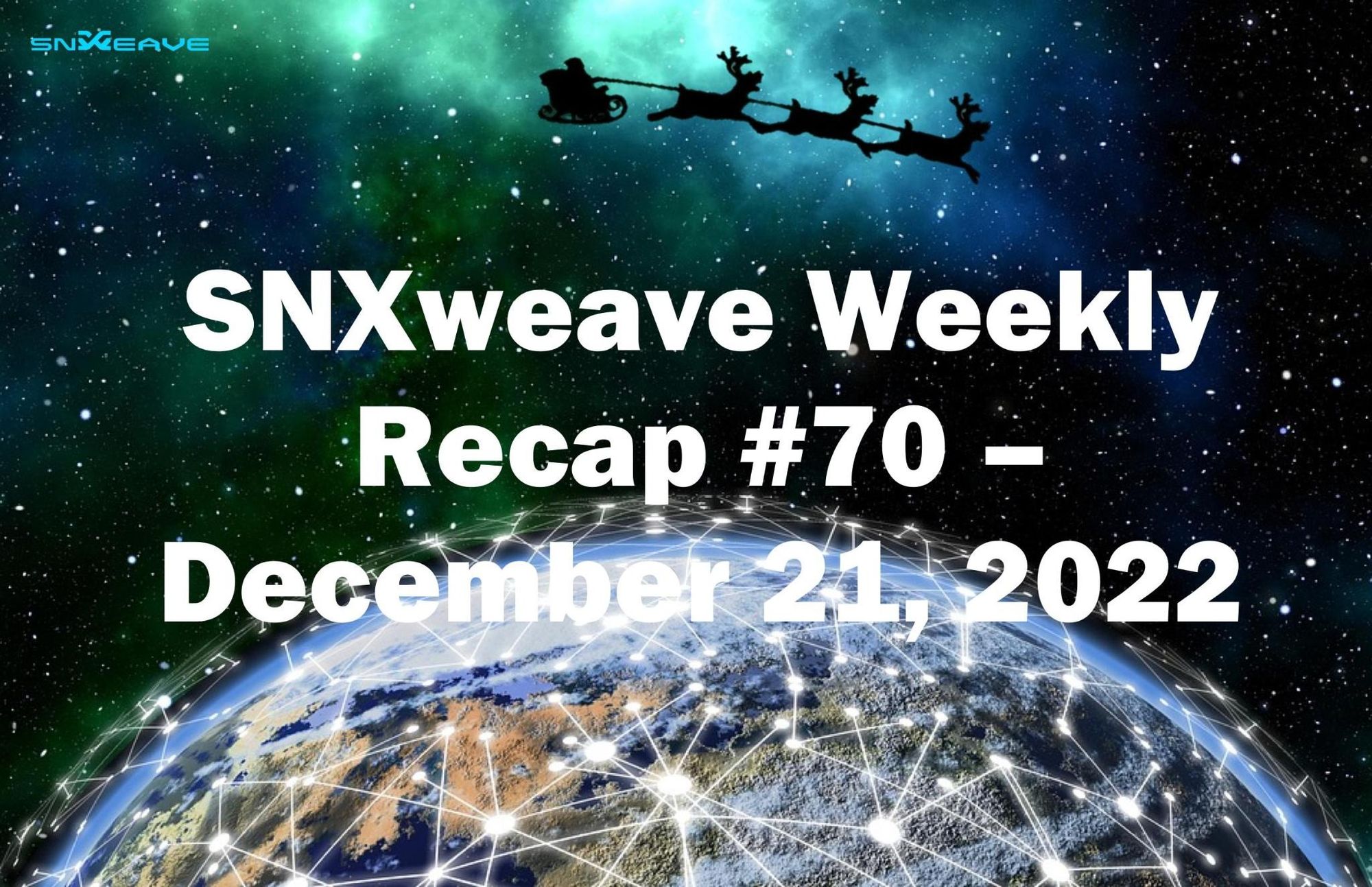 December 21, 2022
The following post contains a recap of news, projects, and important updates from the Spartan Council and Core Contributors, as well as the Grants Council and Ambassador Council from last week.
Spartan Council and SIP updates
Present at the December 15, 2022 Spartan Council Weekly Project Sync:
Spartan Council: Adam, Afif, Burt, dsacks, Ethernaut, ksett, nana, TerraBellus
Core Contributors: Bex, Cavalier, joey, jz, KALEB, Leo, Matt, meb, Max, Nikita, noah, Regina, Steve, sunny
Since auditors are currently focused on V3 work, the Debt Migration release will likely be pushed to mid-January. Mark will also be re-presenting the Debt Migration SIP sometime soon.
But in exciting news, Perps V2 is up!! Afif said they were able to test the upgradability since the second release was an upgrade of the old testnet release, and since everything has been running smoothly on testnet, they were able to put it up on Mainnet this week!
On the V3 side, Noah said they've been in touch with the auditors and everything is moving smoothly. Three firms are currently working on audits, and they're all currently in the "security review" phase (which means the code is frozen). Ale added that one of the firms is likely to focus on the tooling portion of the audit, while the other two focus on the products built on top of that. No additional feature can be added/deployed until this phase of the audit is complete, but the CCs are working on Markets in parallel, so everything is still on schedule.
There were also several SIP/SCCP presentations last week, so let's briefly review them:
SIP-294: Redirect inflation from Curve sUSD pool reward to Curve synth incentives
This SIP, presented by Matt, proposes increasing the 6,000 SNX inflation emission entry to 10,000 SNX per week
This will incentivize sETH, sBTC, and sUSD Curve pools to promote atomic swap adoption, with the goal of boosting capital efficiency by 30–40%
It also allows the Treasury Council to work on L1 synth liquidity to support atomic swaps
Adam suggested that the language reflect specifically that the funds would be used for synth liquidity
Kaleb brought up that the problem is the synth liquidity (not non-synth liquidity, which is what allocating SNX would improve)
SCCP-252: LUSD Unwrap
This SCCP proposes that the following plan be implemented:
Lower the burnFeeRate from 5% to zero.
Burn sUSD funded by the Treasury Council, to release the LUSD.
Increase the burnFeeRate back to the previous levels.
Lower the maxTokenAmount to zero
Kaleb explained that the unwrap was done discreetly to prevent stakers from losing value to any peg issues as a result of an announcement to unwind the wrapper
This SCCP was voted on and approved with all 8 votes in favor
SCCP-253: Update ETH Wrapper Parameters
This was proposed by Kaleb to lower the maxTokenAmount and burnFeeRate on the ETH wrappr, but he has withdrawn this SCCP because it may require parameter changes between now and V3
SIP-293: Deprecate Low Volume Synths
This SIP will deprecate sAAVE, sLINK, sDOT, sADA, sMATIC, sUNI, sAVAX, sSOL
Given the low volume generated by these synths, as well as the large attack surface, these synths are recommended to be deprecated
Once deprecated, users would be able to redeem their synths for sUSD (the way the sDEFI synth was deprecated)
This SIP was voted on and approved with all 8 votes in favor
SIP-292: Fixed Forex Integration
Presented by Kaleb on behalf of the Fixed Forex team Lastly, 292 proposes adding Fixed Forex contracts to the Direct Integration Manager
This lays out 2 integrations: Convex farming use case and Forex trading use case
As we know, SIP-267 (direct integration) mandates a new SIP for each new Direct integration, so this SIP proposes allowing the Fixed Forex contracts to trade at the overridden parameters
Adam voiced strong support for this
Afif also voiced support but asked for some time to pull liquidity data for the SC to review to determine whether it would be a worthwhile integration
Ambassador Council
Present at the December 13, 2022 Ambassador Council meeting:
Ambassadors: GUNNBOATs, Kevin, mastermojo, Matt, MiLLiE
In Ambassador updates, the team has TWO Spartan Spaces scheduled this week: the first with Rango Exchange today (Wednesday) at 6pm UTC and the second with dYdX & Optimism at 2:30pm UTC on Thursday. So don't forget to tune in!
Last week, during their weekly sync, the Ambassadors also discussed future Spartan Spaces, Governance updates, and updates on external project integrations/co-marketing.
Their Curve proposal fully passed (new BTC base pool), and reduced fees from 4bp to 2bp! They also did some voting in Euler and Gearbox this week, and are now able to vote with their Original Gnosis wallet, which they also used to vote in favor on the latest OP proposals.
MasterMojo and Millie were also nominated to be one of the Optimism Badgeholders! As far as external protocol updates go, the team has been in contact with the following protocols over the last week: Illuvium, Firebird Finance, Angle Money, and Beefy Finance.
---
Podcast now also on YOUTUBE
Follow us on Twitter! @snx_weave
---
SIP/SCCP status tracker:
SIP-237: Debt Migration, Status: draft
SIP-294: Redirect inflation from Curve sUSD pool reward to Curve synth incentives, Status: draft
SCCP-252: LUSD Unwrap, Status: approved
SCCP-253: Update ETH Wrapper Parameters, Status: rejected
SIP-293: Deprecate Low Volume Synths, Status: approved
SIP-292: Fixed Forex Integration, Status: draft