SNXweave Weekly Recap 69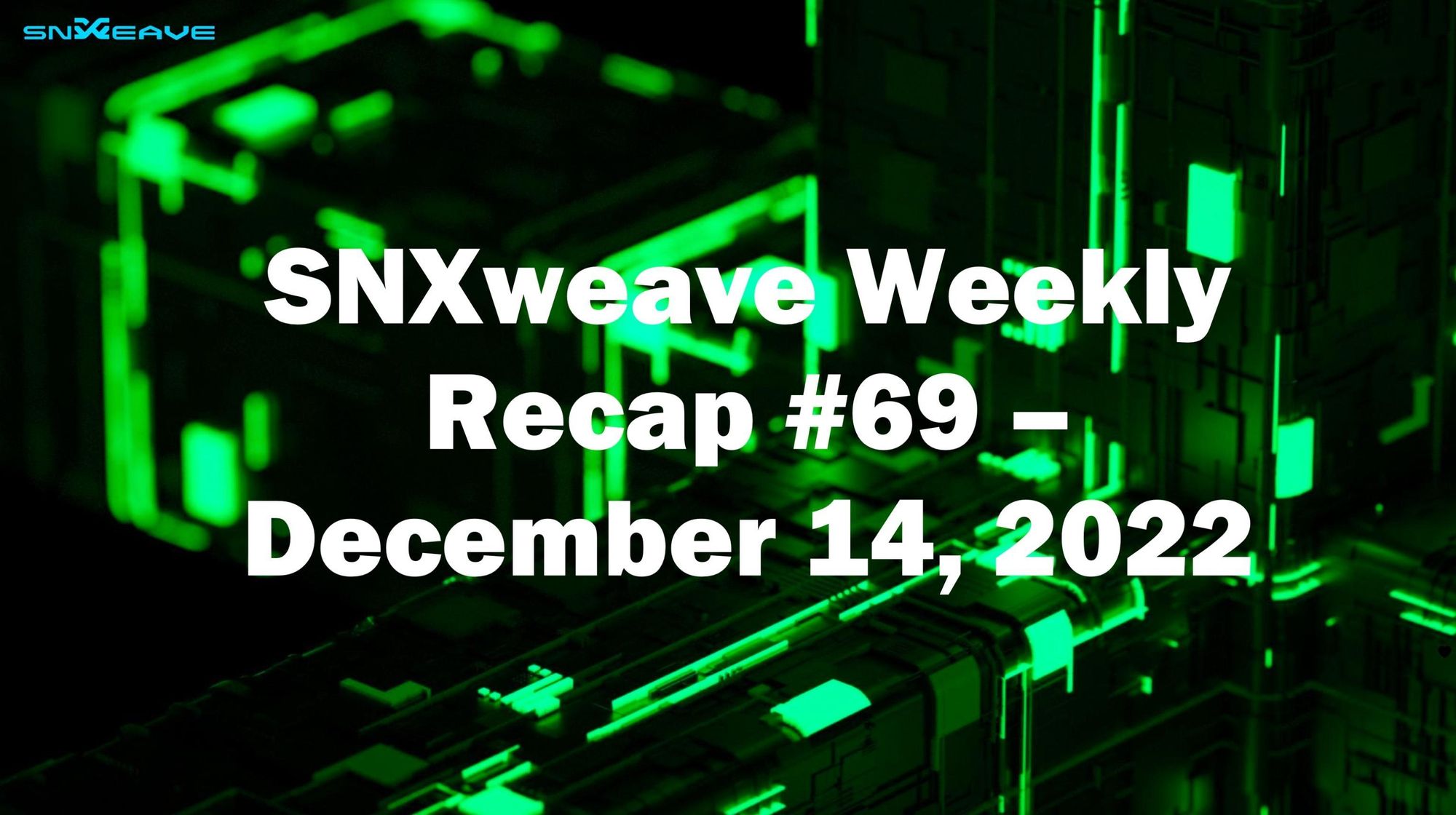 December 14, 2022
The following post contains a recap of news, projects, and important updates from the Spartan Council and Core Contributors, as well as the Grants Council and Ambassador Council from last week.
Spartan Council and SIP updates
Present at the December 8, 2022 Spartan Council Weekly Project Sync:
Spartan Council: Adam, Afif, Burt, dsacks, Ethernaut, ksett, nana, TerraBellus
Core Contributors: Ana, Cavalier, Darius, jz, KALEB, Matt, meb, noah, Regina, sunny
In case you missed it, the V2 Staking App is live and is now the default option for stakers! This includes many improvements on the old app and is designed to help onboard new DeFi users to Synthetix staking. The new app includes:
Easy-to-understand steps for users, ensuring that they know what to do next to not miss out on rewards and maintain a healthy c-ratio.
A focus on accessibility and user-friendliness, making staking more approachable for newcomers to DeFi.
Information about Synthetix Ecosystem protocols.
Easier access to non-staking features, like SNX loans, governances, and guides.
Speed and logic improvements for the app
So be sure to check out the new staking app and experience the improved user experience for yourself!
As for Atomic Swaps, Kaleb gave a few updates last week, including some items that are currently in the pipeline:
Product improvement via Curve governance proposal to lower fees
Another upcoming integration with Keeper
Hoping to direct integrate with the Curve pools that include forex
Cow Swap has also expressed interest in a direct integration
Kaleb also said the volume has been great and they haven't observed any latency attacks. Although he noted that the volume is a bit lower than it previously was, mostly because of the market turmoil lately. He also elaborated on what the new direct integration parameters will entail:
Fees lowered from 15bp to 7bp (on Synthetix)
Curve fees from 8bp to 4 bp
Effectively this is a fee reduction of 12bp, which brings the trading cost to a level that is pretty competitive with Uniswap V3. Also, some of the recent updates have actually eliminated the need for SIP-272 (Atomic Swaps — Dynamic Fees) — specifically the use of Curve amplification factors to manage liquidity.
As for V3, the core code is frozen and is currently with the auditors. Core contributors are working on polishing the tests and documentation, but the main focus is doing whatever necessary to help move the audit process along. The priority for new builds in V3 is for markets, and once the spot markets are in audit, the next item on the roadmap will be to get started on Perps V3 work. This will hopefully happen in the beginning of the New Year.
And speaking of Perps, V2 came back from the auditors with some final feedback, and since then, the delayed orders have been improved and the keepers are now performing very well. Afif said they are hoping to be finished for deployment next week!!
There were also a couple of SIP presentations last week, both on Perps V2, so let's briefly review them:
SIP-279: Perps V2
As we all probably know by now, Perps V2 proposes a redesign of the Synthetix perpetual futures mechanism to support unconstrained open interest limits, broader asset compatibility, and efficient execution.
With Perps V2, there will be no more infinite liquidity, and a lot of issues around market manipulation will be resolved by levying a certain amount of price impact on exchanges
Afif said "It's a really powerful risk management tool because it automatically makes sure LPs are delta neutral on average."
He also elaborated a bit on the funding rate velocity, which represents a mathematically minor adjustment to the current system, but with significant implications to the overall mechanism
Skew would dictate the funding rate velocity instead of the instantaneous funding rate
This also allows for zero skew with non-zero funding which is a great feature
(Check out the written SIP for an example of how the new funding rate model works)
SIP-280: Perps V2 (Perps Upgradability)
Afif also gave a quick update on this SIP to take any questions
It was originally presented by Leo, and the only remaining question was how to migrate positions
After speaking with Kwenta, it was decided to leave the V1 contracts available to allow users time to wind down their positions and move over to Perps V2
Open interest limits will be reduced gradually, which will limit the utility
This would allow Perps V2 to be launched in parallel to the existing perps contracts
Lastly, elections are upon us! The election will be conducted fully on-chain on the Synthetix Governance Module, and in accordance with SIP-286, the election period has been reduced and is as follows:
Nomination period starts December 17th
Voting opens December 21st
Voting ends December 31st
New epoch beings January 1st
AND as always, SNXweave will be hosting a live panel with this epoch's Spartan Council candidates, so be sure to tune in next Wednesday December 21st at 9pm UTC in the community governance stage!
Ambassador Council
Present at the December 6, 2022 Ambassador Council meeting:
Ambassadors: GUNNBOATs, Kevin, mastermojo, Matt, MiLLiE
In Ambassador Council updates, the team had Gearbox on again for a Spartan Space last week. Mastermojo and Millie led the Space with Jared Hedglin, Mugglesect, 0xmikko.eth, and Ivangbi all representing Gearbox.
Gearbox is a generalized leverage protocol that aims to be a leverage middle layer for DeFi. Users can increase and decrease leveraged positions, swap between assets using their favorite DEX, stake in liquid staking positions, and much more. The protocol has two sides to it: passive liquidity providers who earn low-risk APY by providing single-asset liquidity; and active farmers, firms, or even other protocols who borrow those assets to trade or farm with up to 10x leverage.
The guests provided a great update on Gearbox V2, understanding their protocol, tokenomics, and governance. Be sure to catch the recording of the call if you missed it!
During their call last week, the Ambassadors also discussed future Spartan Spaces, governance items, and updates on external project integrations/co-marketing.
The Ambassadors helped rally to secure voting on convex and curve for Synth pools. A new BTC base pool was passed with convex, and the curve vote ended December 9th — it closed with 85% yes votes!
As far as Ambassador governance and external protocol updates go, Millie, Matt, MasterMojo, and Kevin joined Euler Finance for a Governance call recently, Sushiswap wants to know if there are any plans to launch synth pools any time soon, and Gunboats and Kevin have been in contact with multiple projects to update the Copies.
And lastly, a few new projects have joined the SNX Ambassador discord: Oddin, Impermax, Exponential, Equilibre, and Angle.
---
Podcast now also on YOUTUBE
Follow us on Twitter! @snx_weave
---
SIP/SCCP status tracker:
SIP-272: Atomic Swaps — Dynamic Fees, Status: approved
SIP-279: Perp V2, Status: approved
SIP-280: PerpsV2 (Perps Upgradability), Status: approved
SIP-286: Reduction in the Length of Council Election Periods, Status: approved