SNXweave Weekly Recap 68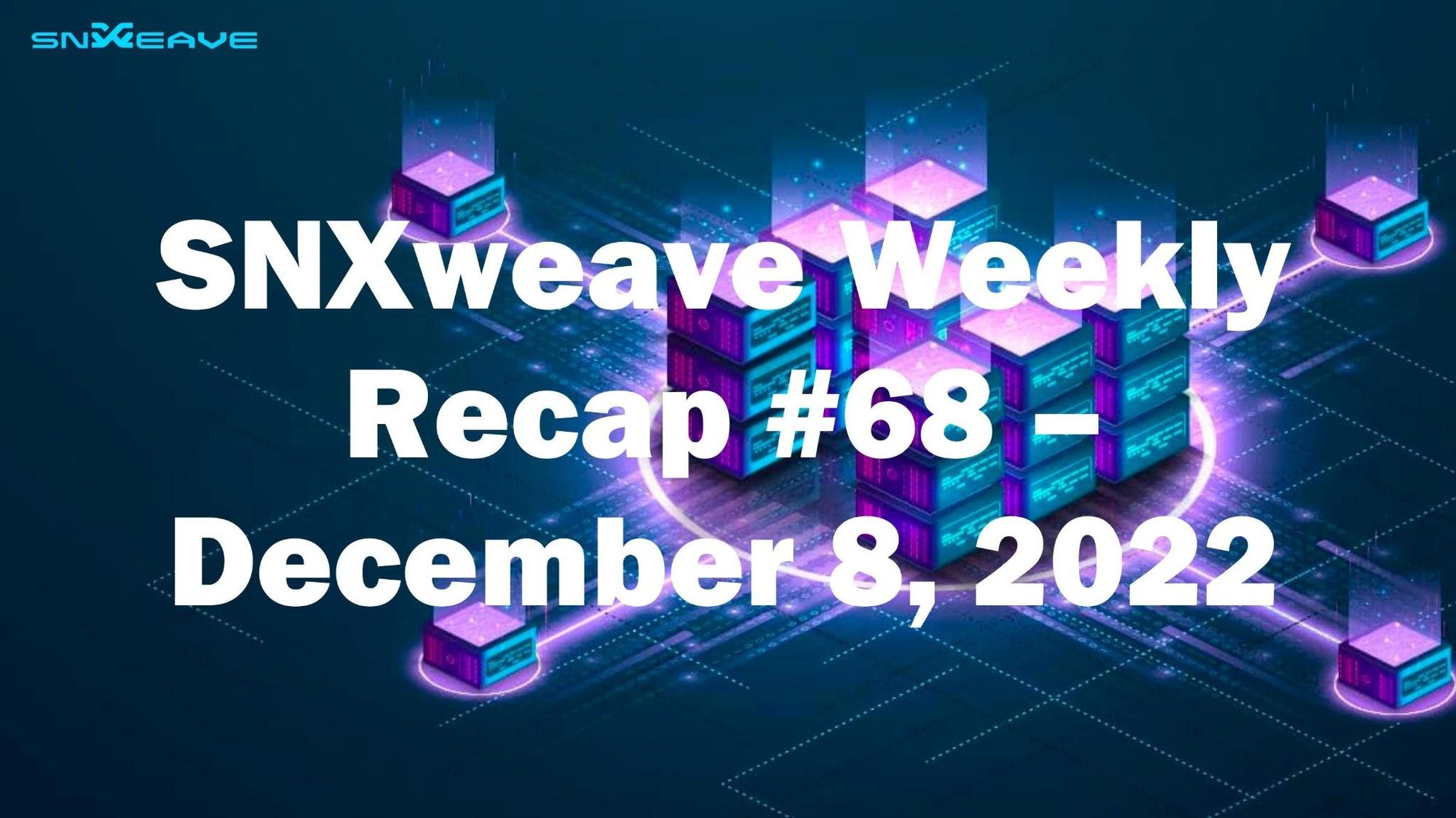 December 8, 2022
The following post contains a recap of news, projects, and important updates from the Spartan Council and Core Contributors, as well as the Grants Council and Ambassador Council from last week.
Spartan Council and SIP updates
Present at the December 1, 2022 Spartan Council Weekly Project Sync:
Spartan Council: Adam, Afif, Burt, dsacks, ksett, nana, TerraBellus
Core Contributors: Ana, Cavalier, Darius, joey, jz, KALEB, noah, Steve
The Alphecca release has gone out! This included SIP-299 — minor upgrades to V2X to support V3 migration — and was implemented without any downtime last week. This just granted a few special permissions to the LegacyMarket contract, which is the facilitator of the migration to Synthetix V3. These upgrades have started to lay the groundwork for stakers to migrate their collateral and debt from V2X to V3. This is a pretty big milestone on the path to V3!
Now the key remaining SIPs of V2 are 237 (Debt Migration) and 255 (burn fees instead of distributing them) — now that 299 is done, these will be coming up over the next few weeks.
Kaleb also gave a few updates on the Atomic Swap parameters, saying this week they hope to:
Switch the Uniswap V3 pool to 5bp on the direct integration with 1inch
Lower fees to 5bp gradually
Curve is also implementing some changes to the parameters of their pools: they're lowering sETH and sUSD to 2bp, as well as adjusting the amplification factor on the sUSD pool. Kaleb said hopefully these changes will make atomic swaps more competitive.
As for V3, Noah said the full scope of Synthetix V3 Core has been delivered for audit!!!
Perps V2 is also nearly ready for release, meaning contributors can now start working on all the new markets that will roll out with V3 once everything is through audit.
Last week there were also a couple of SIP presentations, so let's briefly review them:
SIP-290: Deprecated SIPs/SCCPs
— Presented by Millie, this SIP proposes a small change to organizational flow on Github — it will add a "deprecated" category for SIPs
— Currently there is Draft, Approved, Implemented, Feasibility, Vote Pending, and Rejected
— But there isn't a category for SIPs that have been implemented then deprecated over time/aren't being used anymore
— Applies to a lot of the fees for different markets, ones that have been updated, old ones will be moved to deprecated
— Will be clear on Github which parameters are no longer applicable
— Terra: Who decides when a SIP is no longer relevant and can be deprecated?
Millie: The proposal says only if there is a protocol governance upgrade that renders it deprecated
Would probably be in the hands of whoever the SIP editors are
— Terra: When the deprecation takes place, is there a SIP that is created to initiate the deprecation or is it just a housekeeping task?
Millie: Just a housekeeping task
— Terra suggested doing one SIP to deprecate all current applicable SIPs. Then future SIPs can include deprecation in their proposal if they're deprecating a current SIP. There was consensus for this update.
SIP-291: Independent Work Group
— Millie also presented this SIP, which proposes some changes to the structural workflow of the Ambassador Council
— He explained that the current Ambassador mandate is a bit constrictive in how people can contribute — "what happens if someone new comes in and doesn't want to adhere to the Ambassador mandate?"
— Originally, the Ambassadors figured they would just go through governance to change the mandate when necessary and go from there
— But that's a lot of governance overhead for every small change
— The KPI mandate is a bit narrow — if they want to expand it, there would need to be a proposed SIP
— Millie: "The KPI mandate was originally for transparency and accountability, but SNXweave already documents everything we do so the transparency and accountability are already there."
— He added that the KPI mandate kind of makes the Ambassadors run like a business, but they want to make sure Synthetix governance represents a proper DAO
— There's no huge change that would happen, the election/governance process would be the same
— The Ambassador brand would also be kept for a while to maintain consistency, but Millie said the reasoning for "work group" is to move away from the connotations of the word "Ambassador"
— If this SIP passes, then this will deprecate the current Ambassador Mandate
— There seemed to be general support for this SIP, and Kaleb even said he thinks this is a really good improvement. Millie agreed, saying he thinks it will encourage more people to get involved
SCCP-249 was also proposed last week by the Gauntlet team, who presented their data and reasoning behind wanting to raise the target c-ratio from 400% to 425%. This SCCP was, however, rejected by the Spartan Council.
Grants Council
Present at the December 1, 2022 Grants Council meeting:
Grants Team: Alexander, CT, cyberduck, JVK
In Grants Council updates, the team has been working on and discussing the NFT project at length, as they continue to deliberate the mint contact details. Duck said the contract work itself is progressing well, and they might need another set of eyes now like a soft audit. He is also planning to give the team an update on the lore this week.
Duck also shared that he was approached by some other DAOs about the SIP/SCCP website, who expressed interest in using the UI from this site to make their own version. The team had some good suggestions about how they could possibly release this as a public good that anyone could use and deploy with their own repos. They decided that this might be difficult with different DAO code structures, so Duck will be making a short description to allow them to adapt the UI to their own templates.
Ambassador Council
Present at the November 29, 2022 Ambassador Council meeting:
Ambassadors: GUNNBOATs, Kevin, mastermojo, Matt, MiLLiE
In Ambassador updates, in addition to Millie's two SIPs last week, Mastermojo created a Delegate Communication Thread on HOP protocol. It proposed setting HOP incentives for sUSD and SNX pools on Optimism at the equivalent of $5,000 per month. The Ambassadors are now getting 3.6k in Hop for Governance Participation! The team is also working on getting more Euler delegation votes.
---
Podcast now also on YOUTUBE
Follow us on Twitter! @snx_weave
---
SIP/SCCP status tracker:
SIP-299: Minor upgrades to V2X to support V3 migration, Status: implemented
SIP-237: Debt Migration, Status: draft
SIP-255: Burn fees instead of distributing them, Status: approved
SIP-290: Deprecated SIPs/SCCPs, Status: draft
SIP-291: Independent Work Group, Status: draft