SNXweave Weekly Recap 45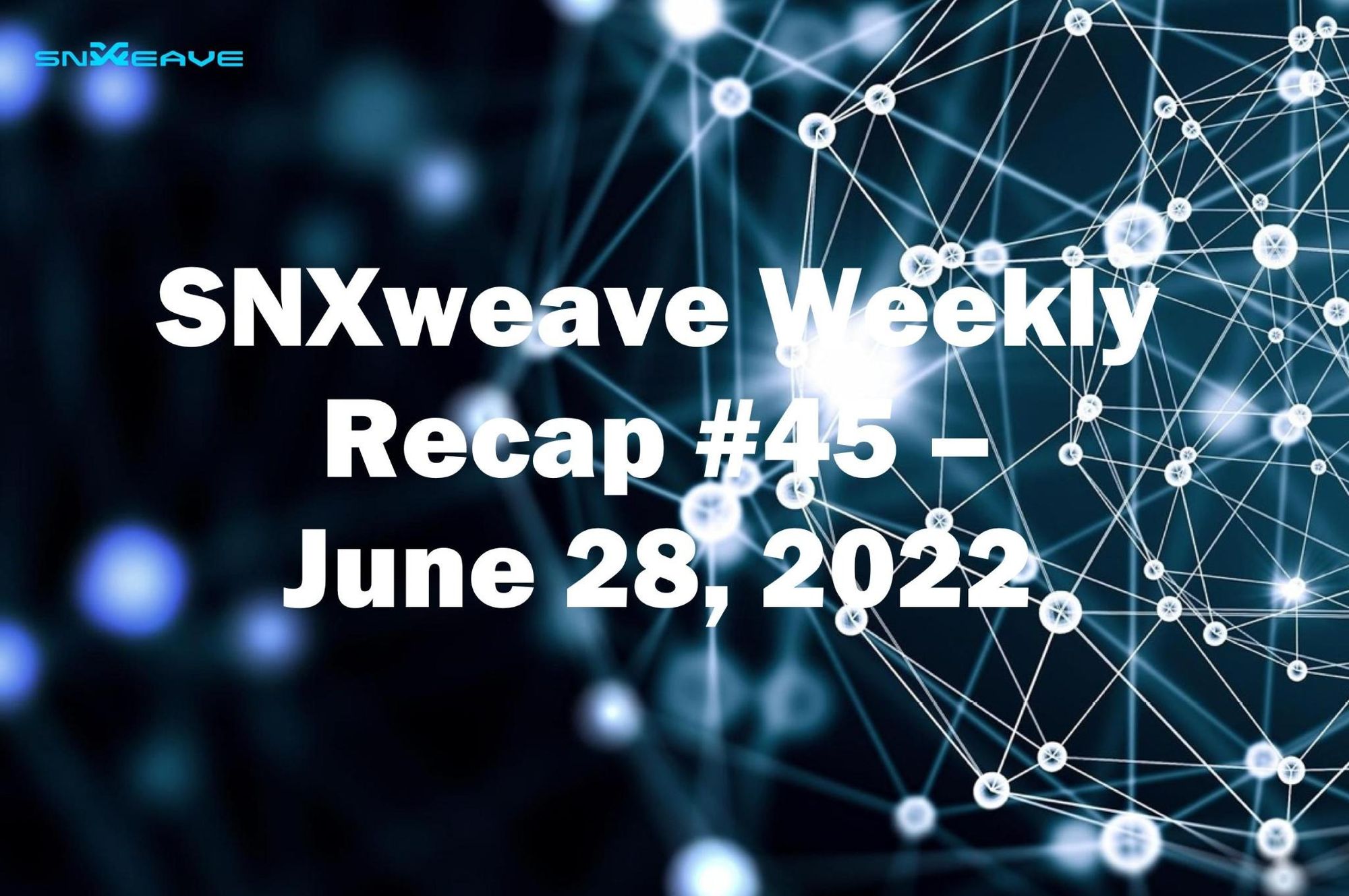 June 28, 2022
The following post contains a recap of news, projects, and important updates from the Spartan Council and Core Contributors, as well as the Grants Council and Ambassador Council from last week.
Spartan Council and SIP updates
Present at the June 21, 2022 Spartan Council Weekly Project Sync:
Spartan Council: Afif, calavera, Danijel, JVK, Kain, ksett, Mark, SynthaMan
Core Contributors: Ale, Cavalier, KALEB, Matt, Mike, Rafa
We've made it to the last week of the epoch! And speaking of the end of the epoch, SNXweave just published Synthetix's first Attendance & Participation Report. Be sure to check out our post if you missed it yesterday — the report has some very interesting data and information that can be used for voting.
Now with just a few more days left, let's review some of the recent and remaining SIPs of V2X:
SIP-251: Differentiate Liquidation Penalties
This SIP adds a new system setting for SNX staker liquidations
Currently, there is only one liquidation penalty variable — liquidationPenalty — which is used for both Collateral loans and SNX staking. SIP-251 proposes adding another liquidation penalty variable — snxLiquidationPenalty — in order to distinguish between liquidations on Collateral loans and SNX stakers.
Mark presented this SIP last week, explaining that it basically adds new penalties to distinguish between different types of liquidations
Voted on and approved with 7 votes in favor
Implemented
SIP-203: Volume Source
As we all probably know by now, this SIP will add an optional source fee as a transaction parameter that can be passed from any front-end to the Synthetix Exchange Contracts
This SIP is one of the big remaining scope items for V2X, and will take priority now that SIP-251 has been implemented
Kaleb brought up the significance of implementing this as soon as possible because it would encourage integrators to take advantage of atomic exchanges
SIP-254: Perps Trading Incentives
This SIP proposes diverting 20% of weekly inflation to trading incentives on Perps
Kaleb has observed in the past that it is difficult to front run these incentives for profit, but it is possible to breakeven
He's concerned that the incentive program would specifically attract this type of high-volume user, diverting most of the rewards to a few wallets without accomplishing the goal of adding new traders
He suggested baking in some flexibility to the SIP to allow the Spartan Council to be more agile if the rewards weren't having the desired effect
Another modification will be to weigh the rewards more heavily towards fee generation rather than just volume
Kain is taking some the initial feedback received last week to modify the SIP, and then there will be an official presentation
Lastly, some of the guys from Gauntlet joined the weekly sync last week to discuss the c-ratio change. Gauntlet, which is Synthetix's risk management partner, proposed raising the c-ratio from 300% to 350% via SCCP-204. They developed models to assess the impact of market conditions on SNX price and the debt pool, which showed that increasing the c-ratio to 350% would reduce insolvencies by 28% and liquidations by 45%. The model was built with optimization in mind, balancing both security concerns and capital efficiency. This c-ratio change was voted on and approved with 7 votes in favor and 1 against, and has been implemented.
Grants Council
Present at the June 23, 2022 Grants Council meeting:
Grants Team: ALEXANDER, CT, cyberduck
In Grants Council updates, in addition to working with us to publish this quarter's Attendance & Participation Report, the team has also been working on their numerous other ongoing projects. Last week they discussed the Wrapper UI initiative, which 2 devs have been working on. They have received progress updates from both of them, and will be in touch with them this week in response to these updates.
For the NFT project, the Council has been discussing how to go about the treasury fund aspect of the NFTs. This is still in the works, so expect more to come.
Ambassador Council
Present at the June 22, 2022 Ambassador Council meeting:
Ambassadors: mastermojo, Matt, MiLLiE
Lastly, in Ambassador Council news, the team has finished the UNI proposal, and they're looking for everyone's support! The signal poll ends June 30th, so be sure to vote in support if you're in favor of deploying a 1bp fee tier to UniV3. If the vote passes, then the on-chain deployment can move forward. So let's hype this proposal up!
Podcast now also on YOUTUBE
Follow us on Twitter! @snx_weave
SIP/SCCP status tracker:
SIP-251: Differentiate Liquidation Penalties, Status: approved
SIP-203: Volume Source, Status: SC review pending
SIP-254: Perps Trading Incentives, Status: draft
SCCP-204: Raising the target staking ratio to 350%, Status: implemented