SNXweave Weekly Recap 41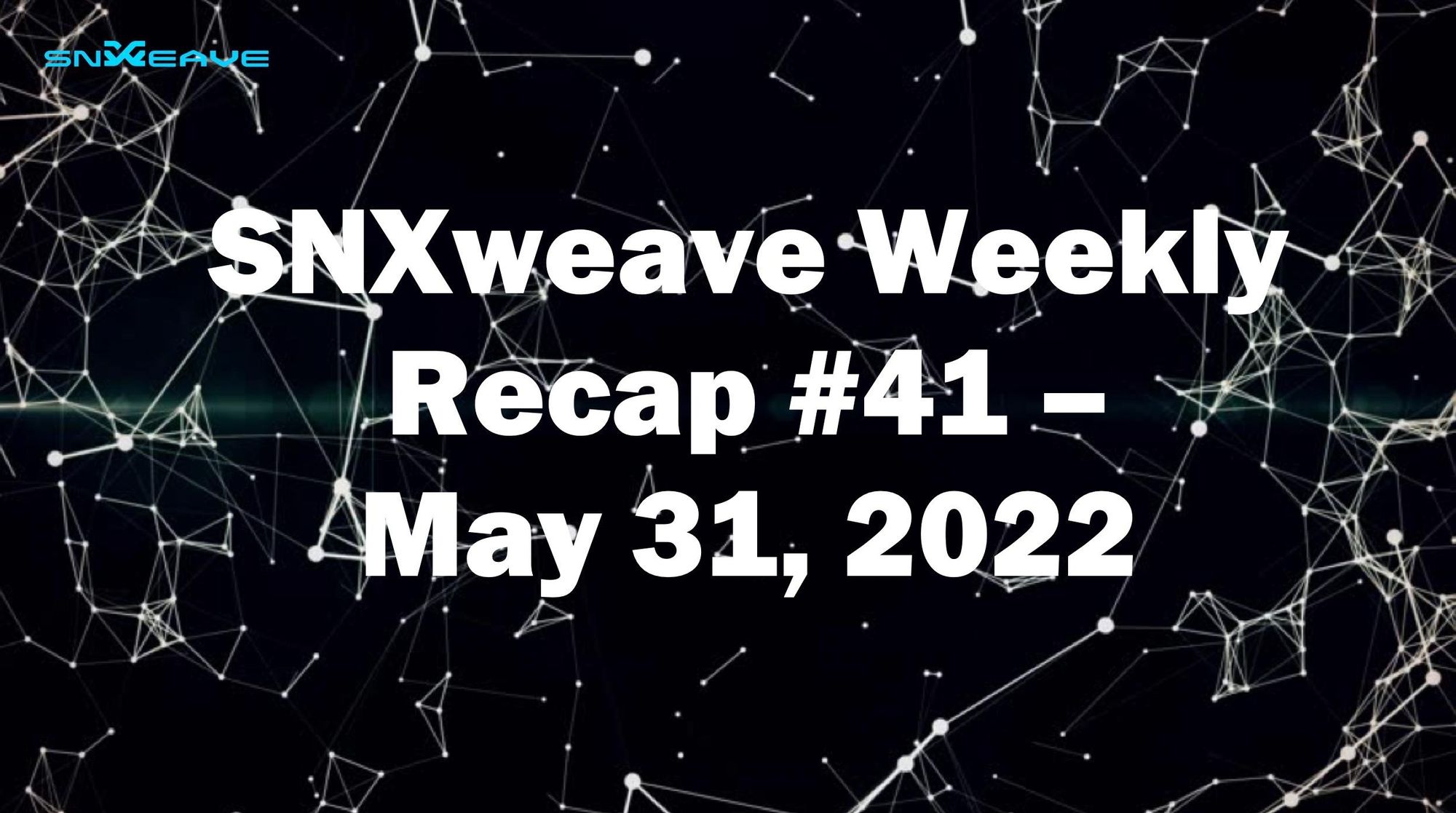 May 31, 2022
The following post contains a recap of news, projects, and important updates from the Spartan Council and Core Contributors, as well as the Grants Council and Ambassador Council from last week.
Spartan Council and SIP updates
Present at the May 24, 2022 Spartan Council Weekly Project Sync:
Spartan Council: Afif, JVK, Kain, ksett, Mark
Core Contributors: Ale, Cavalier, KALEB, Matt, Noah
Among the SIPs we discussed last week, SIPs 239 and 240 will also be included in the upcoming Rasalhague release. SIP-239, which recovers unallocated liquidation rewards due to the initialization issue caused by SIP-148, is complete and has been approved with all 8 Council members voting in favor. And SIP-240, which will liquidate the correct amount of debt for accounts with mostly escrowed SNX, still needs to be presented and voted on.
Last week, Millie presented SIP-242 to the Spartan Council, which proposes a distribution mechanism for OP tokens to be claimed from the Optimism Governance Fund. Millie explained that he and the Ambassadors worked out that passing 6 million OP tokens at a token price of $1 to stakers on Optimism would equate to about 15% ROI, which is not enough to move the needle and would be even less if more users switched over to Optimism. So contrary to Kain's SIP, stakers will not be getting any OP tokens as part of this proposal. This SIP therefore proposes diverting most of the incentives to SNX liquidity and bridge liquidity.
Of the 9 million OP tokens that have been granted to Synthetix, this SIP proposes using:
4 million over 6 months for incentives toward an SNX/USD pool on Optimism,
3 million for sUSD liquidity and bridge incentives for sUSD with one of Synthetix's bridge partners, and
2 million to hold for potential builders' grants, trading rewards, or other unforeseen incentives needed to bootstrap usage on Optimism over the course of 3–6 months. This portion of the allocation is to be held by the treasury council with the voting power delegated to the Ambassadors until it is spent for incentives.
Some questions were raised during the presentation. Kain asked what mechanism they are thinking of using to incentivize the SNX/USD pool, and Millie said they want to use the Uniswap V3 staker contract, but it would require some input and work from the Core Contributors to help integrate it with the Synthetix UI.
Kaleb also wanted some clarification on why the SIP proposes incentivizing SNX/USD instead of SNX/ETH. Millie explained that given the bearish trend, it would affect liquidity providers (LPs) less to pair with a stable instead of an asset. Kaleb expressed concern that sUSD is in such high demand and that he would prefer it not be locked up in LP contracts. Consensus was reached that the stable doesn't necessarily have to be sUSD.
Lastly, Kaleb asked if there will need to be another SIP that goes into further detail about how and when tokens will be distributed. Matt confirmed that there will need to be one, but that the initial plan is to first get the approval from Optimism. Kain agreed that this SIP should reach community consensus first, then the delegation specifics can be figured out once the approval comes from Optimism.
Grants Council
Present at the May 26, 2022 Grants Council meeting:
Grants Team: BigPenny, CT, Mike
In Grants Council updates, Mike suggested the possibility of participating in the ETHNewYork hackathon at the end of June. BigPenny will do some initial research on this and come back next week to develop the Council's approach to a possible sponsorship similar to that of the India Hackathon.
Next, the stats page is still in progress, as the dev is experiencing some delays. This project is much bigger than originally anticipated, so the delivery date is still unclear.
During their meeting, Mike also brought up the idea of creating a paper trading token that would, with certain trading criteria, reward users with real assets. The idea would be to get users to trade on Kwenta risk-free, which may attract some longer-term users. The Core Contributors are very busy at the moment, however, so this initiative would likely go through the Grants Council if pursued.
Lastly, work is still ongoing for the NFT project. As we all know, the design team is primarily stationed in Ukraine, which has caused some unavoidable delays to this project. The marketplace that they want to deploy on, universe.xyz, is at least 6 months out, but the team has agreed to create a whitelist platform exclusively for the Synthetix NFT project if necessary.
Podcast now also on YOUTUBE
Follow us on Twitter! @snx_weave
SIP/SCCP status tracker:
SIP-239: Liquidator Rewards Restitution, Status: approved
SIP-240: Update Liquidate Amount, Status: draft
SIP-242: OP Token Distribution, Status: approved