SNXweave Weekly Recap 40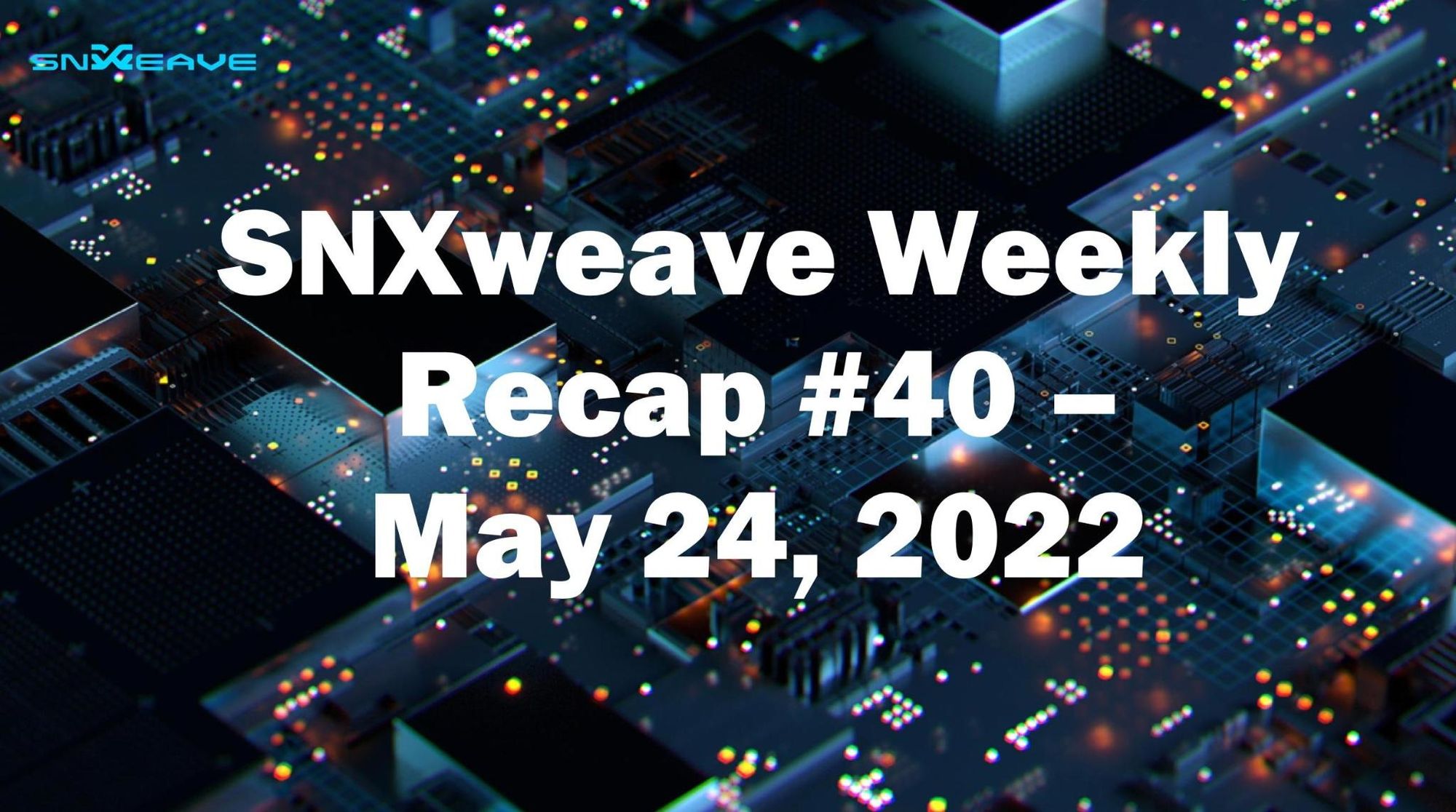 May 24, 2022
The following post contains a recap of news, projects, and important updates from the Spartan Council and Core Contributors, as well as the Grants Council and Ambassador Council from last week.
Spartan Council and SIP updates
Present at the May 17, 2022 Spartan Council Weekly Project Sync:
Spartan Council: Afif, calavera, Danijel, JVK, ksett, Mark
Core Contributors: Ale, Cavalier, KALEB, Mike
The next release will be Rasalhague, which will close out most of the remaining V2X SIPs. The following SIPs will be included in this release:
SIP-238: Only allow token interactions via their proxies
Code complete
Bug fix to address concerns from balancer
Waiting for audit
SIP-235: Update Issuer Modifier
Code complete
Waiting for audit
SIP-203: Volume Source
Waiting on input from partners to ensure all the necessary bases are covered before sending it to audit
SIP-230: Universal Circuit Breaker
As for the new liquidation mechanism, it is working great, strengthening the protocol and sharing the rewards with stakers. Liquidations are easier to track now since there's a new contract that holds all the SNX from liquidations under the new mechanism. With about 7.5 million SNX, Kaleb said the state of the protocol is much better in terms of c-ratio.
On the V3 side, there are 3 main fronts to it: core, governance, and product. Here's a quick overview of these 3 fronts:
1. Core
Tooling and technology for V3 (proxy architecture)
Ale: "The new proxy mechanism we are trying to use will make safety checks, when deploying new contracts, much more efficient."
Still building out the 'tooling' — approximately 80% complete
2. Governance
The team is designing a new system (V3GM) composed of multiple modules to govern the system
First step will be to release the election module which will allow elections to happen on-chain on Optimism
Governance module will be a multisig controlled by whoever owns the NFTs on any given council
UI is completely designed
Hoping to have fully functional version of UI for testing this week (may be available on testnet as well)
Contracts are ready and should begin testing next week
Will be deployed to mainnet at the end of May to allow for some simulations before the module is needed for the June election
Plan is for it to be used to vote for the next epoch
3. Product
This includes all previous discussion on V3 so far (SIPs 301–304: accounts, funds, markets, liquidations)
Experimenting with different systems but it's still early on in the planning phase
Grants Council
Present at the May 19, 2022 Grants Council meeting:
Grants Team: ALEXANDER, BigPenny, CT, cyberduck, Mike
In Grants Council updates, you may have already seen that CT leaked some of the initial wrapper UI designs. There was a scavenger hunt in the 300 group to get users to find the leak and post about it. This fun little surprise has inspired the Grants Council to possibly do a larger scavenger hunt across the entire Synthetix ecosystem with bigger prizes and incentives. The team will be brainstorming ideas for how to make this a reality and possibly supplement other marketing efforts.
The Council is also putting together a request for proposal (RFP) for flashloans for stakers. They are just looking for someone to help finish up the technical portion of the RFP first before putting it out for developers to apply.
Ambassador Council
Present at the May 17, 2022 Ambassador Council meeting:
Ambassadors: mastermojo, Matt, MiLLiE
In Ambassador Council updates, the team is working on getting HOP and Optimism delegations, and is brainstorming ideas for the OP token allocations. Millie wants to incentivize SNX/OP liquidity and thinks incentivizing stablecoins may not be valuable because of the existing curve incentives. Matt wants to incentivize trading. Millie is going to be writing an updated proposal for the Ambassador Council to review before submitting it as an official update to Kain's proposal.
The team also hosted another Spartan Space last week, this time with Popcorn Finance guests Anthony and Leon. Popcorn is a new paradigm for decentralized finance where yield-generating products simultaneously contribute to social impact. Leon is the lead dev at Popcorn and has been on the team since the very beginning. And Anthony is the founder of Popcorn, explaining that he wrote the whitepaper after getting very excited about all the value being generated in DeFi and web3.
Sort of like a decentralized grant system, Popcorn token holders can determine allocations for organizations to receive funding from the fees that are generated by the protocol. So far, they've launched a couple of different products and yield optimizers that are based on stablecoins, and they are continuously looking for unique yield strategies and ways to onramp and offramp those strategies in a cost-effective way.
"There's this whole movement that's actually brilliant with regenerative finance and a focus on public good funding." -Anthony
Matt asked the guests how the charities are decided on, and they explained that the fees generated by the protocol are all deposited into the "rewards manager contract." This contract then distributes fees to the non-profit or social impact organizations that have been voted on by the token holders. First, however, the organizations must be nominated and register for grant rounds in order to receive funding. And this whole process is led by the token holders. The fees that fund these "grants" come from performance, deposit, and withdrawal fees, and they are all competitive with other yield aggregator products.
Kaleb was also on the call to talk about how Popcorn is integrated with Synthetix. He explained that the issue with doing trades using only an Ethereum-based oracle is that there is a bit of lag time in the feeds. Atomic exchanges, however, allow the use of AMMs as a price source with a fallback to the Chainlink oracle as redundancy. Forex trading doesn't require the high speed, low latency feeds that other trading products need since they are basically stablecoins and don't move more than 5–10 basis points in an hour. This makes it possible to offer trading at the pure Chainlink price with very attractive fees.
Lastly, Anthony briefly discussed the Popcorn Foundation Council, which is in the process of being set up. They are currently looking for community members to represent the foundation. He explained, however, that they are first focused on building the DeFi products that they offer in order to attract the capital and fees, then they'll begin to focus more on the beneficiaries.
Be sure to catch the recording of the call if you missed it!
Podcast now also on YOUTUBE
Follow us on Twitter! @snx_weave
SIP/SCCP status tracker:
SIP-238: Only allow token interactions via their proxies, Status: draft
SIP-235: Update Issuer Modifier, Status: approved
SIP-203: Volume Source Fee, Status: SC review pending
SIP-230: Universal Circuit Breaker, Status: approved
SIP-148: Upgrade Liquidation Mechanism V2, Status: implemented
SIP-207: V3GM Election Module, Status: SC review pending
SIP-301: Accounts (V3), Status: draft
SIP-302: Funds (V3), Status: draft
SIP-303: Markets (V3), Status: draft
SIP-304: Liquidations (V3), Status: draft
SIP-234: OP Token Distribution, Status: draft