SNXweave Weekly Recap 39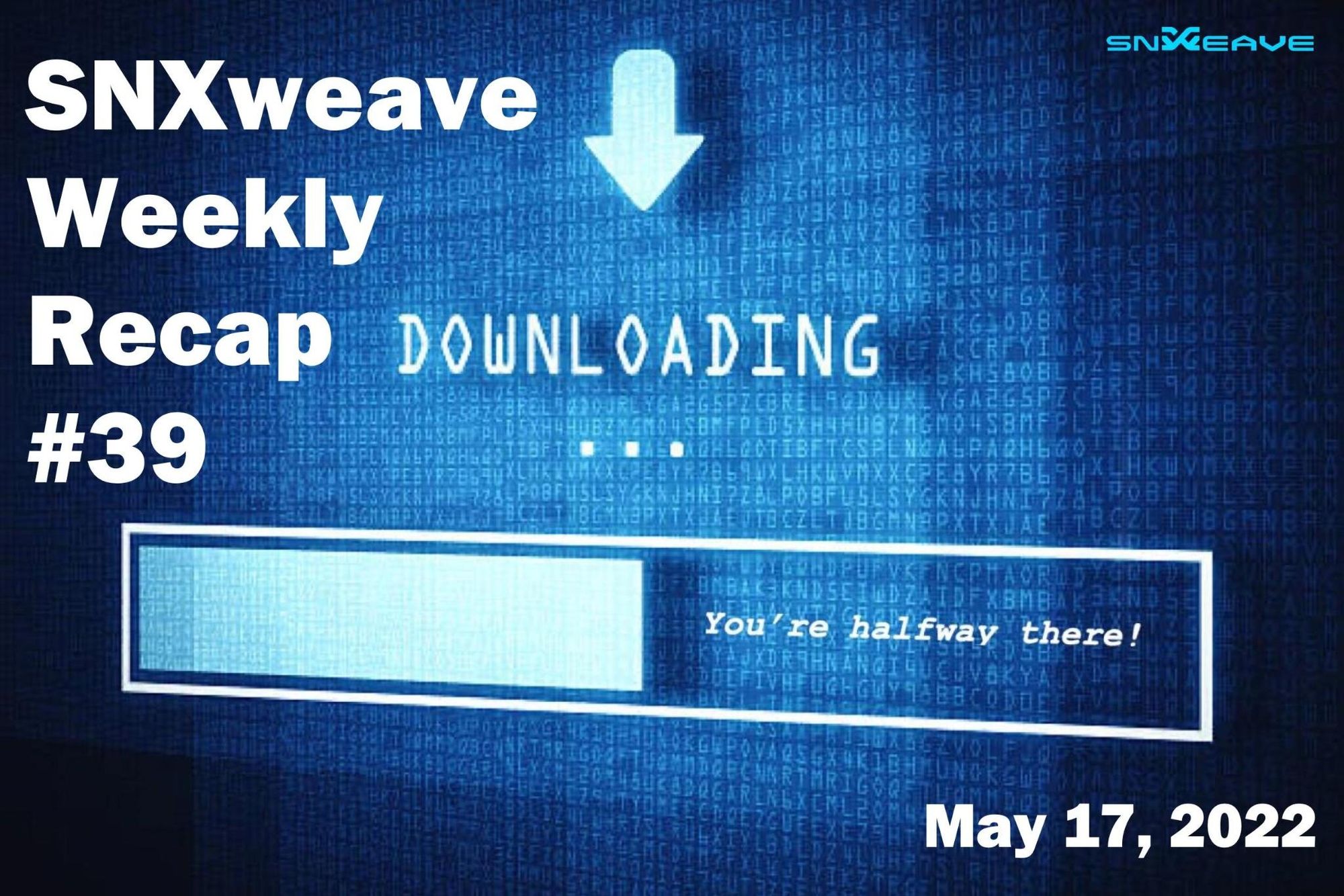 May 17, 2022
The following post contains a recap of news, projects, and important updates from the Spartan Council and Core Contributors, as well as the Grants Council and Ambassador Council from last week.
We are officially halfway through the epoch! Let's all give ourselves a pat on the back, and then dive into this week's updates.
Spartan Council and SIP updates
Present at the May 10, 2022 Spartan Council Weekly Project Sync:
Spartan Council: Afif, calavera, Danijel, JVK, Kain, ksett, Mark, SynthaMan
Core Contributors: Cavalier, db, KALEB, Matt, Noah, Rafa
The Mirach release has gone out! In case you missed it, this release brought SEVERAL SIPs, including:
Synthetix is the first fully on-chain perpetual futures protocol to support ApeCoin and DYDX, so these new markets are very exciting. Check them out now on Kwenta!
SIP-148, for the new liquidation mechanism, was also released this past weekend. This new mechanism will strengthen the protocol and ensure that cascading liquidations do not destabilize the Synthetix protocol. And since SIP-148 poses potential risks to the network if a majority of holders elect to utilize self-liquidation rather than repaying their debt, SCCP-199 has also been implemented to lower the c-ratio to 300% and reduce the risk to the network.
So if you have been flagged for liquidation under the prior liquidation system, your flag has been reset. And if you are flagged from this point on you will have 12 hours to correct your C-Ratio before you are liquidated. This redesigned liquidation mechanism creates better incentive alignment within the system by providing options for stakers to repair their c-ratio with a minimal penalty if they are unable or unwilling to buy synths on the market to restore their c-ratio.
As for the rest of V2X, there are actually only a few SIPs left:
SIP-230: Universal Circuit Breaker: This has been approved and is in progress.
SIP-203: Volume Source Fee: This is code-complete and is being prepared for audit.
SIP-208: Debt Migration: There is some ongoing discussion about this SIP, as the team is still figuring out the winding down of V2X.
But outside of the Debt Migration, all other work is approved and in various stages of completion.
The Council also discussed Futures V2 at their meeting last week. Right now, Futures is technically still in beta as the team continues to build a clearer idea of what the next version of Futures will look like. And after the rest of V2X winds down, there will still be a couple of resources dedicated to implementing some of the upcoming changes.
Lastly, the Spartan Council discussed Optimism token distribution. As a reminder, this SIP proposes a distribution mechanism for Optimism tokens to be claimed from the Optimism Governance Fund. The rough consensus right now is to focus on future rather than retro distribution, however some in the community have voiced support for starting the distribution once debt migration is available.
There was also some discussion about what the right incentive structure is. Some voiced concerns that distribution over 12 months might not move the dial very much in terms of APY, so it might be shifted to a 3- or 4-month timeframe.
Danijel also suggested holding 30% to experiment with incentives. It can be written into the SIP that the Spartan Council would control these funds, so everyone will be brainstorming ideas for this 30%. Afif suggested incentivizing sUSD, and there was some consensus that stablecoin incentives might be the best use of the funds since the cost to do so is relatively cheap. More to come here.
Grants Council
Present at the May 12, 2022 Grants Council meeting:
Grants Team: BigPenny, CT, cyberduck, Mike
In Grants Council updates, the team has been working with the designer on the Wrapper UI project and it is looking great. The next step is to lock down a developer to build out the technical side. They currently have a candidate who says the project should take about a month.
Next, if you're in the 300 group then you may have already seen the announcement: milkywave has been named the first 300 Lieutenant! As a Lieutenant, he will be helping to onboard new 300 members, manage coordinated campaigns on social media, and source new campaign ideas and community-led growth ideas. Milkywave is currently working closely with Mike and Matt on his new Lieutenant tasks.
As for the NFT project, work is still ongoing but the design team is experiencing delays since they are primarily located in Ukraine. The Grants Council is still looking for some help on the development side to build out the smart contracts, and as for timing, the project will likely not be delivered by the end of the epoch as originally anticipated.
Lastly, the Tools site descriptions are complete, and you can check them out now on the website!
Ambassador Council
Present at the May 11, 2022 Ambassador Council meeting:
Ambassadors: mastermojo, Matt
In Ambassador Council updates, the team hosted another Spartan Space last week, this time with Stargate Bridge. The Ambassadors spoke with Brian, who is one of the co-founders of LayerZero Labs, and helped build Layer Zero and Stargate.
Brian explained that it all started when they noticed the high volume on Binance Smart Chain. They built a game that existed across multiple networks to test the technology, but quickly realized that there had to be a central coordinator if they wanted to build all the features necessary to make it useful — and that seemed very anti-crypto. They began researching other bridges but were not impressed with what was available — so they made their own.
Stargate is a native asset bridge, meaning, for instance, USDC exists on the source and destination chain rather than USDC and wrapped USDC on the destination network. It currently supports USDC, USDT, BUSD, and ETH is on the way. And they are currently deployed on BNB, Polygon, AVAX, Arbitrum, Fantom, and Optimism — with other new chains such as SOL coming soon.
Brian explained that they built in a property called "instant guaranteed finality" using the delta algorithm so users know that when a transaction resolves, there is a 100% guarantee that it will resolve on the destination chain.
This sets Stargate apart from other bridges because bridging native assets allows them to remove the added transaction of having to convert wrapped tokens into usable stables. The problem with other bridges is that, via this wrapping mechanism, users are effectively assuming the risk of the bridge for the entire time they're on the destination chain. The wrappers sort of work as IOUs, and the users are carrying the risk as long as these IOUs exist.
"Our thesis and reason for building stargate was that we believe 95% of bridge volume is going to come at the application layer — not the user layer." -Brian
They call it a liquidity transfer layer (rather than a bridge), which allows complex, multistep transactions to be executed from a single transaction.
STG is the governance token for the protocol, with over $1 billion in volume since its launch about a month ago. It's used for emissions to bootstrap liquidity for the protocol, with a goal of incentivizing holders to play an active role in governance.
Millie asked Brian how he envisions people building on top of Stargate and if there are any incentives to do so. Brian said the goal is obviously for people to want to build in order to add aggregate value, but the incentive is ultimately in the product that they provide. For yield aggregators and AMMs who need liquidity on both sides, Stargate will bring a cost-effective way to do this.
The discussion also included topics such as governance, the centralized aspects of Stargate, and what's next for them this year. So be sure to check out the recording for the full call!
Podcast now also on YOUTUBE
Follow us on Twitter! @snx_weave
SIP/SCCP status tracker:
SIP-198: Update to Atomic Exchange Function, Status: implemented
SIP-222: Update Exchange Fee System, Status: implemented
SIP-216: Add Indian Rupee Synth, Status: implemented
SIP-219: APECOIN PERP, Status: implemented
SIP-223: DYDX PERP, Status: implemented
SIP-229: Optimism Bridge for Synths, Status: implemented
SIP-148: Upgrade Liquidation Mechanism V2, Status: implemented
SCCP-199: Lower C-ratio and adjust parameters for SIP-148, Status: implemented
SIP-230: Universal Circuit Breaker, Status: approved
SIP-203: Volume Source Fee, Status: SC review pending
SIP-208: Debt Migration, Status: draft
SIP-234: OP Token Distribution, Status: draft