SNXweave Weekly Recap 102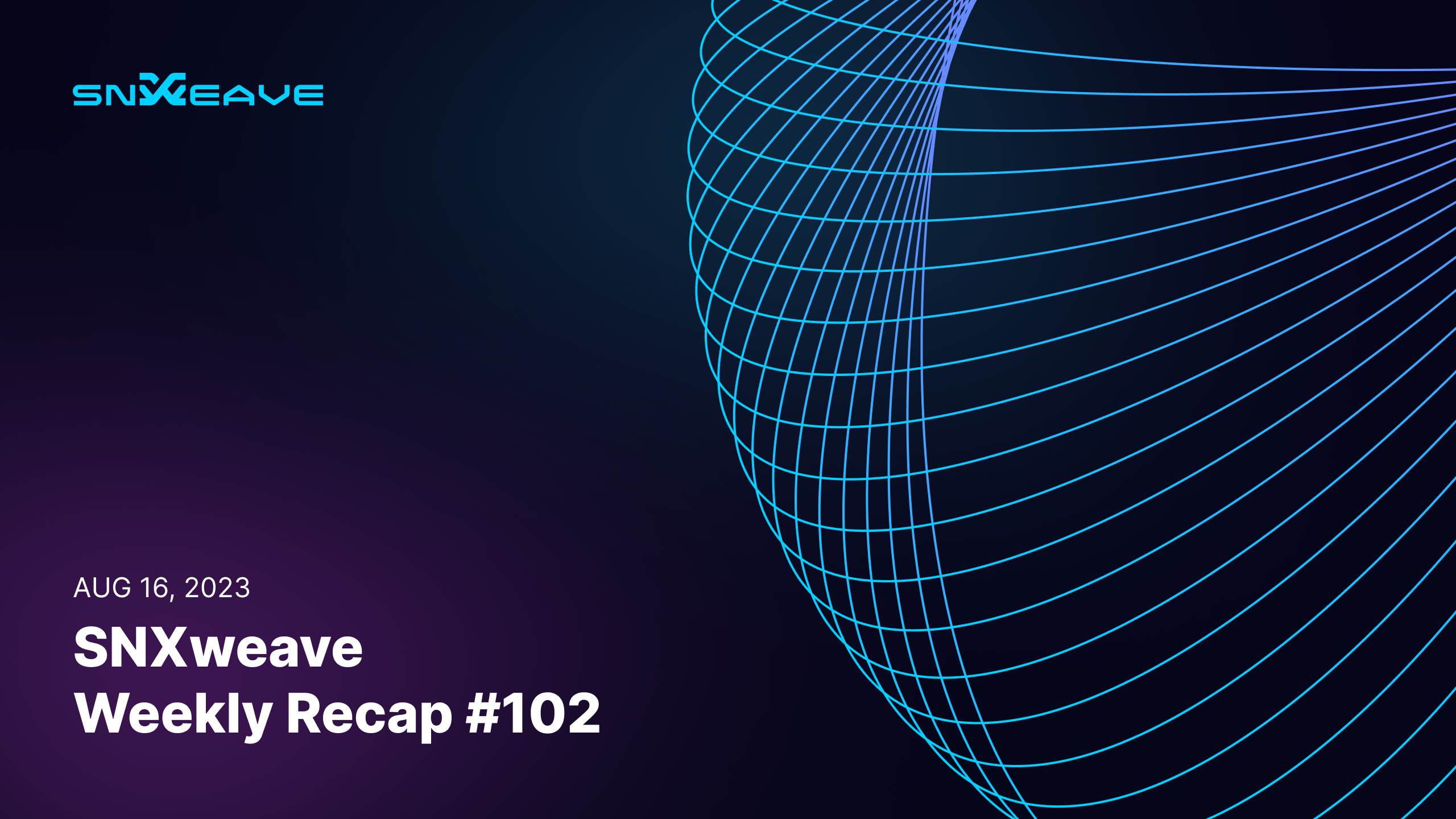 August 16, 2023
The following post contains a recap of news, projects, and important updates from the Spartan Council and Core Contributors, as well as the Grants Council and Ambassador Council from last week.
Spartan Council and SIP updates
Present at the August 9, 2023 Spartan Council Weekly Project Sync:
Spartan Council: Adam, cyberduck, Danijel, Jackson, ml_sudo
Core Contributors: Afif, jz, KALEB, meb, noah, Noisekit, sunny
For V3 core, a number of small SIPs were approved recently and have since been moved to the implementation phase. These SIPs are currently under audit to get them to Mainnet as soon as possible, and the core system is being treated as feature-complete with all of the upgrades in preparation for Perps V3. Noah and db are also concurrently working on ERC-7412 since it's the best option for cross-chain pool synthesis. And the CCs are putting together the SIP to enable the cross-chain election system, which will likely go to audit after Perps V3.
And speaking of Perps V3, it's currently in audit while the CCs work with Kwenta and Polynomial on the integration. The current timeline is looking like 2–3 weeks for a testnet competition (possibly early September). The testnet competition is the next milestone, which will help resolve any bugs before the official launch.
During the Perps V3 discussion, the Council also discussed the new proposed fee structure. This new program will require front ends to propose the percentage of fees that they would like to collect, and that fee will go to a wallet of their choice. This system retains all of the same flexibility as previously proposed systems — frontends can add fees or they can request a higher percentage and rebate customers to be more competitive. The benefit of doing it this way is the percentages can always be turned to zero if governance decides against the fee rebate in the future — this is much easier than creating a new, compatible fee system later on.
Next up, there were a few SIP presentations last week so let's briefly review them:
SIP-331: Adding view function to retrieve market address by market ID
Presented by Noah, this proposal suggests adding a view function to the Market Manager Module which will allow devs to retrieve the address of a deployed market by using the market's ID
The function is designed to return the address of the deployed market for a specific market ID
SIP-336: Deploy Synthetix V3 Core on Base
This SIP proposes deploying the Synthetix V3 core system to Base with contracts initially paused
They will likely not be unpaused until Perps V3 is ready but there may be reasons to do so
Mike explained that this would be a big show of support for the Optimism ecosystem and may help attract builders to the chain
The process is relatively straightforward, according to Noah, since Base is essentially identical to Optimism code-wise
This SIP was approved with 8 votes in favor
SIP-2030: Add USDT to Perps V2
Burt presented this SIP, which introduces USDT futures to Perps V2, allowing users to trade the price of USDT against USD or hedge their USDT exposure against USD
The feed is already live and the expectation is that some users might make use of this product as a hedge if there is expected volatility
OI caps will be initially set to $5mil
SIP-2031: Add stETH/ETH on Synthetix Perps
This is a proposal to offer stETH/ETH on Perps V2, which will track the price ratio of their respective cryptocurrency denominated in USD
Burt explained that the motivation behind this SIP was to allow users to trade the deviation between stETH and ETH rather than just stETH (which is generally pegged to ETH)
This SIP was inspired by the success of the ETH/BTC ratio offering, and has been approved with 8 votes in favor
---
Subscribe to our YOUTUBE
Follow us on Twitter! @snx_weave
---
SIP/SCCP status tracker:
SIP-331: Adding view function to retrieve market address by market ID, Status: draft
SIP-336: Deploy Synthetix V3 Core on Base, Status: approved
SIP-2030: Add USDT to Perps V2, Status: implemented
SIP-2031: Add stETH/ETH on Synthetix Perps, Status: approved