Two-Week Notice for sDEFI and sCEX Rebalancing
Actions required if you hold s/iDEFI or s/iCEX ahead of their rebalancing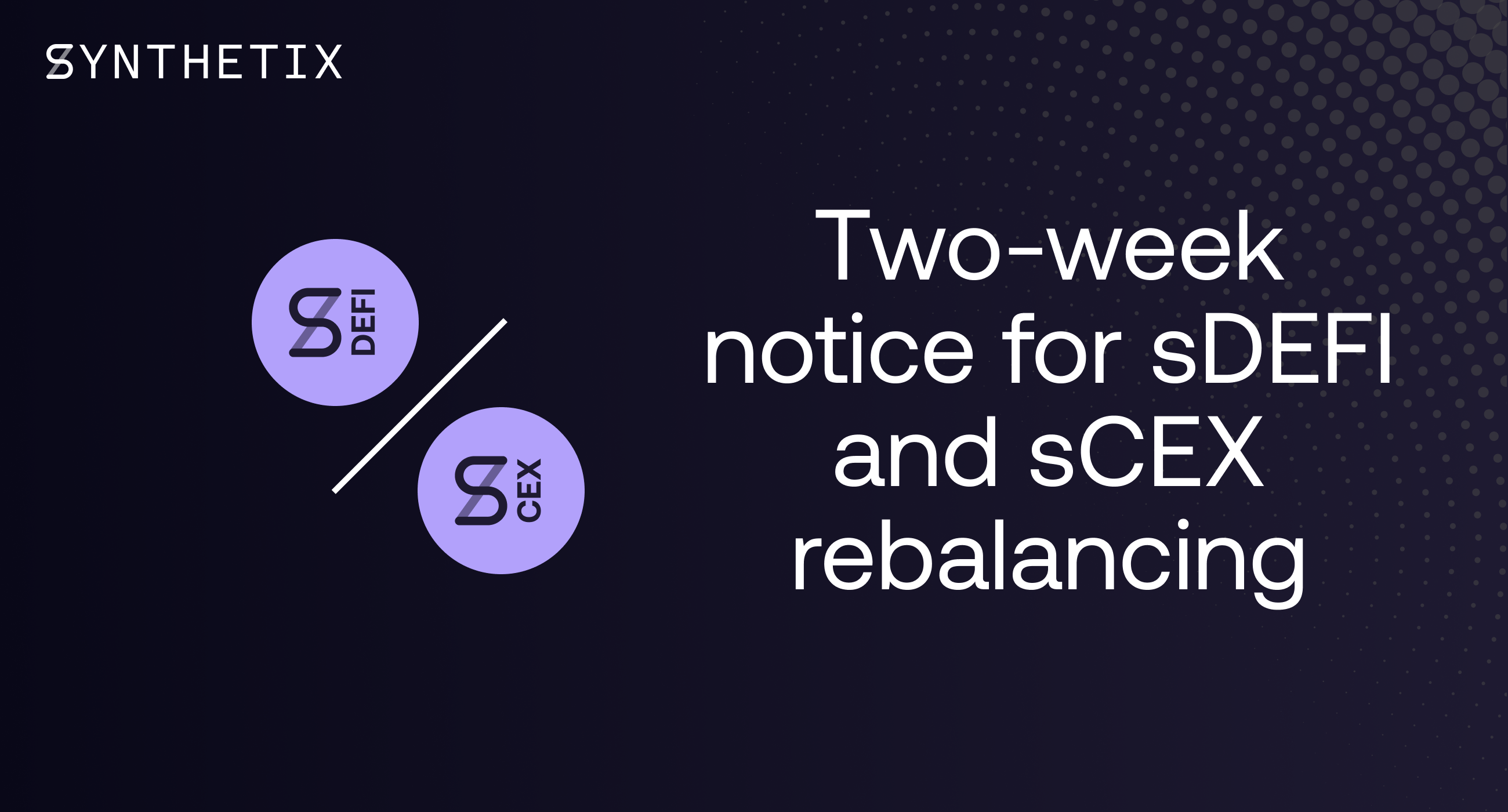 Update (July 27, 2020): this has been pushed back an extra week to July 30, with our Spica release.
We're excited to announce that the Synthetix community has voted to rebalance sDEFI and sCEX (and their Inverses). The rebalance will change both which assets are included in these indices, and what the weightings are. This decision was made by the community to ensure that all assets included in the composition of sDEFI and sCEX are relevant and reflective of market activity.
For those new to Synthetix, sDEFI and sCEX are synthetic assets that represent the price performance of a basket of leading tokens in the decentralized finance space and the centralized exchange space respectively. The compositions of these tokens are voted on by the Synthetix community.
Important Dates and Actions
Current sDEFI and sCEX holders will have until July 23rd (UTC) to exit from their positions if they do not want to be converted to the new composition. After this date users that don't convert out of sDEFI and sCEX will be converted to the new index compositions. From July 23rd, the new sDEFI and sCEX tokens will be available for trading on Synthetix.Exchange.
The New Composition of sDEFI
Currently, sDEFI does not capture the price activity of several prominent DeFi tokens. The community has voted to include:
LEND: the Aave ecosystem utility token.
UMA: the Universal Market Access (UMA) ecosystem governance token.
COMP: the Compound ecosystem governance token.
BAL: the Balancer ecosystem governance token.
As outlined in SIP-69, the new composition of sDEFI will follow the chart below:
The New Composition of sCEX
Similarly, sCEX does not include tokens that have recently increased in popularity in the centralized exchange space. The community has voted to include:
FTT: the FTX ecosystem utility token.
CRO: CRO the native currency of the Crypto.com blockchain.
As outlined in SIP-69, the new composition of sCEX will follow the chart below.
Inverse Tokens
Users can open short positions on sDEFI and sCEX by purchasing iDEFI and iCEX.
Like our other Inverse Synths, iDEFI and iCEX will have an entry price, an upper limit, and a lower limit. Whenever these limits are reached, the token's value is frozen and won't change until it is re-deployed.

If you have more questions or need support, join the Synthetix community on Discord.