Stake SNX on the Optimistic Ethereum L2 testnet!
Synthetix is now live on the Optimistic Ethereum L2 testnet!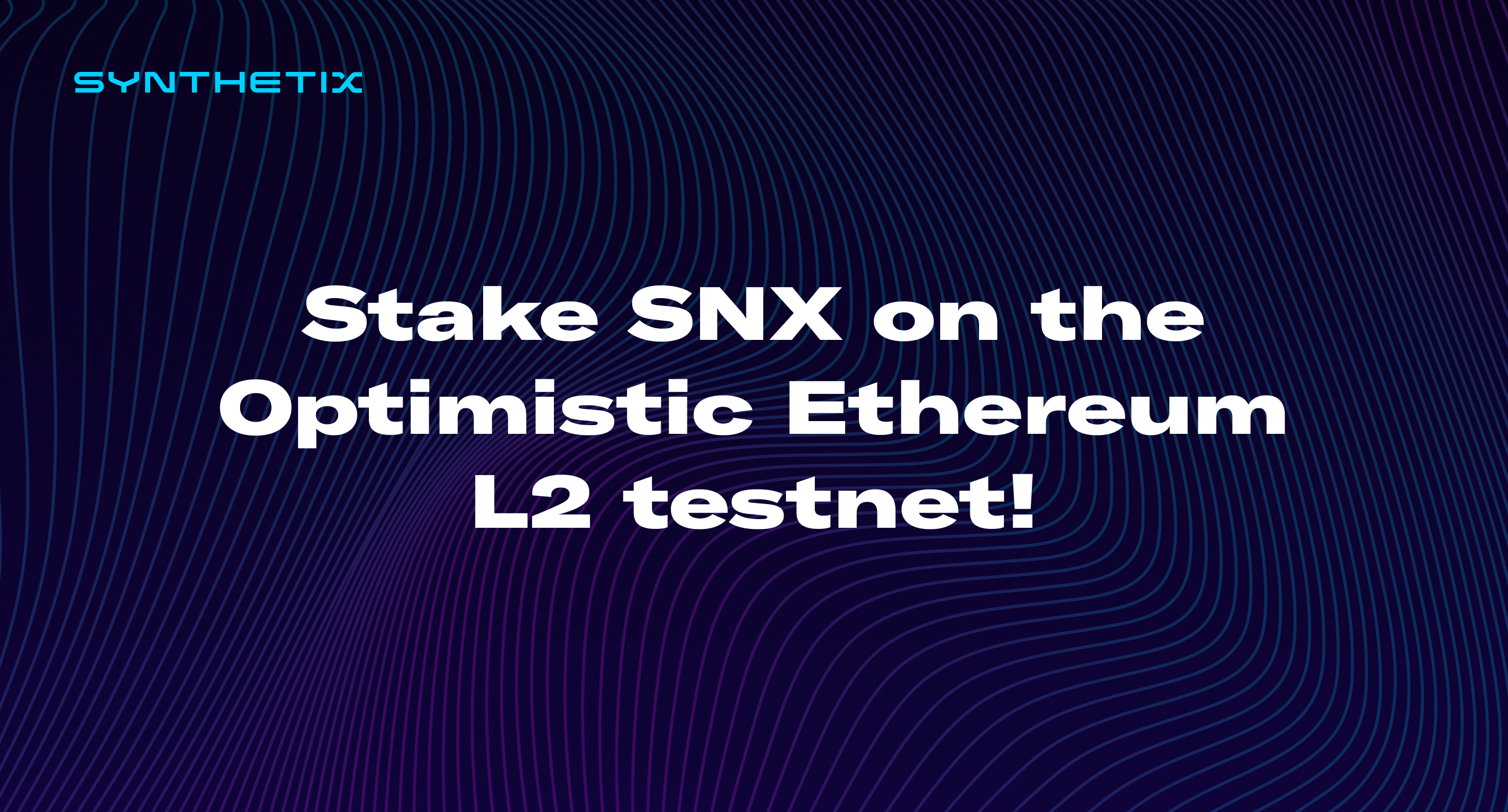 Synthetix is extremely excited to share the first phase of our transition to Optimistic Ethereum, a layer two scalability solution for Ethereum!
This first phase is an incentivised testnet to trial SNX staking on Optimistic Ethereum (which is the OVM + Optimistic Rollup — you can read their announcement here). It's aimed at SNX stakers with smaller balances, who may have been priced out of participating in staking in recent months due to high gas prices.
This is a huge milestone for Synthetix, Optimistic Ethereum, and indeed the entire Ethereum space. Optimistic Ethereum is the only generalised Layer 2 solution for Ethereum, 'generalised' meaning it doesn't require specific functionality to be built to support existing L1 protocols. Launching SNX staking on OE is a crucial step towards full scalability for the burgeoning DeFi ecosystem, truly allowing anyone around the world access to open financial infrastructure without the friction of high gas costs.
How it works
This initiative will provide eligible SNX stakers with a snapshot of their SNX balance on Optimistic Ethereum's L2 testnet which they can use to stake (and mint and burn sUSD) and claim staking rewards. The synthetixDAO will provide 50,000 SNX per week for 4 weeks as staking rewards for participating in the Optimistic Ethereum testnet. These rewards will be claimable on L2 mainnet at launch, and are allocated as per the usual L1 staking rules — they are allocated according to each staker's debt percentage at the weekly snapshots at the end of each fee period.
At the end of the testnet trial, L2 stakers' testnet L2 SNX rewards will be airdropped onto mainnet L2. However, they will not receive their initial testnet L2 SNX balance that was based on their L1 SNX balance, but like all L1 SNX stakers they will have the option of migrating over to L2 mainnet.
Eligibility requirements
To be eligible to participate in this initiative, addresses must hold between 1 and 2500 SNX, including escrowed SNX, and must have staked (i.e. minted Synths) at least once historically. There was a snapshot earlier today (September 24, ET), at which time these requirements must have been met.
The purpose behind these eligibility criteria was to help alleviate the impact of past high gas costs for SNX stakers.
Here is the full list of eligible participants.
If your wallet is eligible, there will be a banner at the regular Mintr which tells you to head to L2.
Please note that if you do not qualify via the above requirements, there is currently no other way to participate. Please be aware that there may be scam Telegram groups offering fake SNX in exchange for ETH.
Mintr on Optimistic Ethereum testnet
You can access the L2 Mintr frontend here. To participate, follow these steps:
If you're eligible, as per the above spreadsheet, then you have been transferred the L2 SNX. You do not need to adjust the network in your wallet provider — use the Mainnet network.
Head to https://l2.mintr.synthetix.io and connect your eligible wallet.
Use the "Mint" option to stake your L2 SNX and mint sUSD.
The transaction will go through instantly, which will be the new normal on Optimistic Ethereum!
After the next snapshot (Wednesdays, around 10am UTC), you'll be able to claim your staking rewards, which will also be processed instantly!
Bug Bounty program
Our usual bug bounty program will also apply to Synthetix on Optimistic Ethereum testnet:
Informational: $100 sUSD
Low severity: $500 sUSD
Moderate severity: $1000 sUSD
High severity: $5000 sUSD
Learn more
This is only phase A of the Optimistic Ethereum testnet trial — we will be making further announcements about the following phases soon.
In the meantime, you can learn more about Optimistic Ethereum by checking out their announcement or website.
To learn more about Synthetix, visit the website, follow along on Twitter, and come join the conversation on Discord!