Multicurrency nomins are now live on Kovan Testnet!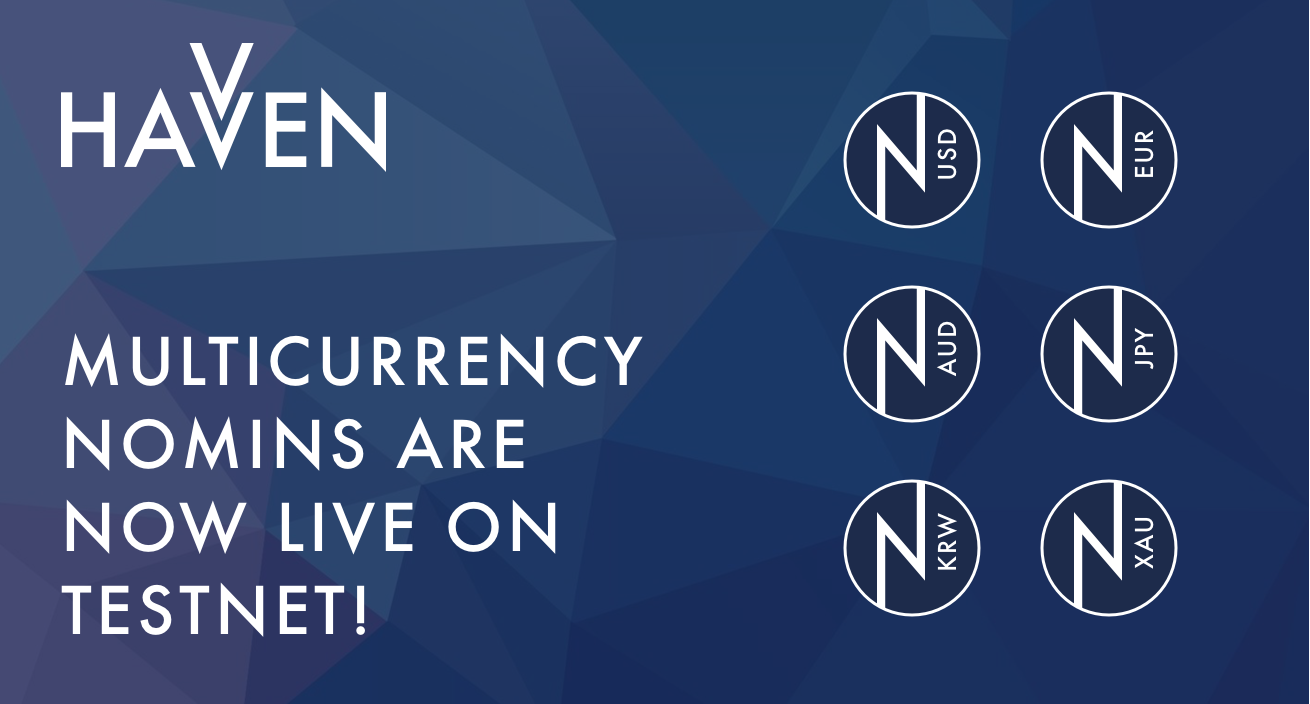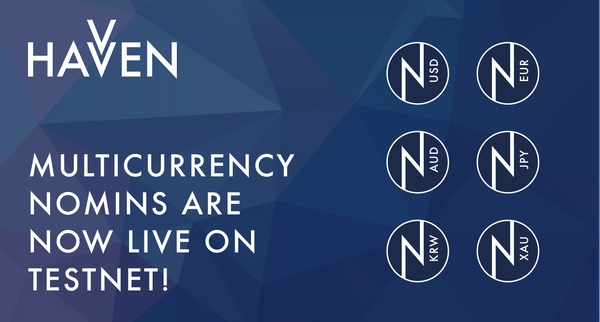 We're excited to announce that multicurrency nomins are now live on Kovan Testnet. Once our development team and auditing partners have fully tested the code, we will launch the first multicurrency decentralised stablecoin on the Ethereum blockchain.
Through this launch, nomins will not only be available as nUSD, but also as a variety of pegs to other assets, including nEUR, nAUD, nJPY, nKRW, and nXAU. Kovan Testnet is an alternative blockchain designed for testing Ethereum contracts in a value-free environment.
More currencies will continue to be added in upcoming months, including nCNY and nBTC, as well as a wider range of synthetic assets. We will also be launching a trading platform to allow users to seamlessly trade between the various types of nomins.
Mainnet launch is expected for December, 2018.
Kovan Contracts
SafeDecimalMath: 0xecDCbD4C5948FaCbD93E47792B7d2fEC3E7166f6
ExchangeRates: 0xd9c19368d3cE48dB78Ebdbea95699f3f2291E2d1
Proxy.FeePool: 0x46208405b17000331dA99F6BC29697d709e396d3
FeePool: 0x8d3B277B66F0A6baBaB566b104B52a6B0459b6b2
HavvenState: 0xcB579e80cbFc7e50388Da5bc507187b1Cb620620
Proxy.Havven: 0xA018Afa45F97E4692b7cba2b8FF19D11dcF0337B
TokenState.Havven:0xDfBA72F2cCacA496a3012A27351D610eb88677Aa
Havven: 0x6Fb1d15aBAE4205050A74Df887C0832AE9AcB9b9
HavvenEscrow: 0xE6fFb8a5F954E4473276B4A50506AD76AeF906E3
TokenState.HDR: 0x7730940cab2F63645eCd80c98b5e30448715A3B3
Proxy.HDR: 0xe239E2bdC7B4eEce218e66511E31aC857D3F568F
Nomin.HDR: 0x8EfAc1173c63B4feCe34C1A6Ff9484249d7da17B
TokenState.nUSD:0xD739F98B36F53D1511AB7d1e12aA11D9985D4242
Proxy.nUSD: 0x8DAE1b5Db3dAC2e973375B3Cb96a9Cb55ad90a08
Nomin.nUSD: 0x6C127031976F3E3195D9669F37D0748554D374AB
TokenState.nEUR: 0x723C9C73bDA0C3d4A5487845425c2d32b8658c30
Proxy.nEUR: 0x37989ac036F6106dC5770CC320Ea8D85c45FCc93
Nomin.nEUR: 0x39B0df0b4B051DAc4c39AAaD750E7166BdDF6632
TokenState.nJPY: 0xA904c561939164a350a26a817d9e9620fE41c6DE
Proxy.nJPY: 0x9b814d1cf94B9307026F83E797AF5bc46cB54Ee6
Nomin.nJPY: 0xEE06cb93F88ba08A2a608F8a9B51485906584Ee8
TokenState.nAUD: 0x33e9b09243B07369fEb107D4B56EcD85732368BF
Proxy.nAUD: 0x6dcDE527a0A65B1517Cd510D93DD8135Ae127184
Nomin.nAUD: 0x4a3EcF6a282BD90d0a5d54b4621Ea17fB63D4f71
TokenState.nKRW: 0x4dfE0232291B1bD6e010dd2e24BF743b3C66843D
Proxy.nKRW: 0x33b14EC4Ab8dA71F00F240c91Efc72ab631b0670
Nomin.nKRW: 0x5DF32526Ef74CfF66c3C3BF501dbfF46AAE03CbA
TokenState.nXAU: 0x27B3173557f03ED855961eF3e916F23aAA85b0E4
Proxy.nXAU: 0xdbA75834fFaBD665e96170dB7be8e86Fc54601C3
Nomin.nXAU: 0x45Fd6190e8059bF21ffBC1bb09a72d4aFEba99a0
Proxy.nKRW: 0x33b14EC4Ab8dA71F00F240c91Efc72ab631b0670
Nomin.nKRW: 0x5DF32526Ef74CfF66c3C3BF501dbfF46AAE03CbA
TokenState.nXAU: 0x27B3173557f03ED855961eF3e916F23aAA85b0E4
Proxy.nXAU: 0xdbA75834fFaBD665e96170dB7be8e86Fc54601C3
Nomin.nXAU: 0x45Fd6190e8059bF21ffBC1bb09a72d4aFEba99a0