iETH migration summary
A summary of the weekend's events concerning the iETH staking incentive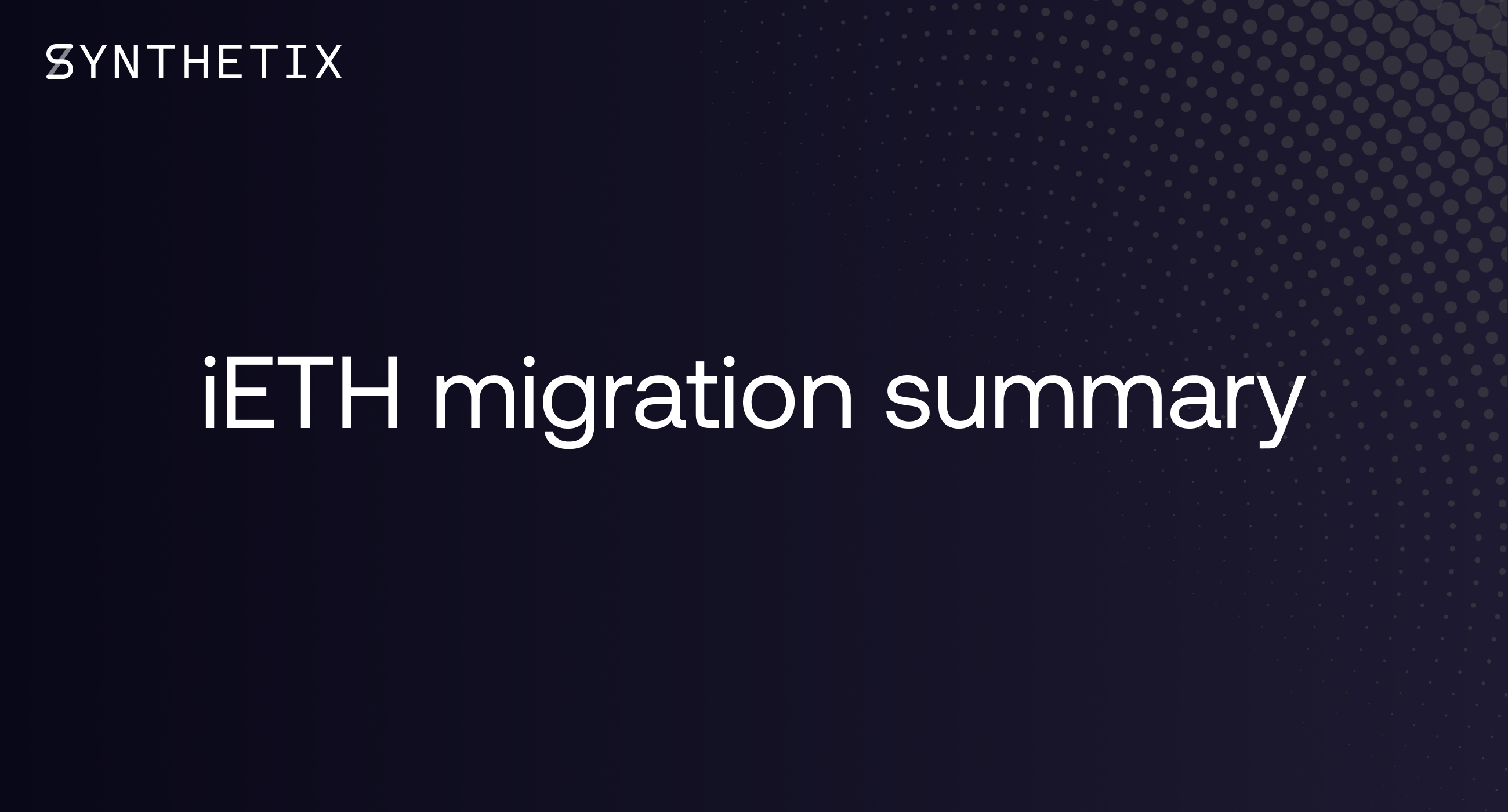 Over the weekend there were various updates made to the iETH staking incentive.
The existing incentive
We have been running an iETH incentive to balance out the long-ETH skew in the Synthetix debt pool, rewarding people to hold iETH. To receive rewards, they were required to stake their iETH into a staking contract, which would accrue SNX rewards that they could claim at any time.
On Friday, it was looking possible that ETH might reach $315. If this happened, iETH would be frozen, as that is its upper limit (more details here), and any iETH holders would be 'purged' into sUSD to be able to reset iETH with the new upper and lower limits.
Migration
We announced on Friday that in anticipation of this possibility, iETH stakers should unstake their iETH into a new staking contract, which supports the withdrawal of sUSD.
The majority of iETH stakers did migrate their iETH into the new staking contract before iETH hit its upper limit of 315 and froze.
When iETH was frozen, all remaining iETH holders were purged into sUSD. For anyone who hadn't unstaked their iETH from the old contract, their sUSD was sent to the iETH staking rewards contract 0xC746bc860781DC90BBFCD381d6A058Dc16357F8d which is unrecoverable. Do not stake anything in this old contract. The sUSD sent to this contract has just been airdropped out to its rightful holders (the iETH stakers who never unstaked their iETH), paid by the synthetixDAO.
The new iETH limits
Entry Point: $314.54000
Upper Limit: $550.44500
Lower Limit: $78.63500
If you migrated out of the first staking contract into the second, and have already received the sUSD from the purging event, you'll need to trade that sUSD back into iETH and stake it into the new staking contract on Mintr, in the 'LP rewards' tab.
Please note that if ETH hits $550, this migration process will need to be performed again.
If you have any questions, please come join us in Discord.