New BTC Yield Farming Pool from Synthetix, Curve, and Ren
How you can earn three different kinds of rewards with the new BTC liqudity pool!
We are pleased to announce that Synthetix, Curve, and Ren have collaborated to launch a new incentivized pool to provide liquidity for tokenized BTC on Ethereum.
Our goal is to create the most liquid Ethereum-based BTC pool available to offer traders access to the lowest slippage for trades between sBTC, renBTC, and WBTC.
This incentive will run for 10 weeks, and went live at 4am, Friday June 19 (UTC).
Yield Farming
This pool will yield an attractive basket of token incentives for liquidity providers including:
To capture all of the incentives available, liquidity providers will need to contribute sBTC, renBTC, and/or WBTC to the BTC Curve liquidity pool.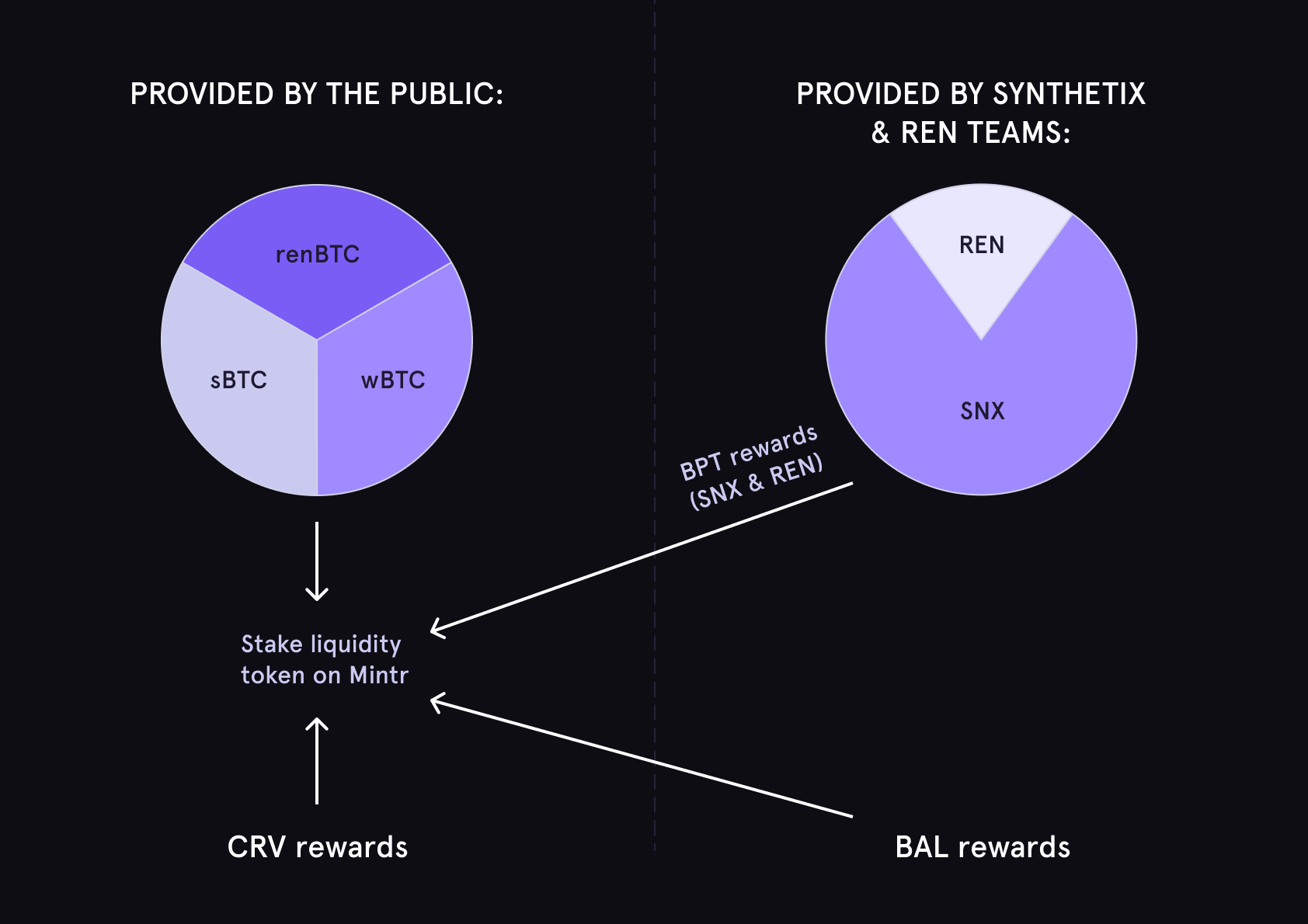 BTC liquidity providers will receive CRV rewards, BAL rewards, and BPT rewards (i.e. wrapped SNX and REN).
Behind the scenes, the teams from Synthetix and Ren have created a Balancer pool for SNX and REN where LP Rewards are distributed in the form of BPT (wrapped SNX and REN). As a calculated side effect, this Balancer pool will also earn BAL tokens which will be redistributed to Curve BTC liquidity pool contributors.
Finally, the Curve reward token (CRV), which is launching soon, earned through the main BTC pool will also be redistributed to liquidity providers.
Each week, liquidity providers will receive BPT (wrapped SNX and REN), BAL, and CRV tokens in proportion to their Curve BTC liquidity contributions. Liquidity providers will share 10,000 SNX and 25,000 REN in the weekly distribution of BPT.
Please note that BAL and CRV tokens are not yet available on the open market and will be distributed pro-rata once they are available.
Get Started
You can start earning yield by following these steps:
Provide sBTC, renBTC, and/or WBTC to the BTC Curve liquidity pool at https://www.curve.fi/sbtc. You will receive Curve LP tokens as reward for contributing to the BTC Curve liquidity pool.
Stake your Curve LP tokens in Mintr via the LP Rewards tab at https://mintr.synthetix.io/.  
Your CRV and BAL reward tokens will be distributed to your wallet once they are live.
Your BPT tokens will accrue automatically and be available to claim in the LP rewards tab in Mintr. You can choose to "Claim Rewards," which will claim the BPT tokens without unwrapping them into SNX or REN. If you select "Claim and Unstake" then your Curve LP tokens will be unstaked and your BPT tokens will be automatically unwrapped into SNX and REN.
If you have any questions or need support, visit the Synthetix Community Discord.